Indian cricket captain Virat Kohli backs Sunil Chhetri's plea
Indian cricket captain Virat Kohli backs Sunil Chhetri's plea
Written by
Rodney Dsouza
(Sourced from PTI)
Jun 03, 2018, 09:55 pm
2 min read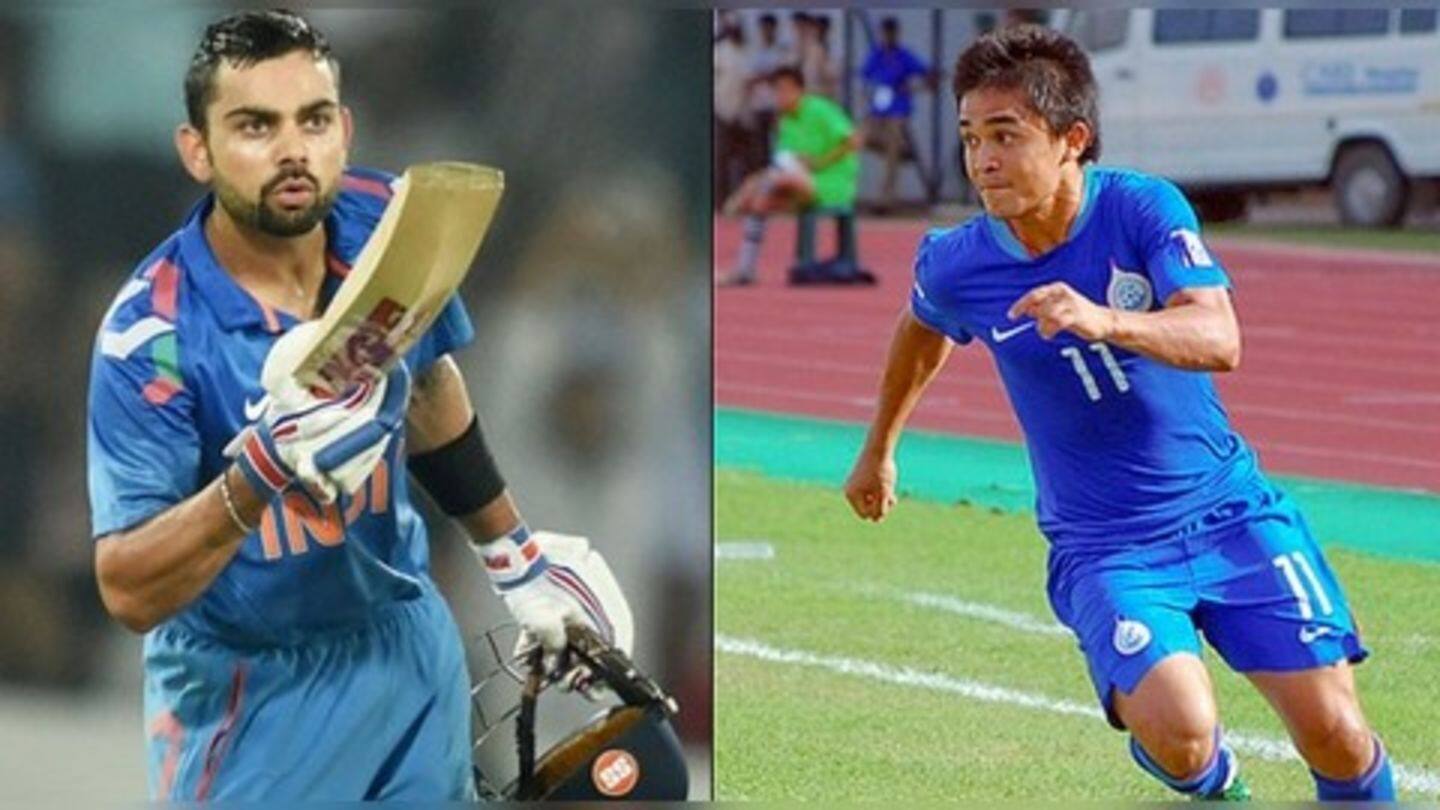 The captain of the Indian cricket team Virat Kohli has come out in support of his football counterpart Sunil Chhetri. Kohli has also urged fans to go to the stadium to watch the Blue Tigers play. The 29-year old said that supporting our teams, across sports, is really important if India has to realize the dream of becoming a sporting nation.
Virat Kohli seconds Sunil Chhetri's message
Football captain Chhetri had urged fans to support football team
In an emotional message, football team captain Sunil Chhetri had urged Indian fans to come out and support the Blue Tigers. He made his plea after about 2,569 fans came to watch their last game against Chinese Taipei, which they won 5-0 in Mumbai. India are currently playing in the four-nation Intercontinental Cup, which also features New Zealand and Kenya.
Sunil Chhetri posted a passionate plea on social media asking fans to come out to support the team, encourage them and even criticize them. India are currently ranked 97 in the world in football. Despite having a population of 1.3 billion just 40% of Indians follow the beautiful game, which has been overshadowed by the popularity of cricket.
"Abuse us, criticize us but come and watch us play"
European football has a huge fan base in India
European football is quite popular in India and we have seen the English Premier League showing a lot of interest in the nation. Thousands of fans have turned out for the Premier League events that were held in Mumbai and Bangalore over the last few years. However, these fans are nowhere to be seen when it comes to Indian football.