Not ready to retire yet, says Leander Paes
Not ready to retire yet, says Leander Paes
Sep 15, 2017, 06:41 pm
2 min read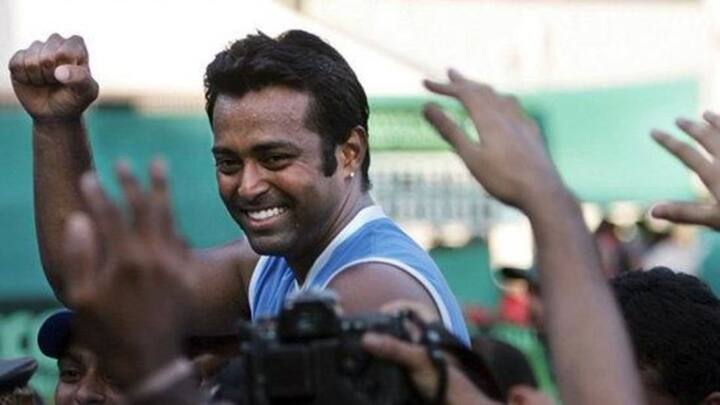 Even after being overlooked by the Davis Cup team led by Mahesh Bhupathi, veteran tennis player Leander Paes said he is far from quitting tennis and that one shouldn't be surprised to see him on podium in 2018. Eager to improve his doubles ranking from the current 62nd spot, the 44-year-old said that at this stage he plays tennis for the love of it.
Paes wanted to be a footballer
Born into a sports family, it was only natural that Paes had an inclination for sports. Growing up in Kolkata, football was his passion. Yet at the age of 12, he took to tennis and enrolled at Britannia Amritraj Tennis Academy, Chennai, in 1986. And thus started his long, arduous journey of tennis where he went on to win medals and accolades representing India.
Winning the Olympics bronze
Paes turned professional in 1991. At the 1996 Atlanta Olympics, he created history by winning the bronze medal in Singles beating Fernando Meligeni to it. Paes became the only second Indian to win an individual Olympic medal after KD Jadhav in 1952 Olympics. From 1992 Barcelona games till 2016 Rio Olympics, Paes has been part of all the seven consecutive Olympics.
Leander's father was an Olympic medallist too
Leander Paes' father Vece Paes was part of the hockey team from India, which won bronze at 1972 Munich Olympics. His mother Jennifer captained national basket ball team.
Doubles Grand Slam titles
Leander Paes has 8 Grand Slam Doubles titles to his name and has won all the four majors. He won 3 of them with Mahesh Bhupathi- 1999 French Open and Wimbledon, 2001 French Open; one with Martin Damm- 2006 US Open; two with Lukas Dlouhy- 2009 French Open and US Open, and two with Radek Stepanek - 2012 Australian Open and 2013 US Open.
10 Mixed Doubles Major titles
Paes has won a total of 10 mixed doubles majors. He partnered with the likes of Martina Navratilova to Martina Hingis. His titles include 1999 Wimbledon, 2003 Aus Open and Wimbledon, 2008 US Open, 2010 Aus Open and Wimbledon, and the last four titles - 2015 Aus Open, Wimbledon, and US Open, and 2016 French Open, all came with Hingis.
1 ATP Singles title and 54 doubles titles
While he won just one ATP Singles title, he has 54 doubles titles.