Marcelo talks about his future at Madrid, comments on Juventus
Marcelo talks about his future at Madrid, comments on Juventus
Sep 06, 2018, 05:58 pm
2 min read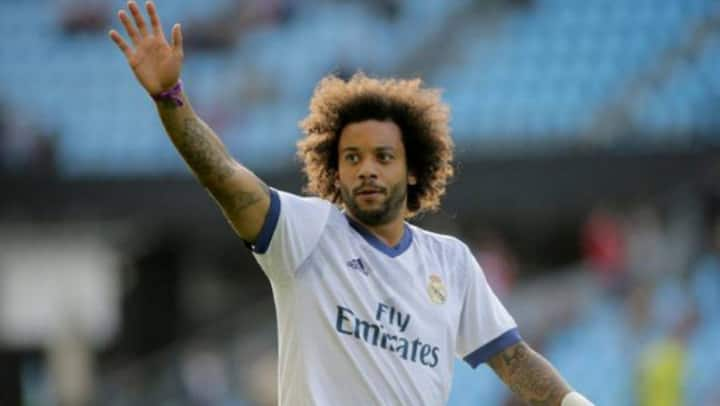 Real Madrid left-back, Marcelo, has opened up about rumors that he wants to leave Real Madrid and join his close friend Cristiano Ronaldo at Juventus. The Brazilian defender has been with Los Blancos since 2007 and was a part of the squad that won four Champions League titles in five years. CR7 and Marcelo share a close friendship, which gave fire to these rumors.
What were the reports that sparked the rumor mill?
British outlet Daily Mirror had come up with a report, which claimed that Marcelo had expressed his desire to call it quits at Real Madrid and head off to Juventus. The rumor claimed that Marcelo was eager to regroup with his friend Cristiano Ronaldo, who has recently moved to the Turin club. Reports of his strained relationship with Real manager added fuel to fire.
Marcelo's comments on his future at Real Madrid
Appearing on Real Madrid TV, Marcelo stated clearly that he has no intention of joining any other club. The full back confirmed that he is happy to be playing at Madrid and wants to continue at the club, which he called "the best club in the world". Marcelo added, "That shouldn't be discussed. I'm very happy in Real Madrid, this is my home".
Marcelo also opened up about Vinicius and manager Lopetegui
The gifted footballer commented on Real's new signing, Vinicius, saying that he is still a kid and has a lot to learn. On the team, Marcelo said that they are quite balanced in attack and defense, and the manager is there to help them improve. He added that there is always scope of improvement and Los Blancos have enough attacking firepower.
Marcelo's illustrious career at Real Madrid
Marcelo joined Real Madrid from Brazilian club Fluminense in 2007 as a 19-year-old. He is enjoying a glorious run with Los Blancos; winning four La Liga honors (2006-07, 2007-08, 2011-12, and 2016-17), four UCL titles (2013-14, 2015-16, 2016-17, 2017-18) and three FIFA Club World Cups (2014, 2016, and 2017). He also won three UEFA Super Cups with Real in 2014, 2016, and 2017.