#IndiaInEngland: Gavaskar slams management for overlooking Karun Nair
#IndiaInEngland: Gavaskar slams management for overlooking Karun Nair
Sep 08, 2018, 04:16 pm
2 min read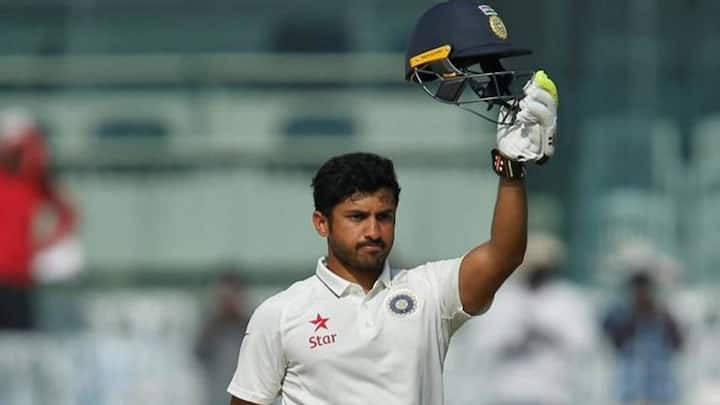 Former Indian legendary cricketer, Sunil Gavaskar, has slammed the Indian management for omitting middle order batsman Karun Nair from the ongoing 5th Test match against England at the Oval. Nair was selected, in the squad, for the 5-match Test series but has not got a single game despite some of the first team players struggling with the bat. Here is more on the same.
Nair deserves an answer: Gavaskar
Gavaskar said on Sony Six, "Karun Nair has every right to ask the team management what he has done wrong. He deserves an answer, why am I not picked?" He added, "If you are going to pick an extra batsman, which they should have done from the first Test itself, and if you haven't given him the opportunity, he deserves an answer."
Indian management has lost the plot
Gavaskar is absolutely right in lashing out at the management. The selectors went ahead with Nair in the 18-man squad but with him not getting a spot depicts the message that he isn't in the management's radar. India went ahead with newcomer Hanuma Vihari for this Test and left out Nair. With KL Rahul struggling for runs, why hasn't Nair been selected?
Gavaskar questions the team for sending out the wrong message
Gavaskar also feels that the message imparted to Nair is wrong. Nair is one of the two Indian players that has a Test triple ton. "How many Indians have got triple hundreds? Virender Sehwag twice and Karun Nair once. You don't give that man an opportunity. So what are you trying to tell him? Look we don't think you are a good player?"
Indian management have their own favorites
All these things indicate that the coach and the skipper have their favorites in the side. Umesh Yadav was dropped to the bench despite bowling well at Edgbaston. Nair has warmed the bench from the start. The question here is why do selectors select 18 members when other nations call lesser players? Nair could have used this time elsewhere.
Rahul's misery brings forward a strong question
Rahul has played all four Tests so far and was also selected for the 5th one. His scores since the start of the series read 4, 13, 8, 10, 23, 36, 19 and 0. Players waiting for a chance on the bench will look at this and feel what have they done wrong. Their confidence then takes a huge hit.