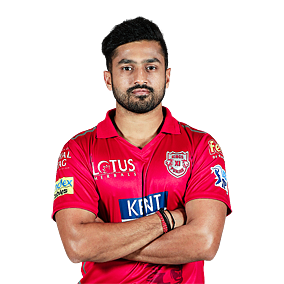 Karun Nair
Top-order Batter
Batting Style
Right Hand Bat
Bowling Style
Right Arm Offbreak
Indian cricketer Karun Nair has been named as KL Rahul's replacement at Lucknow Super Giants for the remainder of the Indian Premier League 2023 season.
The month of December is special, with a number of top cricketers being born in this month.
The selection committee has been under the scanner regarding its lack of communication with players dropped from the side.
Karun Nair probably is one of the most unluckiest cricketers in recent times.
The Indian selectors, led by chief MSK Prasad, are in a position of scrutiny at the moment.
Indian captain Virat Kohli was clear and blunt during the press-conference when asked about the exclusion of Karun Nair from the Test squad against West Indies.
There was a huge sense of relief for Karnataka batsman Mayank Agarwal, as he was handed his maiden call-up to the Test squad.
Former Indian legendary cricketer, Sunil Gavaskar, has slammed the Indian management for omitting middle order batsman Karun Nair from the ongoing 5th Test match against England at the Oval.
Super Kings ended Kings XI's dream of qualifying for the play-offs of 2018 IPL with a 5-wicket victory in Pune.
The BCCI has announced that India's premier off-spinner Ravichandran Ashwin would replace Indian team-mate Ravindra Jadeja in the Rest of India squad for the upcoming Irani Cup.
Delhi Daredevils' young guns made sure their team would stay in a fight for the play-offs as they defeated Sunrisers Hyderabad by five-wickets at Delhi.
The MSK Prasad led selection committee met on 2 November 2016 to pick India's squad for the first two test matches against England.
| | | | | | | | | | |
| --- | --- | --- | --- | --- | --- | --- | --- | --- | --- |
| Format | M | Ing | NO | R | HS | A | SR | 100s | 50s |
| Test | 6 | 7 | 1 | 374 | 303* | 62.33 | 73.91 | 1 | 0 |
| ODI | 2 | 2 | 0 | 46 | 39 | 23.0 | 52.27 | 0 | 0 |
| T20I | - | - | - | - | - | - | - | - | - |
| T20 | 151 | 136 | 16 | 3,005 | 111 | 25.04 | 131.1 | 2 | 16 |
| List A | 90 | 82 | 13 | 2,119 | 120 | 30.71 | 80.38 | 2 | 12 |
| First Class | 88 | 139 | 15 | 6,171 | 328 | 49.76 | 52.68 | 16 | 28 |
| | | | | | | | | | | |
| --- | --- | --- | --- | --- | --- | --- | --- | --- | --- | --- |
| Format | M | Ing | Balls | R | W | A | SR | E | 5W | 10W |
| Test | 6 | 2 | 12 | 11 | 0 | - | - | 5.5 | 0 | 0 |
| ODI | 2 | 0 | 0 | 0 | 0 | - | - | - | 0 | 0 |
| T20I | - | - | - | - | - | - | - | - | - | - |
| T20 | 151 | 10 | 78 | 81 | 4 | 20.25 | 19.5 | 6.23 | 0 | 0 |
| List A | 90 | 37 | 876 | 750 | 15 | 50.0 | 58.4 | 5.13 | 0 | 0 |
| First Class | 88 | 62 | 1,419 | 752 | 13 | 57.84 | 109.1 | 3.17 | 0 | 0 |