Unbreakable records held by Novak Djokovic
Unbreakable records held by Novak Djokovic
Sep 10, 2018, 01:19 pm
2 min read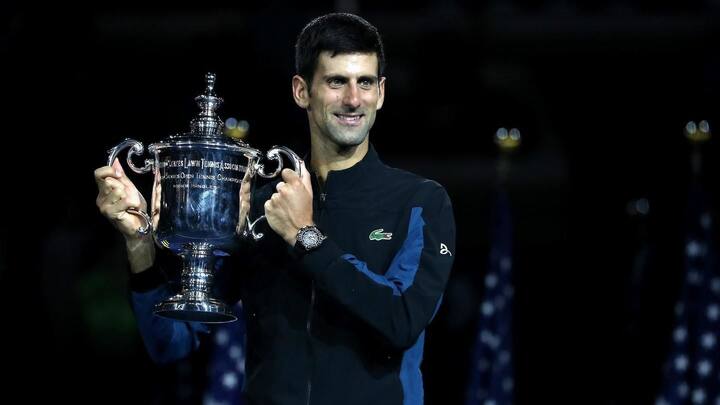 Serbian tennis ace Djokovic won the US Open 2018 as he defeated Juan Martin del Potro of Argentina in the final at Arthur Ashe Stadium. The scoreboard read 6-3, 7-6. (7-4), 6-3 as the Serbian legend took home his third US Grand Slam. This was Djokovic's 14th Grand Slam, equalling the great Pete Sampras. Here is more about the records held by Djokovic.
How did the match unfold?
Juan Martin del Potro booked his place in the finals after an injury forced Rafael Nadal to retire in semis. Djokovic had beaten Japan's Nishikori to book his place. Juan fell prey to Djokovic's defensive genius as the Serb kept up pace with his unparalleled defenses. From the second set tie-breaker, affairs started looking grimmer for the Argentine as Djokovic began leading 5-3.
Behind only Nadal and Federer: Djokovic's Grand Slam records
In 2016, Djokovic became the eighth player in history, to achieve the Career Grand Slam. He also became the first player, since Rod Laver, to hold all the four major titles at once and the first ever to achieve it on 3 different surfaces. With six Australian, four Wimbledon, three US Open and one French Open, Djokovic surely deserves a place among the GOATs.
ATP and other world records held by the legend
Djokovic has won a total of 71 singles ATP titles including his 14 Grand Slam wins. He is the only male tennis player ever to win all 9 of the ATP Masters Series 1000 titles, with his latest victory coming at Cincinnati. Djokovic has a unique streak of going undefeated in 43 matches straight from the 2010 Davis Cup final to 2011 French Open.
How much money does the 14-time Grand Slam winner make?
Djokovic has become the highest earner from on-court earnings, despite winning fewer titles than Roger Federer or Rafael Nadal. Before the US Open 2018, Federer earned an amount of £90.1 million while the Serbian took home £89.2 million. However, now Djokovic's earning has become £92 million, bypassing the Swiss great.
What next for the champion?
The Serbian will next feature in the Rolex Shanghai Masters from October 7, an event which he was won thrice before. He will also compete in the Paris Masters from October 29.