Will Paul Pogba stay at Manchester United?
Will Paul Pogba stay at Manchester United?
Apr 14, 2019, 04:24 pm
3 min read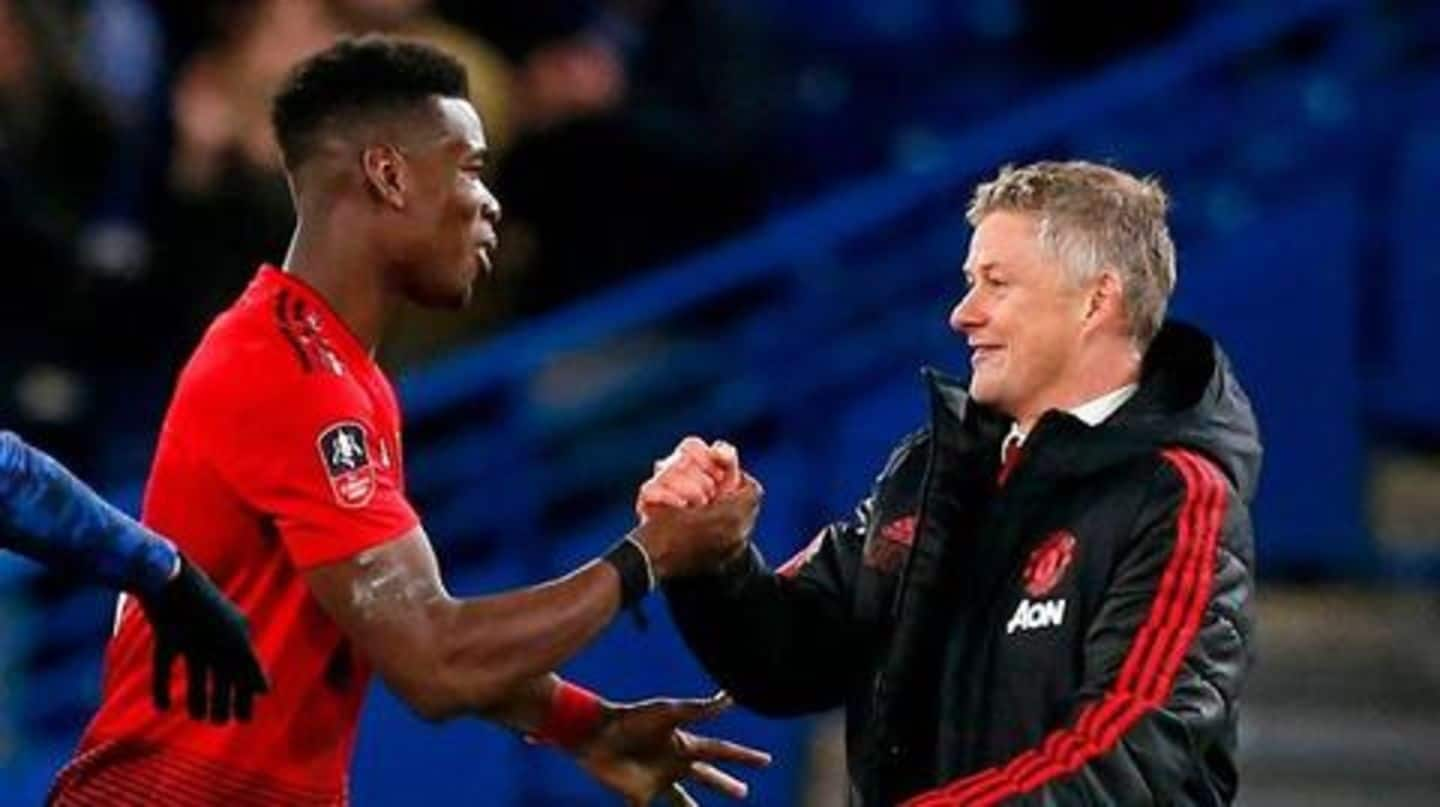 Manchester United's mid-fielder Paul Pogba has been enduring a shaky form of late. Notably, he had failed to score in eight consecutive matches, but ended his drought against West Ham. Moreover, there have been speculations that he could be contemplating a move to Spanish giants Real Madrid, this coming summer. But United's manager Ole Gunnar Solskjaer recently admitted that Pogba will stay with them.
Solskjaer pleased with Pogba's performance so far
As mentioned above, Pogba was on a goal drought till yesterday. However, despite what numbers state, Solskjaer is unmoved and he continues to praise Pogba's effort and attitude. Solskjaer was also highly pleased with Pogba's performance during United's 0-1 loss to Barcelona in the first-leg of Champions League quarters. Solskjaer said that Pogba gave his highest-ever output physically against Barca.
Pogba always gives his best: Solskjaer
Speaking on the issue, Solskjaer said, "In my talks with Paul he has always been positive. I don't see a difference in him when I chat to him. He is focused on performing and he is a proud player. He always gives his best."
Zinedine Zidane would welcome Pogba at Madrid
Last month, during the international break, Pogba had admitted that Real Madrid is a 'dream club for every player'. The speculation caught fire when Madrid manager Zinedine Zidane admitted that Pogba would be welcomed at Santiago Bernabeu if he decides to join. It is also being expected that Zidane would shake things up at Madrid with big transfers in the coming window.
United-Madrid have a long history of player transfers
United and Madrid have a longstanding history in the transfer market. Legendary players like David Beckham and Cristiano Ronaldo had joined the club from United and made a great name for themselves by winning the UEFA Champions League. It has also been the other way, with Angel Di Maria being one of the legends to do so, although his reign did not last long.
Solskjaer not concerned by Pogba's future
Solskjaer had earlier stated, "It doesn't really concern me because my thought of action was to sit down and speak to Paul. I have had my chat with Paul and we're fine. He is going to do his utmost here."
Pogba and United aim to tame Barca
Keeping aside the Pogba issue, United's immediate focus is on their away game against Barcelona. United have already lost their home leg of quarters 0-1. They would eye a win this week, in order to qualify for the next round of the competition. On the other hand, post their victory against West Ham, United are currently on the fifth spot in the Premier League.