Premier League: Watford end Liverpool's unbeaten run, thrash them 3-0
Premier League: Watford end Liverpool's unbeaten run, thrash them 3-0
Mar 01, 2020, 12:20 pm
2 min read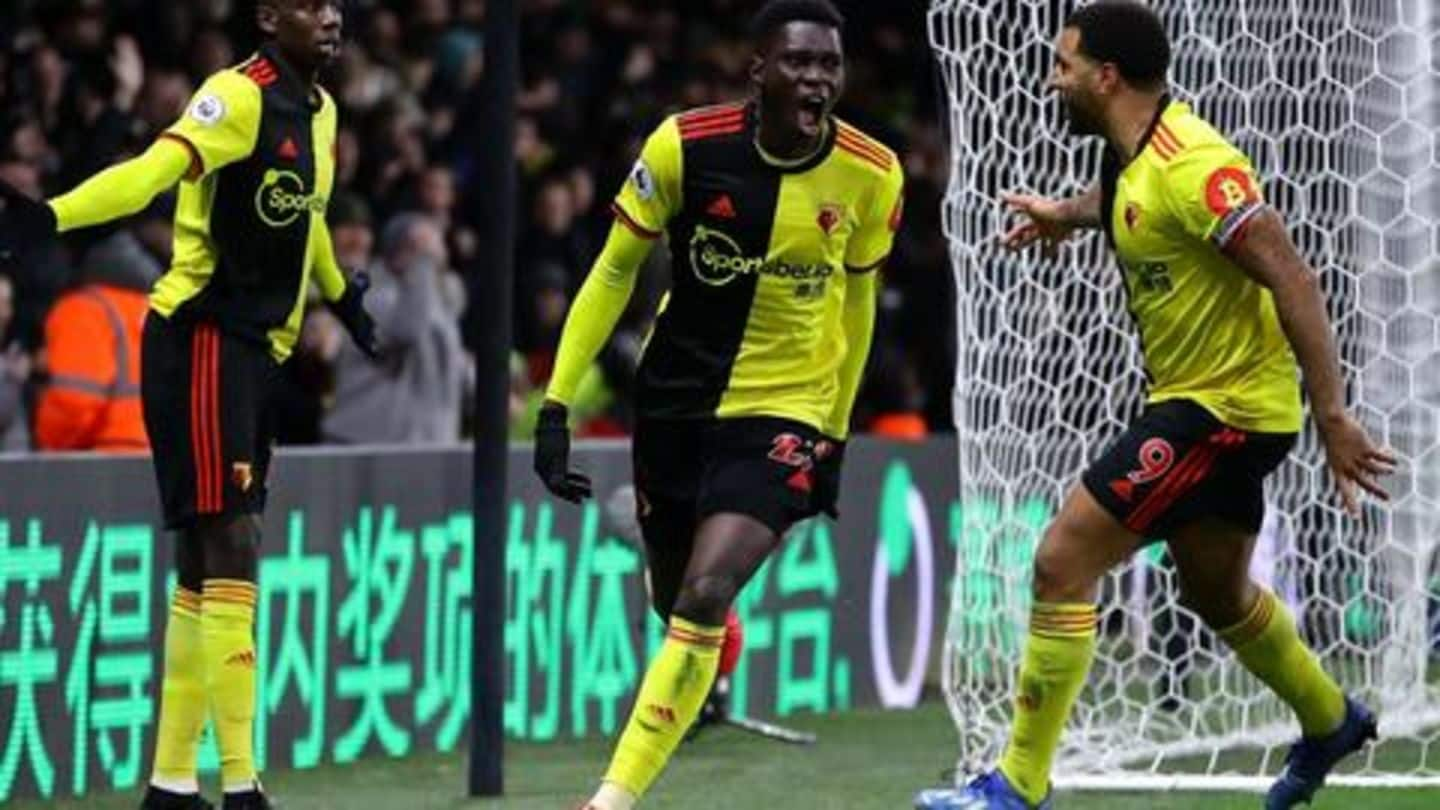 In what could be termed as the biggest upset of 2019-20, Watford trounced the European champions Liverpool 3-0 at Vicarage Road on Saturday. The shocking defeat ends Liverpool's unbeaten run as they were the only team sans a loss this season. They also failed to secure an English league record 19th consecutive win, finishing their run on 18- joint with Manchester City's landmark.
How did the match pan out?
Ismaila Sarr inspired the extraordinary upset, hammering Liverpool with two goals in the 54th and 60th minute. Captain Troy Deeney then joined the party, having struck a third 12 minutes later. The dejected Liverpool were unable to bounce back throughout the match. However, the Reds still sit 22 points above Manchester City, with no real danger of missing out on the title.
Liverpool's dream run ends
Liverpool's first league defeat, this season, came in their 28th match. It ended the hopes of ending the season unbeaten and become the new 'Invincibles'. In 2004, Arsenal had won 26 out of 38 games, drawing 12. With 90 points, they were crowned champions.
Liverpool's perfect record comes to an end
Liverpool's noteworthy defeat against Watford ended a 44-game unbeaten run in the Premier League - just five games short of Arsenal's top-flight record. Their previous top-flight loss came when they were beaten 2-1 by eventual champions City January 3, 2019 - 422 days ago. Liverpool are the third Premier League team to remain unbeaten for over a year after Arsenal and Chelsea.
We were not good enough tonight: Klopp
A jubilant Watford captain heaped praise on Ismaila Sarr who was adjudged the Man of the Match. "Our best performance by a country mile. No-one gives us a prayer or a hope for this one," said Deeney. However, Jurgen Klopp had no complaints. "They did exactly what they wanted to do, we didn't. That's how football works. You have to accept it," he said.