Real Madrid and Barcelona end Camp Nou match at 1-1
Real Madrid and Barcelona end Camp Nou match at 1-1
Feb 07, 2019, 03:34 pm
3 min read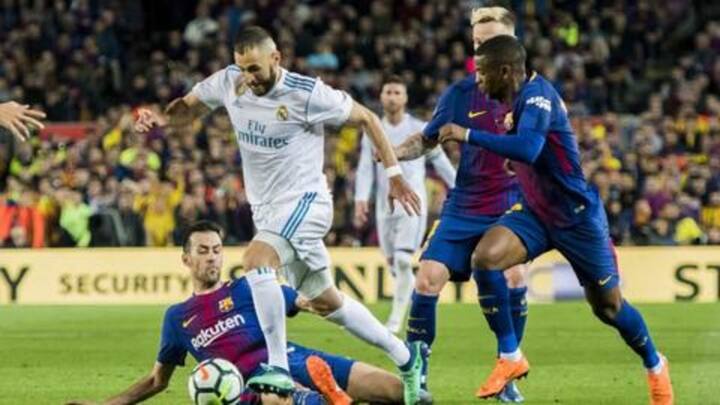 It was one of the moments which football fans look out for, every season. The day when Real Madrid and Barcelona take to the field is something auspicious, and no true fan will miss out on the action. The first leg of the Copa Del Rey semi-final between the two sides ended in a draw with goals from Lucas Vazquez and Malcom.
Real Madrid played some great football in the first half
What mostly happened in recent Clasicos is that Barcelona were the ones playing impressive football, while Real depended on pressing them and using counterattacks to bring Barcelona down. This match was completely different, as Real Madrid took charge of the situation and created impressive chances, troubling Barcelona in the opening half. Finally, Barca created some attacks in the closing minutes of the first half.
Barcelona responded with creative plays
Barcelona responded to Real Madrid with some beautiful creative movements, at the heart of which were Suarez, Semedo, and Malcom. Both youngsters Malcom and Semedo impressed in the match, with these two taking on experienced Real Madrid players with confidence. Malcom's equalizer was a brilliantly placed shot off a Luis Suarez rebound. Rakitic also struck an impressive header which hit the woodwork.
Leo Messi and Gareth Bale could hardly help
Leo Messi, who had suffered a thigh injury during Barcelona's match against Valencia, took part in the action for the last 30 minutes. Nou Camp resounded with chants of 'Messi' when La Pulga took to the field, but he could hardly go past Real's solid defense led by Sergio Ramos. Gareth Bale, who also came on along with Messi, suffered a similar fate.
Some interesting facts about the match
In their last 15 away El Clasicos, Real Madrid have managed to score at least one goal. Vinicius Jr. has provided Real Madrid with two goals and six assists this season in the Copa del Rey, the highest by any player. The two rivals have met 13 times including this fixture in the knock-out stage of the Copa del Rey, progressing six times each.
Was this the Clasico of the youngsters?
The match was one of the finest pieces of football in recent times, and one observation has to be made that the fixture looked like it belonged to the youngsters. Lucas Vazquez's goal for Real Madrid was built on a great play, but his finish was impeccable as well. Malcom and Semedo showed great promise, as did Real Madrid's Vinicius.