Ranking the best matches between Roger Federer and Rafael Nadal
Last updated on
Jun 07, 2019, 04:31 pm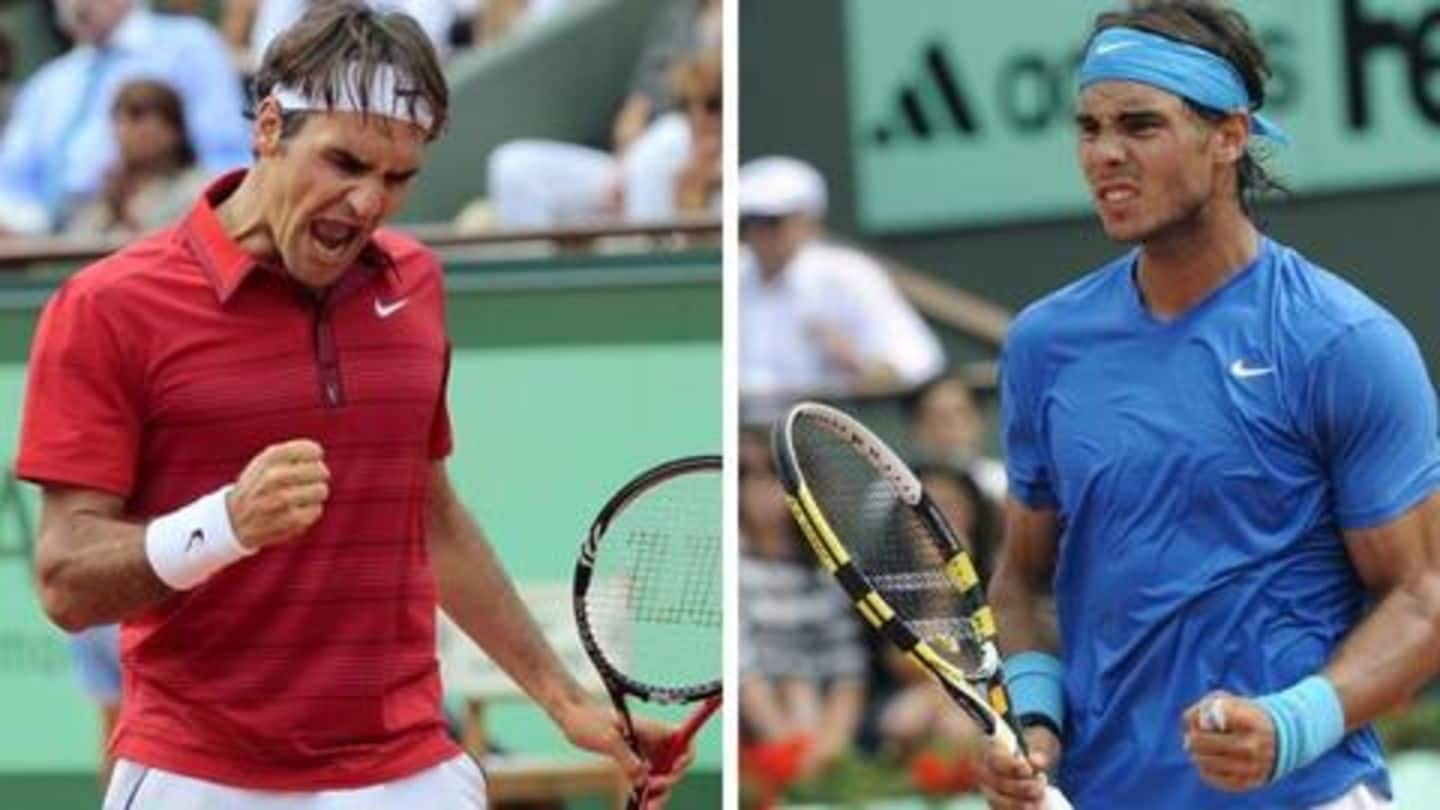 Two of the greatest legends of modern tennis, Roger Federer and Rafael Nadal, are all set to clash in the semis of the ongoing French Open in Paris on Friday. Both men have enjoyed a rich rivalry since the last decade, as it would once again be reignited today, on Nadal's favorite surface. Here, we have a look at their best matches.
Federer fights to win his first title in five years
2017 Australian open final saw both playing attacking tennis. Federer won the opening set, followed by a stern comeback by Nadal in the second. The third saw Federer outplay Nadal to win 6-1, while Nadal again broke Federer in the sixth game in the fourth. The final set saw Federer break Nadal in the eight game to win 6-4, 3-6, 6-1, 3-6, 6-3.
Federer surprises Nadal at Miami
In 2005, they clashed in the Miami Masters final. Nadal won the opener 6-2, followed by a hard-fought tie-break win in the second. However, Federer came from behind to win a thrilling tie-break in the third, followed by a ruthless 6-3 win in the fourth. The fifth set was a complete scoop by Federer, as he won 2-6, 6-7 (4-7), 7-6 (7-5), 6-3, 6-1.
Nadal survives a hard-fought Federer challenge on clay
A year later, both these men were at it again in Rome. Nadal struggled in the opening set tie-break, followed by a comeback in the second in another tie-break. It went back and forth in the following two sets as well. However, the final set saw Nadal going all out in the tie-break and tame Federer 6-7 (0-7), 7-6 (7-5), 6-4, 2-6, 7-6 (7-5).
Nadal pulls of a stunner at Australian Open
The 2009 Australian Open final saw Nadal breaking Federer in the final game of the opener, followed by a strong 6-3 comeback by Federer in the second. Federer was outplayed in the tie-break during the third, followed by another dominating comeback in the fourth. The final set saw Nadal outplaying Federer and win 7-5, 3-6, 7-6 (7-3), 3-6, 6-2, thus gaining the upper hand.
Nadal dethrones the King of Grass
No one could match Federer on grass in 2000s, but Nadal did the unthinkable. The 2008 Wimbledon final saw a close fight in the opening two sets as Nadal won 6-4, 6-4. However, Federer fought hard and managed to script a comeback, winning the next two sets 6-7 (5-7) and 6-7 (8-10). The final set saw Federer refusing to give up, but lost 9-7.