Former US Olympic gymnastics doctor pleads guilty to sex charges
Former US Olympic gymnastics doctor pleads guilty to sex charges
Nov 23, 2017, 02:25 pm
2 min read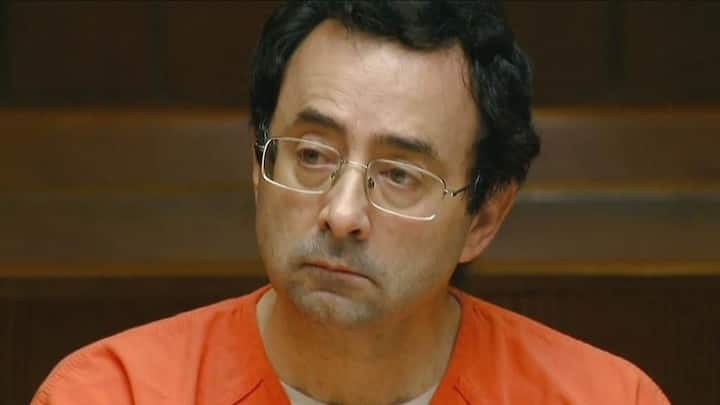 Larry Nassar, an ex-doctor with the US Olympic gymnastics team has pleaded guilty for sexually assaulting women and girls under his care. Nassar faces 7 charges for sexually assaulting girls and could receive upto a 25-year prison sentence. The court hearing on the matter came after former-Olympic gymnasts, including Gabby Douglas and Aly Raisman came out with their accusations.
Olympic champion Gabby Douglas accuses team doctor of sexual abuse
On November 22, Olympic champion gymnast Gabby Douglas accused the former USA gymnastics team doctor Larry Nassar of sexual abuse. Douglas, a three-time gold medallist, is the third gymnastics champion, after Aly Raisman and McKayla Maroney, to make accusations against Nassar. Here's all about it.
What are the allegations against Nassar?
Nassar has been accused of sexually abusing over 130 female gymnasts, including gold medalists Raisman and Maroney, while he was serving as the team doctor. "I didn't publicly share my experiences as well as many other things because for years we were conditioned to stay silent and some things were extremely painful," Raisman had revealed in a recent Instagram post.
Raisman: Nassar doesn't deserve to be called 'doctor'
Court referring to Larry as DOCTOR Nassar. I AM DISGUSTED. I am very disappointed. He does NOT deserve that. Larry is digusting. Larry is a MONSTER not a doctor.

— Alexandra Raisman (@Aly_Raisman) November 22, 2017
Nassar pleads guilty before the court
In a statement before the court, Nassar said that his guilty plea was intended to "move the community forward and stop the hurting." He apologized and stated his actions had become "like a match that turned into a forest fire, out of control." "I want them to heal. I want this community to heal. I have no animosity toward any one," he added.
Judge chides Nassar for abuse of power
Ruling on Nassar's case, Ingham County Court Judge Rosemarie Aquilina stated that sexual abuse had become a "nation-wide epidemic." "You used that position of trust that you had in the most vile way... to abuse children," she continued. Before accepting Nassar's plea, she confirmed that the examinations he performed on the women were "not for medical purposes" but for "his own purposes."
In addition to sexual assault charges, Nassar has already pleaded guilty for child pornography charges in a federal court. He could now face a maximum sentence of life in prison. The court is expected to deliver its verdict on Nassar's case on January 12, 2018.