Shakib likely to miss tour of India: Details here
Shakib likely to miss tour of India: Details here
Oct 29, 2019, 11:41 am
3 min read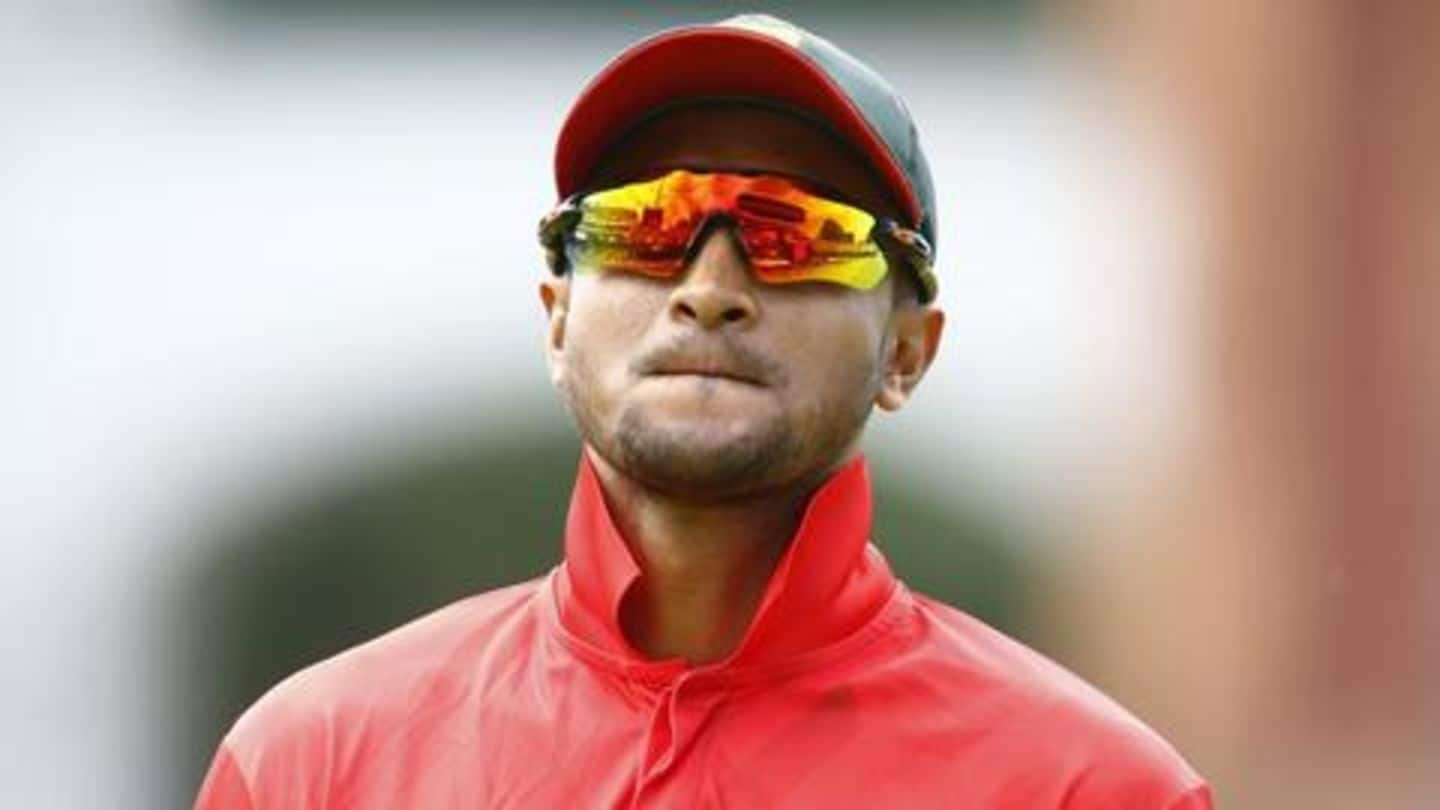 Bangladesh are likely to miss out on the services of their T20I and Test skipper Shakib Al Hasan during the upcoming tour of India. As per reports, it was Shakib, who led the players' strike recently and has also missed out on the four-day national camp for the tour, which also included a couple of warm-up matches. Here are further details.
Shakib embroiled in some internal BCB controversy
As per a report by Cricbuzz, while Shakib was conspicuous by his absence during the national camp, he was also not a part of the strategic meeting, called by BCB president Nazmul Hassan, for the tour. Incidentally, he has also signed an 'unlawful' sponsorship deal with a telecom company, which violates his BCB contract, as he was issued a show-cause notice.
Shakib led players to a strike after presenting 11 demands
It was just last week when Shakib led most of the Bangladesh players, including some top First-Class cricketers, to a strike, as he presented a list of 11 demands to the BCB. Consequently, the tour of India was in jeopardy, as BCB called an emergency meeting on October 23 to resolve most of the issues, following which the strike was called off by Shakib.
BCB president called Shakib to sort things out
"I am quite sure that they won't go, and they will only inform us when we have nothing to do about it. I don't know. I have called Shakib today. Let's see what he says. It might be others too," said Nazmul on Monday.
Mohammad Saifuddin and Tamim Iqbal ruled out
Nazmul also told a local daily that while all-rounder Mohammad Saifuddin had been ruled out due to a back injury, veteran opener Tamim Iqbal is also missing out due to personal reasons, as he wants to be with his pregnant wife.
Nazmul does not want keep things waiting until last moment
Nazmul said that BCB doesn't want things to get complicated at the last moment. He also feels that the players are now under pressure with things changing so quickly. "If they say on October 30 that they won't go, what will we do? We have to change the entire combination. Where will I get a captain from?" he questioned.
Shakib's sponsorship with telecom company unlawful despite his prior knowledge
Nazmul also explained that every Bangladeshi player had been alerted of not signing a sponsorship deal with telecom companies, as they wanted them for the team sponsorship tender next year. "Can Shakib do this unlawful thing knowing everything? Should I allow them to do just about anything?" a furious Nazam wondered and questioned.
Nazmul believes the sponsorship tender process is already hurt
"Look at the timing too. I won't get the telecom companies in the January tender. Even if they do come, it will be for a lower price. Who is getting hurt in this? Only one player is profiting, but what about my team?" concluded Nazmul.