Cottrell shares a video of Dhoni, terms him inspirational
Cottrell shares a video of Dhoni, terms him inspirational
Jul 29, 2019, 05:28 pm
2 min read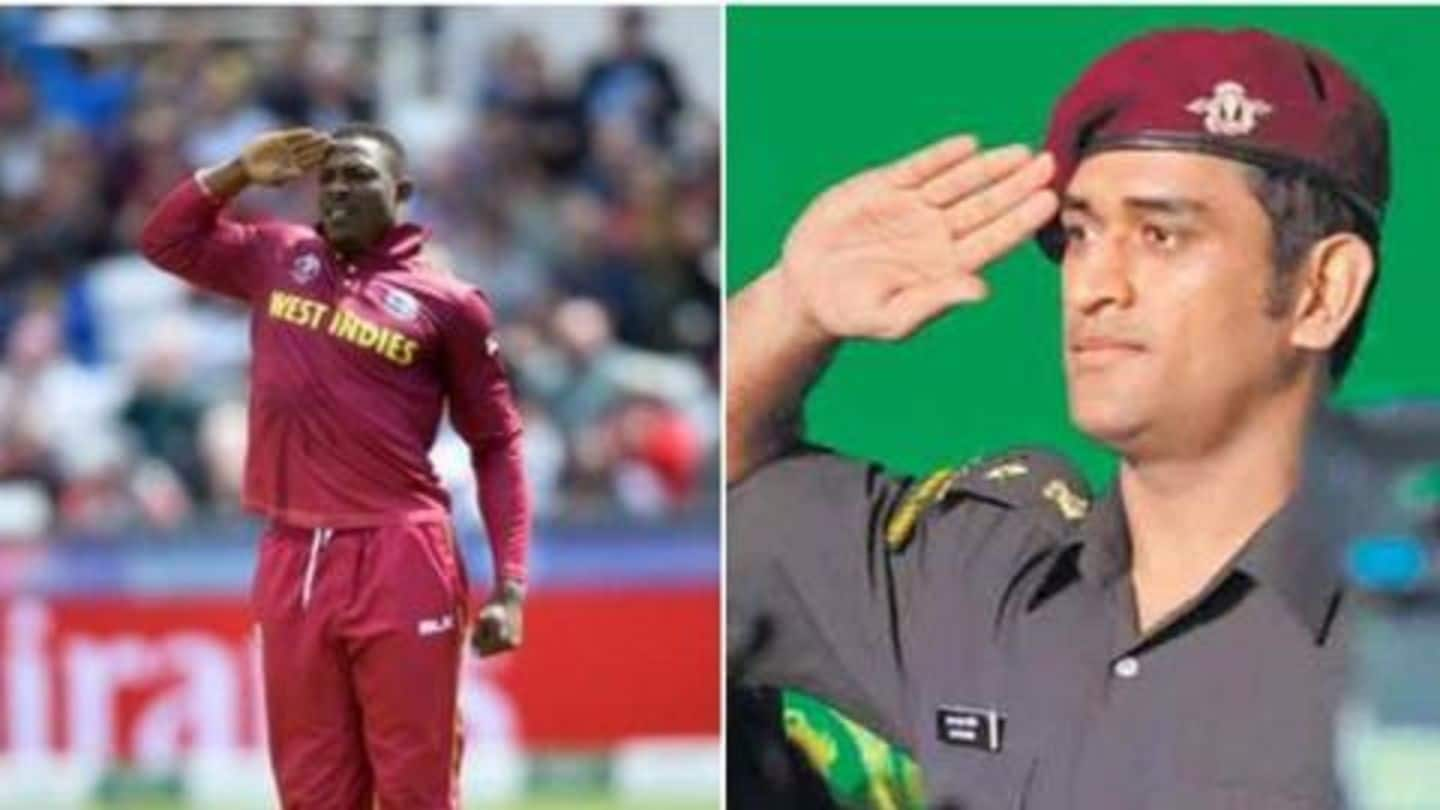 After India suffered a pre-mature exit from the ICC World Cup 2019, several critics thought legend MS Dhoni would announce his retirement. However, Dhoni instead decided to take a break from the sport and serve the Indian Territorial Army. This move has been hailed by many, as Windies pacer Sheldon Cottrell termed this decision as inspirational and shared a video of Dhoni.
Dhoni to be part of Victor Force in Kashmir Valley
It has been reported that Dhoni would be in Kashmir Valley with the Victor Force. His duties would involve patrolling and guarding. He would also be staying with the troops. Army Chief General Bipin Rawat was quoted as saying to NDTV, "I don't think we will need to protect him, he will protect the citizens and garrison entrusted to his task."
"He [Dhoni] will be able to accomplish the task"
"MS Dhoni has carried out his basic training and we know that he will be able to accomplish the task. In fact, he will be protecting a lot of other people because he will now be performing with the 106 Territorial Army battalion," added Rawat.
Cottrell hails Dhoni's move to serve the army
Following this move by Dhoni, Cottrell sent out a couple of tweets, praising Dhoni for this decision to serve the army. He called Dhoni an inspiration, both on-field and for his will to serve the country. Cottrell, who himself is a soldier with the Jamaican Defence Force, was with his army men in the past couple of weeks and reflected on it.
This man is an inspiration on the cricket field. But he is also a patriot and a man that gives to his country beyond duty. I have been at home in Jamaica with my boys these past weeks and had time to reflect (1/2)

— Sheldon Cotterell (@SaluteCotterell) July 28, 2019
Dhoni's love for country is inspirational
I shared this video with friends and family because they know how I feel about honour but the moment between wife and husband truly shows an inspirational kind of love for country and partner. Please enjoy as I did. pic.twitter.com/Pre28KWAFD

— Sheldon Cotterell (@SaluteCotterell) July 28, 2019
Dhoni's move to serve army appreciated by many
Following his decision to serve the army, chief selector MSK Prasad hailed this decision. Apart from him, from Kapil Dev to Gautam Gambhir and many other personalities supported his decision. This would be Dhoni's first major outing with the Indian Territorial Army since receiving the honorary rank of Lieutenant Colonel in 2011.
Dhoni-less India prepare to tour Windies
As of now, India are all set to tour the Windies for a complete tour. They would be without the services of Dhoni. Meanwhile, Dhoni is scheduled to be with the army for at least two months. And, it remains to be seen if he plays the home series against South Africa, starting September 15 with the T20Is.