#GamingBytes: Steam's Summer Sale ends tomorrow! Know the best deals
#GamingBytes: Steam's Summer Sale ends tomorrow! Know the best deals
Written by
Siddharth Tyagi
Jul 08, 2019, 04:41 pm
2 min read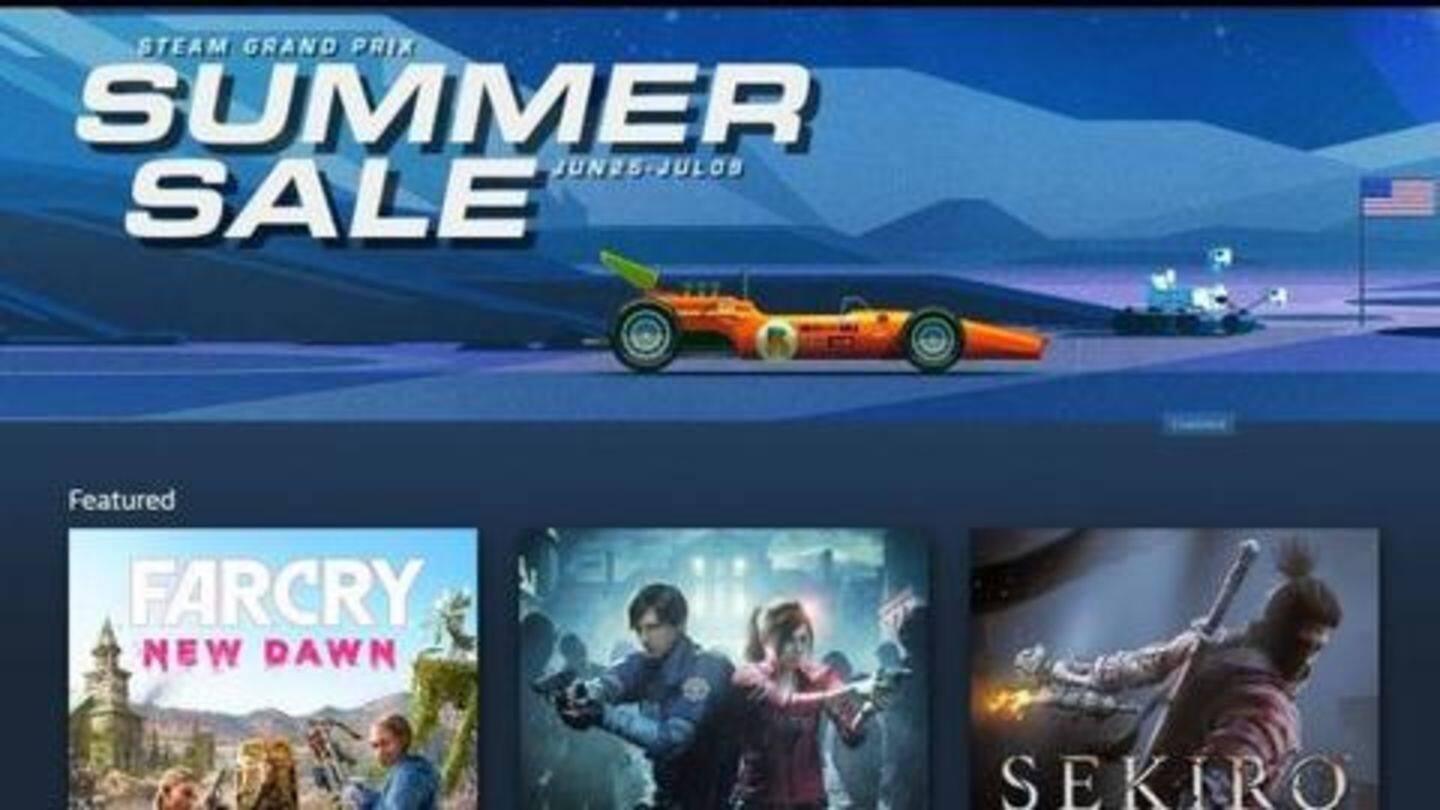 Steam is one of the major reasons why people love the 'PC Master Race'. Every year, the platform offers some crazy discounts on popular games. Discounts as high as 90% are fairly common and games can be bought at the lowest prices possible. This year's Steam Summer Sale ends tomorrow. Before it does, here are the best deals you can get.
'PUBG' and similar games are available at discounted prices
If we're talking about PC games, we have to talk about PUBG. The Battle Royale title is available at a 50% discount for Rs. 499. Also worth checking out is Tom Clancy's Rainbow Six Siege that is available at the same price. While it's not a Battle Royale title, Just Cause 4 is super fun to play. It's available for Rs. 1399 (60% discount).
'Featured' Steam games you should check out
Once you open Steam, you'll see a 'Featured' section at the top. This is where all the goodness lies. The premium edition of GTA V is being sold at a 52% discount, available for Rs. 1270. Devil May Cry 5 is being sold at 34% discount at Rs. 1979 and Call of Duty WWII is available for Rs. 1999 at a flat 50% discount.
Love strategy games? Now spend less on them
If you love strategy based games like Civ VI, Steam has some interesting deals for you. Sid Meier's Civilization VI can be bought at a discount of 75% at Rs. 624, Cities: Skylines is available at a super low price of Rs. 182, at a 75% discount, and Slay The Spire is available at a 50% discount for Rs. 284.
Popular PC games that are basically a steal
The recently released and highly acclaimed Mortal Kombat 11 is being sold at a 17% discount for Rs. 1119. Another fighting game, Tekken 7 is available for Rs. 494, at a 50% discount. Assassin's Creed Odyssey is available for Rs. 1499, Final Fantasy XV for Rs. 1449, Dark Souls III for Rs. 1074, Hitman 2 for Rs. 539, and Fallout 4 for Rs. 1000.
Here's how to make the most of this sale
Follow these tips to get the best deals possible: Rather than purchasing individual games, try buying game bundles. You'll get multiple games at lower prices. Steam curates games in various categories. Try and find the 'Highlighted Deals' and 'Featured Games' for the best possible prices. Steam has its own browser extension that can help you save more. Download and use it here.