The five greatest Kolkata derby matches ever
The five greatest Kolkata derby matches ever
Jan 27, 2019, 02:57 pm
3 min read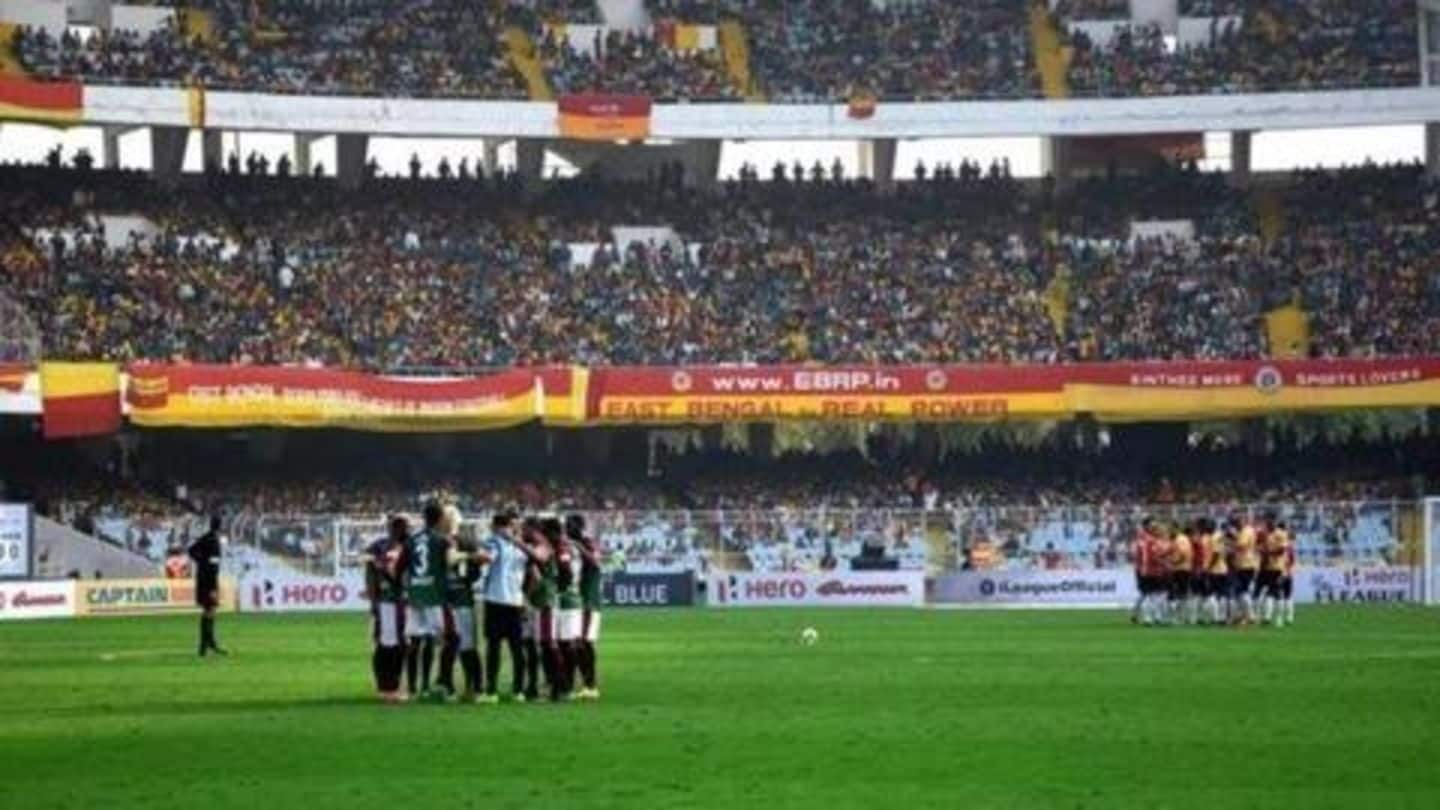 The Kolkata derby is scheduled for today, to be played at the Yuba Bharti Krirangan between Mohun Bagan and East Bengal. This will be the second I-League meeting of the season between the two, with the first match ending 3-2 for East Bengal. The two teams share an intense rivalry, one of Asia's fiercest. Here're five most memorable matches in the Kolkata derby's history.
1969 IFA Shield final: Bagan 3-1 East Bengal
The 1960s were Mohun Bagan's decade, and they dominated East Bengal in terms of performances. In the 1969 IFA Shield final, Bagan, coached by Amal Dutta, were clearly the superior side. They played a unique 4-2-4 formation, which left their eternal rivals baffled. Pranab Ganguly was the hero of the day for Mohun Bagan supporters as he netted a brace in their 3-1 victory.
1975 IFA Shield final: East Bengal 5-0 Mohun Bagan
In the 1975 IFA Shield final, Shyam Thapa netted a couple of goals for East Bengal as they crushed Bagan 5-0. Subsequently, some Bagan players spent the night on a boat to escape their fans' wrath. A Bagan fan also committed suicide. This match is remembered as the one in which the Kolkata derby was won with the biggest margin ever, a record that still stands.
1997 Federation Cup semi-final: East Bengal 4-1 Mohun Bagan
The historic 1997 Federation Cup semi-final was the first time when a hat-trick was scored in the Kolkata derby. The incredible performance came from the future icon of Indian football, Bhaichung Bhutia, who put three past Bagan in the 4-1 win. Setting an Asian record, 131,000 people attended the match which was a battle of the brains between P.K. Banerjee, East Bengal's manager, and Amal Dutta, his Bagan counterpart.
Calcutta Football League 2007: Mohun Bagan 4-3 East Bengal
This was a historical moment in the Kolkata derby, as it was the first time Mohun Bagan legend Subrata Bhattacharya was at the derby as East Bengal's coach. Bagan went on the offensive from the start and took a 3-0 lead at half-time. They wanted to take revenge for the 5-0 humiliation, but East Bengal came back with goals and the match ended 4-3 in Bagan's favor.
I-League 2009: Mohun Bagan 5-3 East Bengal
This Kolkata derby of 2009 could be considered mild revenge for the 5-0 humiliation of 1975, as Bagan did manage to score five goals, but East Bengal responded with three of their own. Bagan striker Chidi Edeh scored four goals in the match and became part of Kolkata derby history. Subhash Bhowmick, then EB coach, was one of the chief architects of the 1975 victory.