Liverpool pip Chelsea in penalties to lift UEFA Super Cup
Liverpool pip Chelsea in penalties to lift UEFA Super Cup
Aug 15, 2019, 01:10 pm
4 min read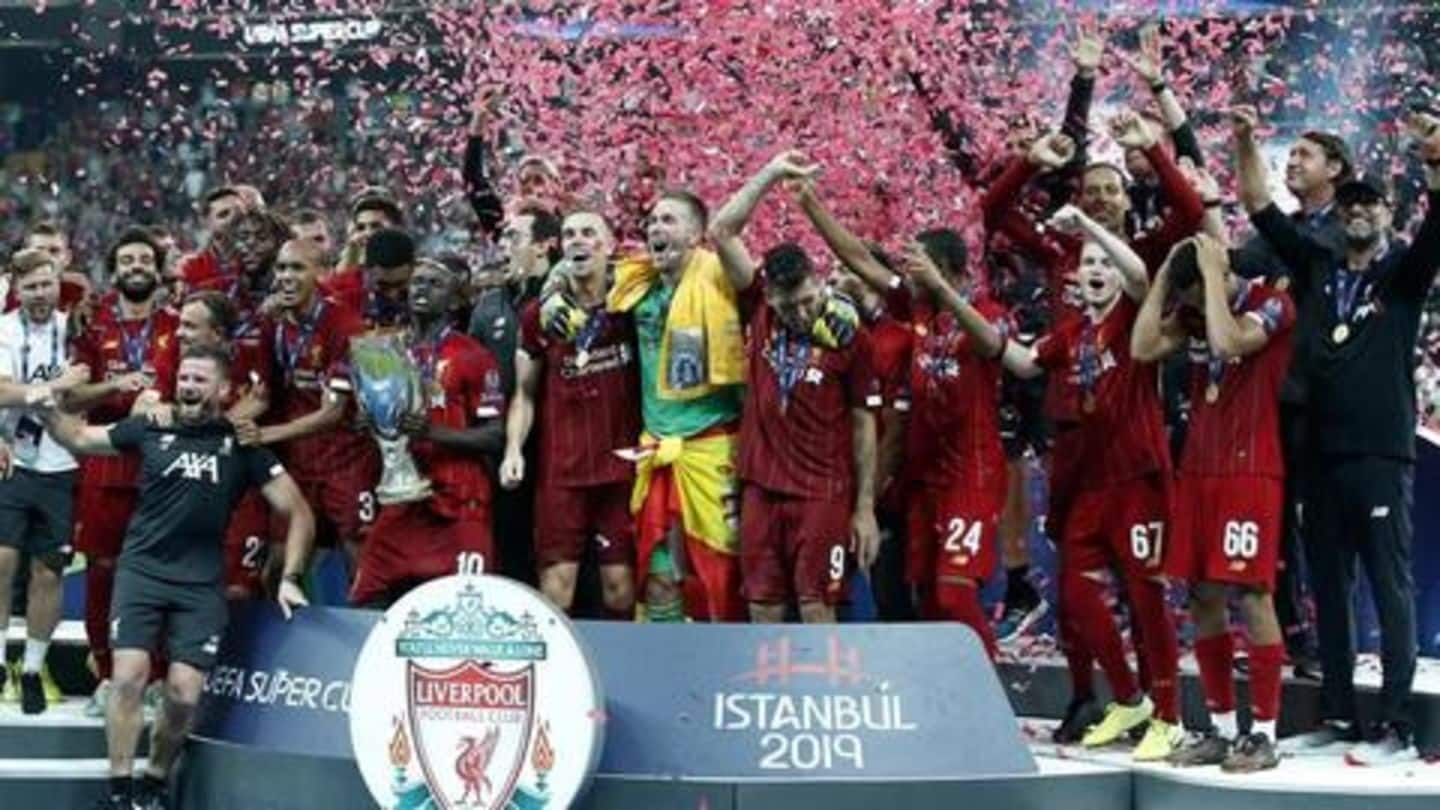 2018-19 Champions League winners Liverpool held their nerves to pip UEFA Europa League winners Chelsea in penalties during the UEFA Super Cup at Vodafone Park in Istanbul on Wednesday. Following a 2-2 tie in the regulation time, Liverpool maintained their composure to win the penalties 5-4 and claim a fourth Super Cup title. Here we present the match report.
Couple of chances each sets off a great start
The opening quarter saw a thrilling start by each team. It was in the 16th minute when Mohamed Salah almost put Liverpool ahead following an assist from Alex Oxlade-Chamberlain, only to be saved by Chelsea's goal-keeper Kepa Arrizabalaga. In the 22nd minute, it was Liverpool goal-keeper Adrián's turn, who managed to save a strike from Pedro and drifted it to the post.
Giroud fires Chelsea ahead at half-time
The 32nd minute saw Chelsea with another chance from Mateo Kovačić, only to be denied by Adrian again. However, it was just four minutes later when Olivier Giroud finally put Chelsea ahead, courtesy an assist from Christian Pulisic. They almost doubled the lead four minutes later, via Pulisic. The USA star saw a superb goal get ruled as offside following an assist from Emerson.
Liverpool level immediately at the start of second half
Following half-time, it did not take long for Liverpool to level, as just three minutes into the half, Sadio Mane scored after a terrific team combination. The very next minute, Liverpool almost scored their second via Fabinho, whose powerful strike ended just wide. Meanwhile, Giroud almost put Chelsea ahead the very next minute. However, he failed to tap in a pass from Emerson.
Three more chances see deadlock remain intact at full-time
The final quarter of the regulation time saw three more chances, with Kepa denying Virgil van Dijk in the 75th minute with a fine save. The 83rd minute saw another Chelsea goal being ruled out for offside after Jorginho put the ball in the far corner of the net. Four minutes later, Mane came up with the final chance, only to shoot it wide.
An eventful first half of extra-time sees both teams battle
The opening half of the extra-time saw an eventful half, with Mane putting Liverpool ahead in the 95th minute, courtesy of a fine assist from Firmino. Two minutes later, Adrian denied a third from Tammy Abraham. However, Adrian brought him down in the 99th minute inside the box as Jorginho scored from the penalty spot. Abraham missed another chance in the 104th minute.
One promising chance seals extra-time on 2-2
The second half of the extra-time was a watchful play from both the teams. The only promising chance came in the 113th minute when Adrian denied Mason Mount, while César Azpilicueta fired the rebound shot wide.
Adrian saves the final penalty shot for Liverpool glory
It was a classic penalty shootout, as both the teams fought it out until the final shot. As Liverpool's Firmino began the proceedings, he scored his part, followed by Fabinho, Divock Origi, Trent Alexander-Arnold and Salah. For Chelsea, Jorginho began a successful proceeding, followed by Ross Barkley, Mount and Emerson. It was Abraham, who saw his shot get saved by Adrian.
Here are some of the key stats from the match
Liverpool drew level with Real Madrid in terms of Super Cup honors. This was the second Super Cup tie which went to penalties, with the last and only one being in 2013. This was Frank Lampard's third appearance in the Super Cup, two as a player and one as a manager. Mane became the seventh player to score twice in a Super Cup tie.