Happy birthday ABD: A look at his unbreakable records
Happy birthday ABD: A look at his unbreakable records
Feb 17, 2019, 05:16 pm
3 min read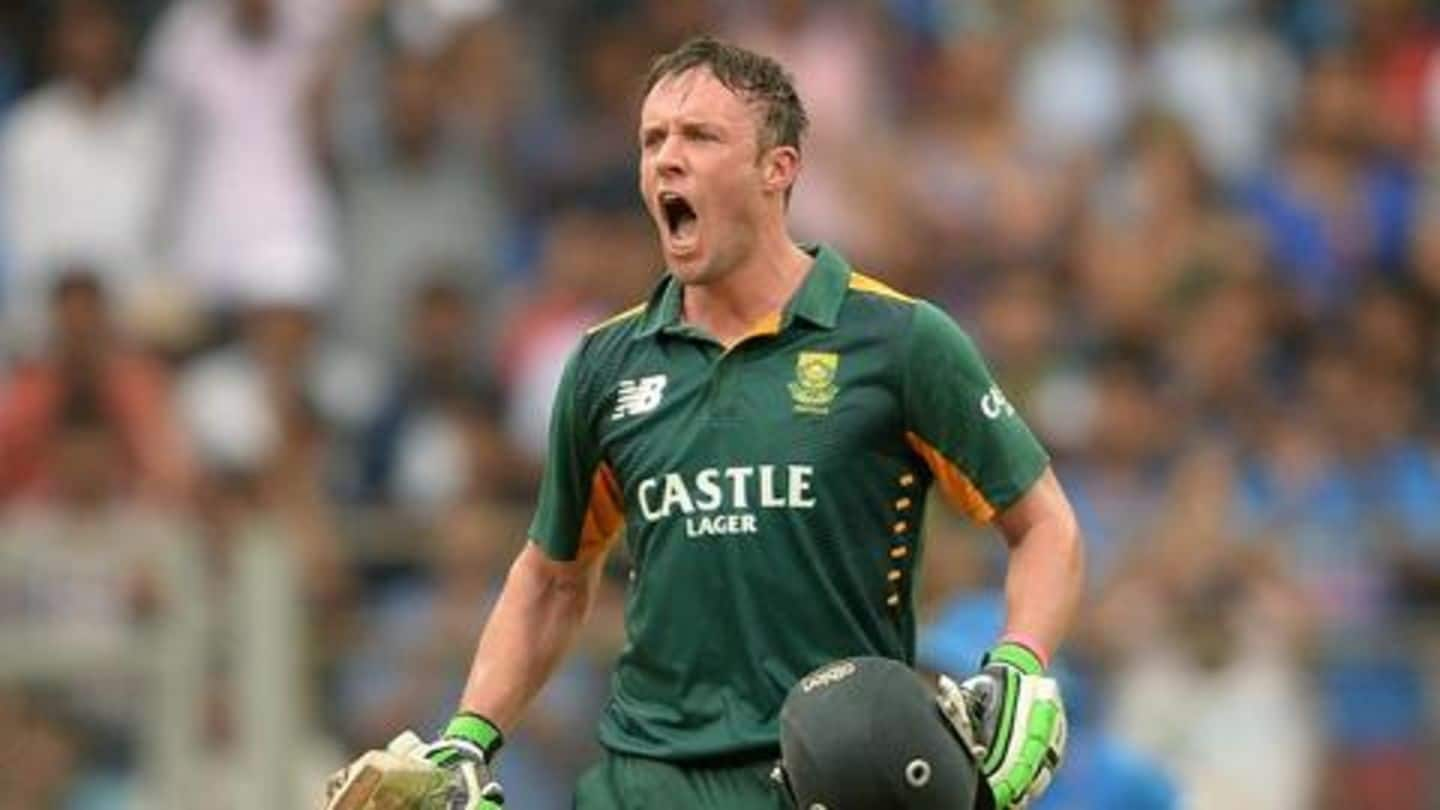 Former South African batting king AB de Villiers remains one of the greatest ever to have graced the cricket field. ABD left a rich legacy behind, after having ruled the sport for over a decade. He is currently in Dubai, playing for Lahore Qalandars in the Pakistan Super League 2019. The legend turned 35 today and here we look at his unbreakable records.
A look at ABD's career stats for Proteas
In 114 Tests for South Africa, ABD scored a total of 8,765 runs at an average of 50.66. He hit 22 hundreds and 46 fifties with a top score of 278*. ABD went on to score another 9,577 runs in ODIs. He smashed 25 hundreds and 53 fifties at an average of 53.50. ABD also featured in 78 T20Is, where he amassed 1,672 runs.
ABD has been one of the GOATs in IPL
The Proteas man is a celebrated name across global T20 leagues. His impact in the Indian Premier League (IPL) has been massive. ABD has managed 3,953 runs in the IPL with three hundreds and 28 fifties. He boasts of a tremendous strike-rate of 150.93.
ABD scripted several unbreakable records in a single ODI
ABD has the record for the fastest hundred in ODIs (31 balls). He achieved the feat against West Indies in 2015. ABD went on to smash 149 from just 44 balls at Johannesburg in that match. His strike-rate of 338.63 in that innings could never be surpassed. It will take an extraordinary talent to break his fastest century record in ODIs.
ABD's strike-rate in 150-plus knock could stay intact
ABD also scripted the highest strike-rate in a 150+ knock in ODIs. The right-handed batsman scored 162* against West Indies in the ICC World Cup 2015 in just 66 balls. He clocked a strike-rate of 245.45. Next in the line is Shane Watson, whose 185* against Bangladesh saw him notch a rate of 192.70. For someone to score quicker than Proteas batsman seems unthinkable.
ABD holds the record for fastest 50, 100 and 150
The legend holds the record of clocking the fastest 50 (16 balls), 100 (31) and 150 (64) in 50-over cricket. Players might smash new records in the future, but getting to all these three look virtually impossible. ABD achieved these records in the same calendar year which is also a record. This will be difficult if not impossible for anyone to achieve.
ABD could sit atop for a long time
ABD has a total of nine centuries amassed in 75 deliveries or less in ODIs, which is the most by a player. Former legends Virender Sehwag (6), Sanath Jayasuriya (5) and Shahid Afridi (4) follow suit. This is another record that looks unbreakable.