Kedar Jadhav surprised at being snubbed for West Indies ODIs
Kedar Jadhav surprised at being snubbed for West Indies ODIs
Oct 26, 2018, 12:11 pm
2 min read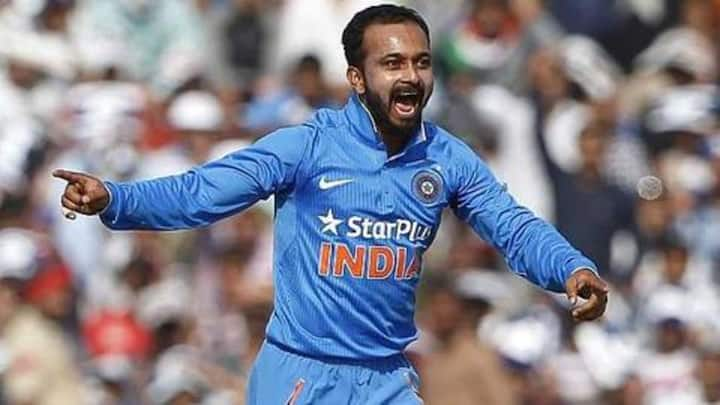 Kedar Jadhav, the Indian batting all-rounder, has expressed his surprise at not being selected in the squad for the last three ODIs against West Indies. Jadhav has recovered well from his hamstring injury and expected to find his name in the squad, announced on Thursday afternoon. He said that he needs to see why the selectors didn't pick him in the squad. Details follow.
Jadhav's comments on being excluded from the team
Jadhav said that he had cleared all the necessary tests and thus was playing in the Deodhar Trophy, when the squad was announced. He added that he is definitely match-fit. He was seen in action on Thursday. However, Jadhav wants to stay true to the game, and announced, "If I am not in the Indian team, I'll focus on playing Ranji Trophy."
Jadhav was asked to join India A on Wednesday evening
As per a report, on Wednesday night, the selectors informed Jadhav that he will be a part of the India A team. Notably, the squad for the remaining ODIs, against West Indies, was picked around Wednesday midnight. At the outset, it seems the reason behind the selectors snubbing Jadhav might be he hasn't been played even a single match, post his injury.
The 33-year-old cricketer has suffered two hamstring injuries in a period of six months. The first one forced him to miss the IPL 2018 after he suffered an injury in the season-opener. His second hamstring issue arose in the final of the Asia Cup 2018.
What did MSK Prasad say about this episode?
Chairman of the selectors, MSK Prasad said that the selectors don't want to rush Jadhav and want to give him enough time to test his body in some games before he is called up for the national squad. However, he clarified that Jadhav remains an integral part of the World Cup plans and there is no doubt among selectors regarding his ability.
Jadhav expressed his disappointment regarding injuries
Jadhav said that he has always been honest with trainers and physios regarding how his body is functioning. Regarding his frequent injuries, he said that while playing, "You can't afford to be cautious when you come back. As long as people at the NCA clear you, you shouldn't have any doubt. Once I get a clearance from NCA, I don't hold back."