Nadal vs Kyrgios: Here are all the controversial moments
Nadal vs Kyrgios: Here are all the controversial moments
Jul 05, 2019, 01:02 pm
4 min read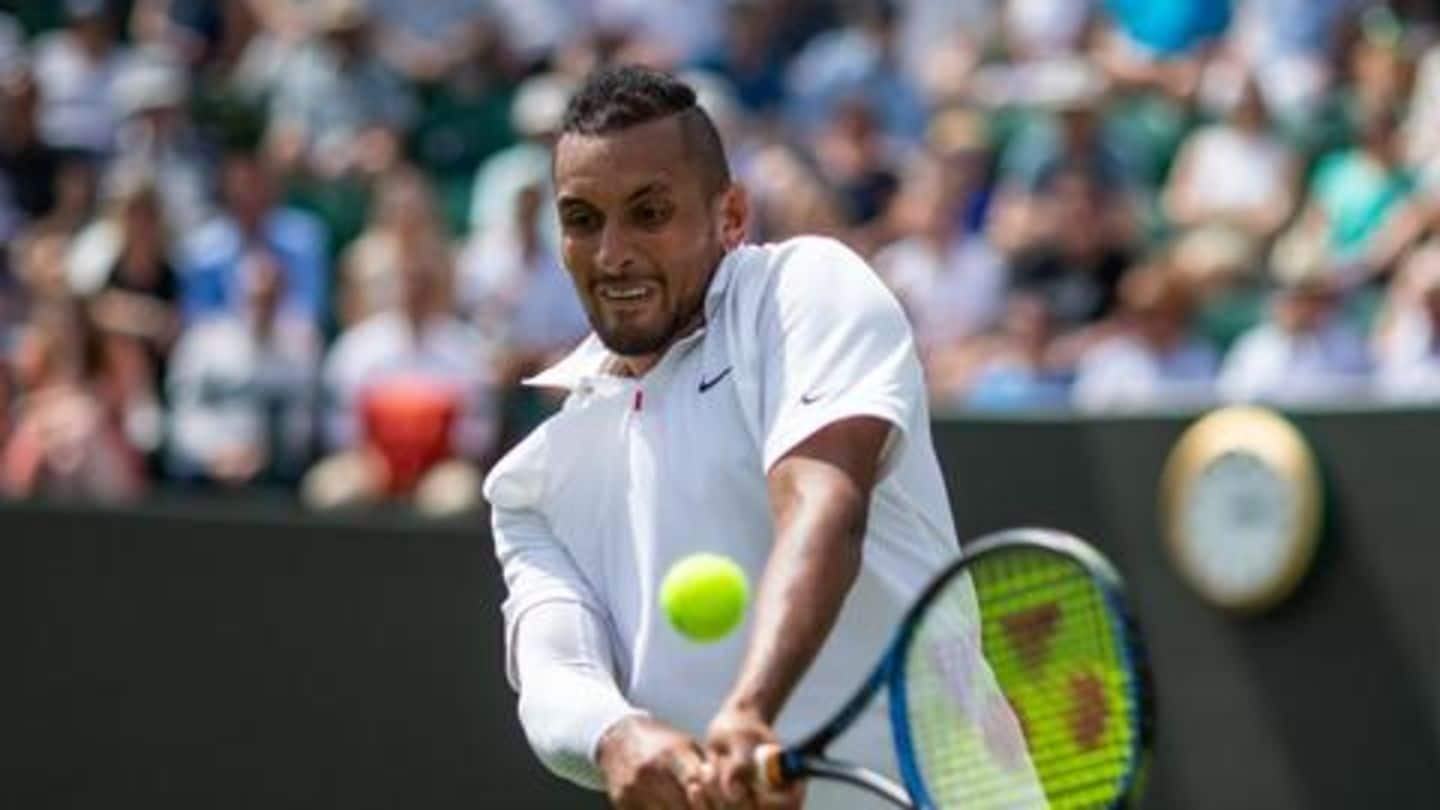 The bad boy of tennis, Nick Kyrgios, often gets engulfed in controversies. Only last month, the Australian was fined for his controversial behavior in the matches of the ATP Queen's Championship. This time, Kyrgios lashed out at Rafael Nadal, who beat him in a thriller at Wimbledon 2019. Here we list all the controversial moments of the match between Nadal and Kyrgios.
Wimbledon 2019: Kyrgios continues to use cheap tactics
Two-time Wimbledon champion Nadal prevailed in a 6-3, 3-6, 7-6 (7-5), 7-6 (7-3) victory over Kyrgios. During the match, Kyrgios twice served underarm. He also constantly argued which led to the referee warning the player. Kyrgios questioned Nadal's speed of play and also blasted a ball at him that Nadal managed to get away with his racquet. The environment was tense throughout.
I wanted to hit him, says Kyrgios after loss
"Why would I apologise? I won the point. I was going for him. I wanted to hit him. The dude has got how many Slams, how much money in the bank account? I think he can take a ball to the chest," said Kyrgios.
Nadal feels the shot aimed at him was dangerous
Nadal, who was on the receiving end, came out stronger in the match. His class and experience came into play here. Nadal was quick to point out that the ball smashed at him could have gone anywhere. "It is not dangerous for me, it is dangerous for a line referee, dangerous for crowd," the Spaniard said.
Mexican Open: Kyrgios attempts underarm, asks crowd to shut up
In February 2019, Nadal lost against Kyrgios in the pre-quarterfinals of Mexican Open. Kyrgios, who was booed by the crowd, won the tie 3-6, 7-6, 7-6. During the match, Kyrgios asked the crowd to shut up and the outburst saw him get a warning from the umpire. Kyrgios also attempted an underarm serve while serving to stay in the match during the third set.
'He lacks respect for the public, the opponent and himself'
The pair had clashed over a time wasting accusation during the encounter. In his post-match press conference, Nadal hit out at the Aussie. "He is a player who has huge talent, who could be winning Grand Slams or fighting for first position in the rankings," Nadal said. The Spaniard added, "He lacks respect for the public, the opponent and himself."
Kyrgios hits back at Nadal
Kyrgios fired back saying, "I am different, Rafa's different, he can focus on what he needs to do. He doesn't know the journey I've been through, he doesn't know anything about me so I'm not going to listen at all. It's the way I play."
Nadal vs Kyrgios: Head-to-head meetings
The pair's first meeting was five years ago at the Wimbledon. Kyrgios went on to stun Nadal back then. Nadal sealed momentum with victories at ATP Masters (clay) in Italy and Spain respectively. In 2017, they shared one victory each in Cincinnati and Beijing. And then Kyrgios won the ill-tempered Mexican Open. Nadal enjoys a 4-3 advantage in head-to-head meetings.
Key information about Nadal-Kyrgios rivalry
According to a report by BBC, back in 2014, Kyrgios took a dig at Nadal by pulling off a 'hot-dog' lob on his way to victory. One feels disregarding Nadal somehow kick-started the rivalry. But, both shared a cordial relation from there on until the Mexican Open event earlier this year. Kyrgios claimed Nadal was 'super salty'. Rafa's uncle Toni then called Kyrgios 'uneducated'.
Emotions have let Kyrgios down
Kyrgios has been busy confronting umpires, paying fines and breaking rules all the times, but he is a box office hit. One will always be in for an entertaining and tense atmosphere when he is around. His emotions have let him down on most occasions.