Bangkok residents coughing blood due to smog. Is Delhi next?
Bangkok residents coughing blood due to smog. Is Delhi next?
Feb 03, 2019, 02:46 pm
3 min read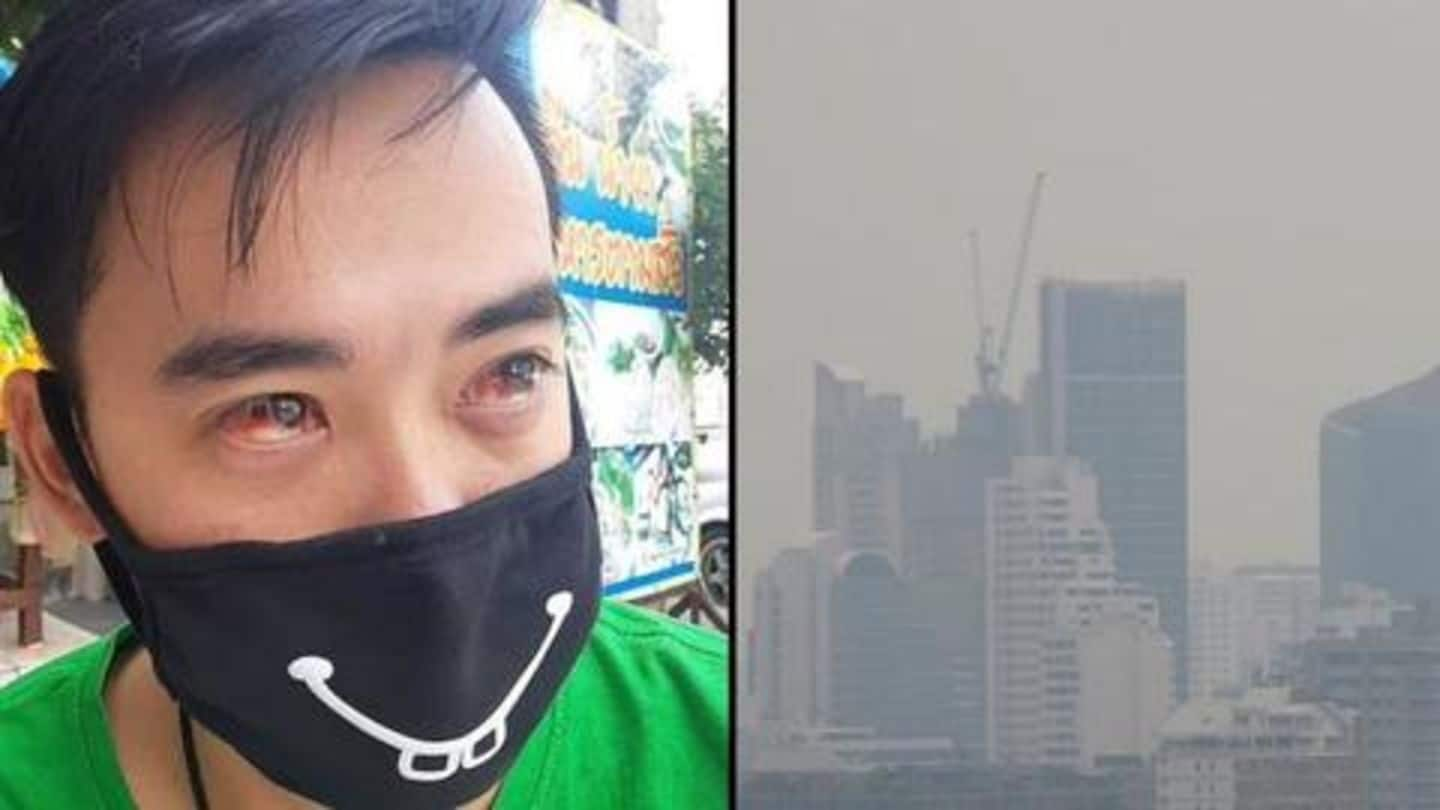 In what will come as a warning to Delhiites, air pollution in Thailand is reportedly in its worst state as it is causing people to cough up blood. Yes, you read that right! The thick smog that has covered the country's capital, Bangkok, is severely affecting the health of many residents. As per reports, the smog contains the dangerous PM2.5 particles. Here's more.
For the past two weeks, the toxic smog blanketing the city has got stuck inside people's lungs. Nutthawut Sirichainarumit, an office worker, recently shared a picture on social media of her hands covered in blood. The blood came out after she sneezed and Sirichainarumit blamed the smog for it. "I was totally shocked because I never sneezed blood in my entire life," she wrote.
Man with no prior respiratory disease diagnosed with lung infection
Another local, Seine Premmanuspaisal, who had no prior history of any respiratory disease, was diagnosed with a lung infection. He had been vomiting and coughing up blood for several days. "The polluted air also brings germs and viruses that gradually affect our bodies. Even though you think you are healthy, this horrible environment is going to disturb you in some way," he told media.
Government tried lowering pollution by spraying water through drones
Also, a resident, Khun Songsamut, was sent into intensive care with acute bronchitis and hypoxemia after his eyes started bleeding. "I felt I was going to die," he said. The severity of the pollution has reached to this effect that the government had to close 439 schools. The government also tried to lower the pollution by flying drones to spray water, but in vain.
Pollution affecting health of animals as well
Further, it is not just humans but the toxic smog is deteriorating the health of animals as well. A pet owner had to rush his rabbit, Jubbu, to the vet after blood was found on its nose. The vet shared the story of Jubbu online saying, "We look into her nose with a microscope and her nasal cavity is red and swollen."
Pollution caused by construction projects, vehicles, burning crops
Experts say the pollution is caused by vehicles, construction projects, burning crops and street food. Kakuko Nagatani-Yoshida, UN Environment's regional coordinator for chemicals, waste, and air-quality, said the Thai government needs to take a "decisive" action. He said a short-term solution would be to stop factories from burning waste. Meanwhile, Bangkok governor, Aswin Kwanmuang, has announced a ban on diesel-running cars in the city.
Delhi AQI recorded at 309 in 'very poor' category yesterday
Looking at Bangkok's situation, we can't help but wonder if Delhi is next? Yesterday morning, the Air Quality Index of the capital city was recorded at 309 which comes in the 'very poor' category. Although rain usually helps in clearing the air pollutants, experts said little showers would actually ruin the air quality by bringing huge amounts of moisture instead of washing away pollutants.