Brazil: Years of knowledge destroyed as 200-year-old museum catches fire
Brazil: Years of knowledge destroyed as 200-year-old museum catches fire
Sep 03, 2018, 11:16 am
2 min read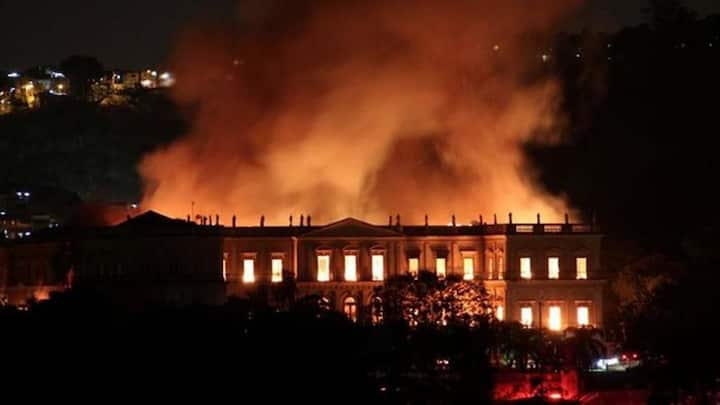 In a rather unfortunate incident, a massive fire gutted Brazil's 200-year-old national museum late on Sunday, and it is feared years of knowledge and artefacts have been destroyed. The structure, located inside Quinta da Boa Vista park in Rio de Janeiro, is one of the largest anthropological museums. Around 50 firefighters are continuing their battle against the fire. No casualty hasn't been reported so far.
Cause of fire is still unknown
The museum had closed for the public at 5 PM. When the museum caught fire, no one was present except the guards and security officials, all of whom escaped unhurt. The cause of the fire couldn't be ascertained. The loss of knowledge, though, has made many sad. "It is an unbearable catastrophe. It is 200 years of this country's heritage," Vice-Director Luiz Duarte, said.
Museum housed 12,000-year-old skeleton, fossils, and dinosaurs
The museum housed impressive collections which were over 100 years old. It also had items which Portuguese Prince Dom Pedro I brought to Brazil, a 12,000-year-old skeleton, fossils, dinosaurs as well as a meteorite found in 1784. While some of the collection was kept in another building, it is believed most the valuables have been destroyed. President Michel Temer called the losses 'incalculable'.
Vice Director Duart says government is to be blamed
An anthropologist Mércio Gomes wrote on Facebook, "We Brazilians only have 500 years of history. Our National Museum was 200 years old." He added what is lost is forever. Notably, Vice Director Duarte blamed government's laxity for the incident. "For many years we fought with different governments to get adequate resources to preserve what is now completely destroyed," he said.
"Crime against our past and future generations"
"The tragedy this Sunday is a sort of national suicide. A crime against our past and future generations," Bernard Mello Franco, one of Brazil's well-known columnists, wrote on the O Globo newspaper site.