Denmark becomes first European country to permanently drop AstraZeneca vaccine
Denmark becomes first European country to permanently drop AstraZeneca vaccine
Apr 15, 2021, 12:30 pm
3 min read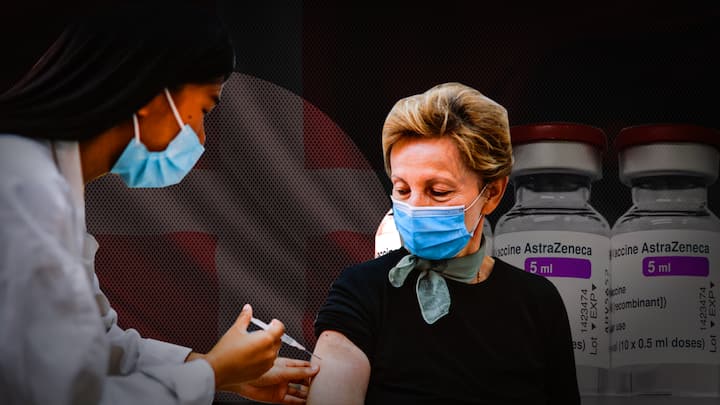 Even as vaccines became the world's biggest hope against the highly contagious coronavirus, Denmark has stopped using the one made by British-Swedish pharma giant AstraZeneca. On Wednesday, Denmark became the first European nation to put a complete halt on the vaccine's usage, over suspected rare but serious adverse reactions. The Danish Health Authority will "continue the rollout of its vaccination program without AstraZeneca."
Nearly 8% have been vaccinated, 17% got first shot
After the vaccination drive started, two cases of thrombosis — one which was fatal — came to the fore. By then, more than 140,000 people had received the jab. In the nation of 5.8 million inhabitants, 8% have been completely vaccinated and nearly 17% have received the first dose. Denmark is now giving the vaccines made by Moderna and Pfizer to its citizens.
Earlier, several countries had stopped, then resumed using the vaccine
Denmark went ahead and stopped the vaccine inoculation despite conclusions from World Health Organization and the European medicines watchdog that the vaccine's benefits outweigh the risk. Just last month, Denmark, along with countries like Norway and Iceland, had stopped using the AstraZeneca vaccine, over blood clot fears. On March 18, they resumed the usage after the European Medicines Agency (EMA) had termed it effective.
AstraZeneca said it 'recognizes and respects' Denmark's decision
In a statement, AstraZeneca said it recognizes and respects the decision of the Danish Health Authority. "Implementation and rollout of the vaccine program is a matter for each country to decide, based on local conditions. We will continue to collaborate with the regulators and local authorities to provide all available data to inform their decisions," a spokesperson said, reports Bloomberg.
Official explained one in 40,000 could get blood clot
Soren Brostrom, who heads the Danish Health Authority, estimated that one in 40,000 face the risk of getting a blood clot after the AstraZeneca shot. His conclusions were based on local research. He also claimed that more young women complained of blood clots because several healthcare workers were inoculated initially. Most of them were females, he revealed.
Countries approached Denmark to buy unused doses
Now that Denmark has stopped using the AstraZeneca vaccine, a number of countries have approached it to buy the doses. The country has nearly 200,000 unused doses. Brostrom said the nation isn't averse to the idea but underlined that Denmark would store some doses, in case a third wave emerges. He added that a third of the remaining doses will expire by June.