India-US have never been closer, says Trump after meeting Modi
India-US have never been closer, says Trump after meeting Modi
Jun 28, 2019, 10:48 am
3 min read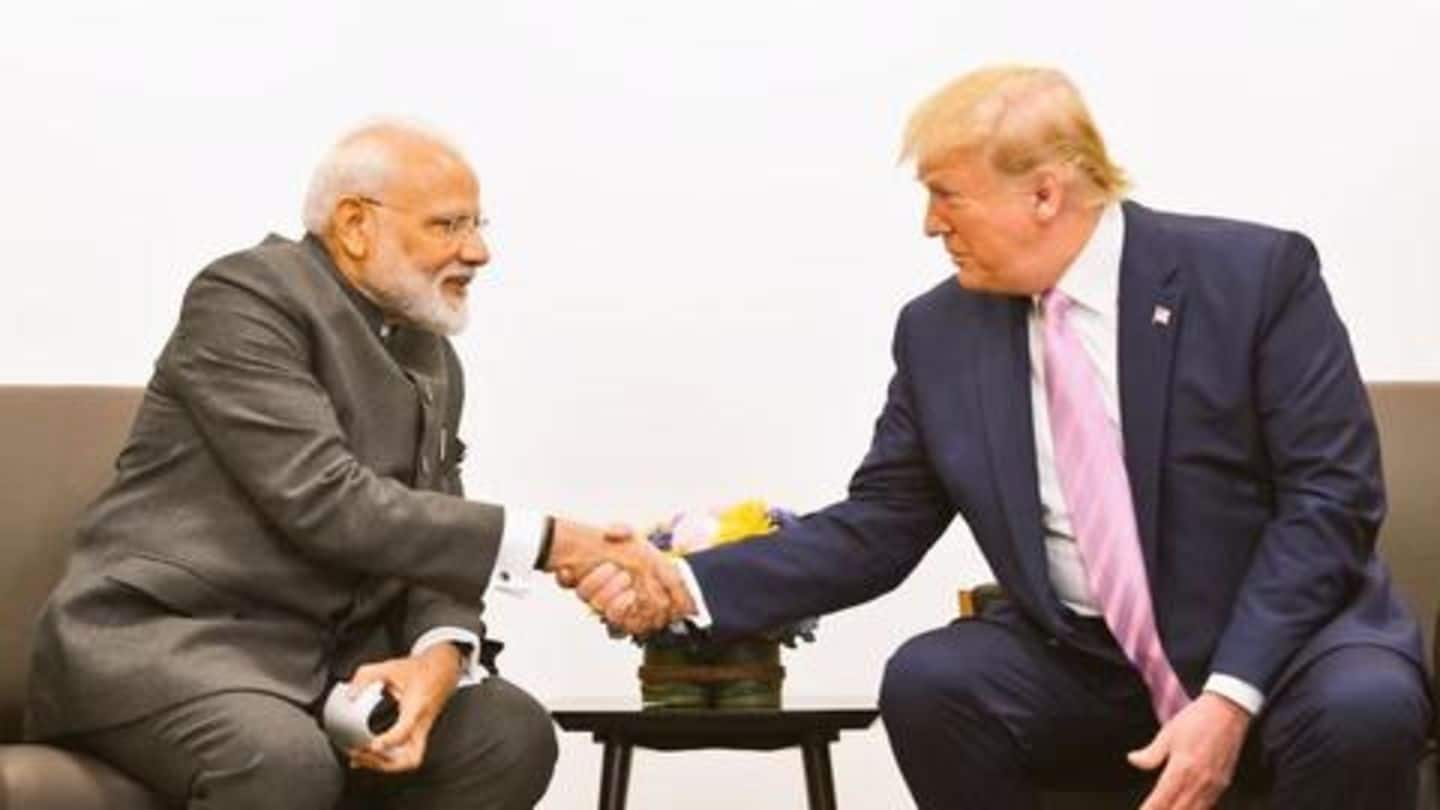 The ties between the United States and India have never been better, President Donald Trump said on Friday after meeting Indian Prime Minister Narendra Modi on the sidelines of G20 summit, being held in Japan's Osaka. Trump also congratulated PM Modi for his thumping victory in the summer elections saying he "deserved it". The leaders discussed a plethora of issues, including trade. Here's more.
G20 provides platform to world leaders to discuss important matters
Leaders of G20 (or group of 20) countries flocked to Japan for the two-day summit which will end on June 29, to discuss pressing issues. This time the leaders will focus on climate change, artificial intelligence, global and digital economy, among other topics. This is also the first mega-event which PM Modi is attending after India blessed BJP with a historic mandate in polls.
Understanding the importance of Trump and Modi's meeting
PM Modi's meeting with Trump comes at a time when ties between both countries have been strained. In June, Washington withdrew its long-standing trade concessions to India and also imposed higher duties on products like steel and aluminum. Subsequently, India slapped tariffs on 28 products, including almonds and walnuts. A defense deal which India is about to sign with Russia also miffed the US.
Before meeting, Trump demanded withdrawal of higher tariffs
In fact, before the much-awaited meeting with PM Modi, Trump slammed tariffs. In a tweet, he wrote that India put high tariffs against the US for years, which were further increased recently. "This is unacceptable and the Tariffs must be withdrawn, (sic)" he added. Trump lamented at higher tariffs earlier as well and had even called India "tariff king" once.
PM Modi and Trump met after Japan-America-India trilateral meeting
Interestingly, Trump's demeanor after the bilateral meeting was in deep contrast with the sentiment he displayed in the tweet. Notably, PM Modi and Trump met shortly after the Japan-America-India trilateral meeting, which was attended by Japanese PM Shinzo Abe. In a press interaction, Trump appreciated PM Modi's work. "You have done a great job in pulling together," he said.
Trump was all praises for PM Modi
US President: You (PM Modi) deserve it (victory in General elections). You've done a great job in pulling together. I remember when you first took over, there were many factionsthey were fighting with each other now they get along. It's a fantastic tribute to youyour abilities https://t.co/88HJ4g0Vww

— ANI (@ANI) June 28, 2019
Trump promised to work with New Delhi
PM Modi and Trump spoke about Iran, 5G, bilateral and defense relations. "We have become great friends and our countries have never been closer. I can say that with surety. We will work together in many ways including military, we will be discussing trade today," Trump said. US Secretary of State Mike Pompeo, who came to India earlier this week, also attended the meeting.
Meanwhile, PM Modi called the meeting productive
Today's meeting of the JAI Trilateral was a productive one. We had extensive discussions on the Indo-Pacific region, improving connectivity and infrastructure development.

Grateful to PM @AbeShinzo and President @realDonaldTrump for sharing their views as well. pic.twitter.com/FruUecBySB

— Narendra Modi (@narendramodi) June 28, 2019
Separately, PM Modi discussed terrorism with BRICS leaders
Later, PM Modi also met with BRICS (Brazil, Russia, India, China, and South Africa) leaders and revealed his views on regional and global cooperation. He spoke about curtailing terrorism. "Terrorism not only targets the innocent, but it also creates an environment that is dangerous. We must all make it a priority to do all we can to curb and end terrorism," he said.