Modi arrives in Japan for G20 summit, to meet Trump
Modi arrives in Japan for G20 summit, to meet Trump
Jun 27, 2019, 10:18 am
3 min read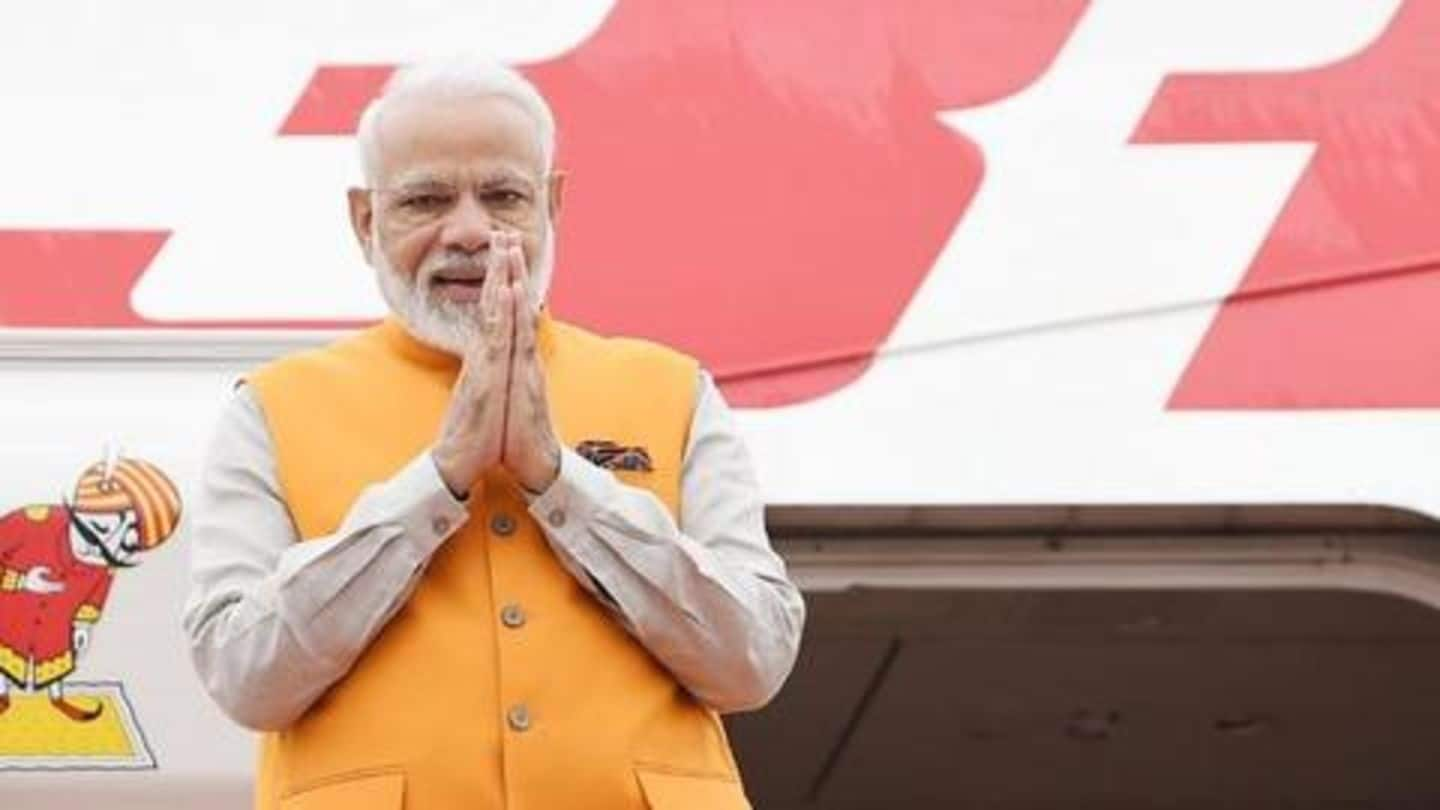 On Thursday, Prime Minister Narendra Modi arrived in Japan for the G20 summit, which is being held in Osaka between June 28 and June 29. During his visit, PM Modi will meet world leaders including US President Donald Trump, French President Emmanuel Macron, and Prime Minister of Japan Shinzo Abe. He will be meeting leaders for the first time after his re-election. Here's more.
Founded in 1999, G20 or group of 20, is an international forum for the governments and central bank governors from 19 countries and the European Union (EU). The countries which are part of G20 are Argentina, Australia, Brazil, Canada, China, the EU, France, Germany, India, Indonesia, Italy, Japan, Mexico, Russia, Saudi Arabia, South Africa, South Korea, Turkey, the United Kingdom, and the United States.
This time, climate change and AI will be in focus
Japan is hosting the summit for the first time wherein four key sessions, namely Global Economy: Trade and Investment; Innovation in Digital Economy and Artificial Intelligence; Addressing Inequalities and Realising an Inclusive Sustainable World; and Climate Change, Energy and Environment, will be conducted.
Leaving for summit, PM Modi revealed his agenda
While leaving India, PM Modi said he will discuss issues like women empowerment and artificial intelligence. He also plans to talk about terrorism and the collective efforts which need to be taken to curb the menace. "The summit will provide an important opportunity to reiterate and reinforce our strong support to reformed multilateralism, which is crucial for preserving rule-based international order in today's fast-changing world," he said.
Looking forward to engage with leaders: PM Modi
Further, PM Modi said that India's development in the last five years will also be discussed. He said he is eager to engage with leaders of major partner countries. Meanwhile, former Union Minister Suresh Prabhu, who is India's sherpa at the summit, had said issues like fugitive economic offenders, portable social security schemes, disaster-resilient infrastructure, and food security will also be raised.
PM Modi's statement revealed he has a busy schedule
"I also look forward to host next Russia, India and China (RIC) Informal Summit on sidelines, and also to participate in the next informal meetings of the BRICS (Brazil, Russia, India, China and South Africa) and JAI (Japan, America and India) leaders," PM Modi said.
Separately, Trump and Modi will meet in Japan
One of the highlights of PM Modi's visit will be his meeting with Trump. The two leaders agreed for the bilateral meeting when the latter called the BJP leader to congratulate him for the resounding victory. Although no agenda has been fixed, Trump and PM Modi are expected to discuss trade, which has emerged as a bone of contention between both countries.
Interestingly, Pompeo's visit lay groundwork for the much-awaited meeting
The stage for PM Modi and Trump's meeting was set by US Secretary of State Mike Pompeo, who arrived in India on Tuesday. On Wednesday, he met External Affairs Minister S Jaishankar and PM Modi. Speaking on Indo-US ties, Pompeo said, "America and India need to be good, solid and reliable partners for the sake of their citizens and the world".