Calling Kashmir situation "religious", President Trump offers mediation again
Calling Kashmir situation "religious", President Trump offers mediation again
Aug 21, 2019, 10:54 am
3 min read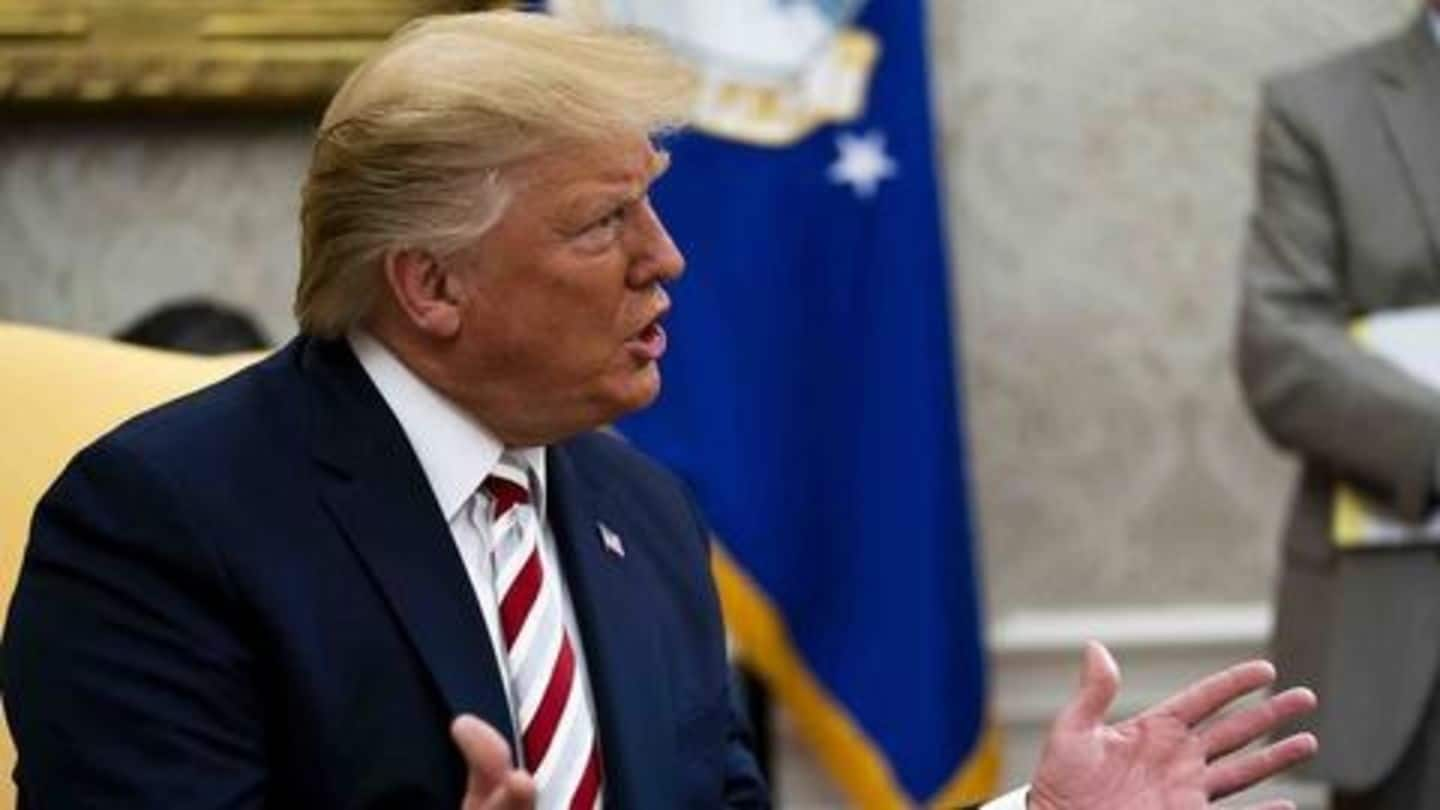 A day after he spoke to Indian Prime Minister Narendra Modi and Pakistan's PM Imran Khan, US President Donald Trump said he "will do his best to mediate". This is the third time that the global leader has offered to resolve the contentious Kashmir issue through mediation. This time around, Trump said the Kashmir situation has a lot to do with religion. Here's more.
Explaining Kashmir problem, Trump said Hindus, Muslims don't get along
Speaking to reporters at White House, Trump called Kashmir a very "complicated place". Then in an attempt to "simplify" the situation, he added, "You have Hindus and you have the Muslims and I wouldn't say they get along so great." About India and Pakistan, Trump said both countries haven't had amicable terms for a really long time and then offered mediation.
I will do the best I can to mediate: Trump
Subsequently, Trump added that India and Pakistan have had problems for years and this has led to the situation, which he termed "explosive". "I think we're helping the situation. But there are tremendous problems between those two countries, as you know. And I will do the best I can to mediate or do something, (sic)" the 73-year-old leader said.
Further, Trump said Kashmir issue involves religion
"Great relationship with both of them (India and Pakistan), but they are not exactly friends at this moment. Complicated situation. A lot has to do with religion. Religion is a complicated subject," the US President added.
Trump might discuss Kashmir problem with PM Modi soon
In fact, Trump indicated that he would speak to PM Modi when he meets him at the G7 Summit in France. "I will be with Prime Minister Modi... I'll be with him over the weekend in France. I think we are helping (resolve the tense) situation (between India and Pakistan)," he said. Meanwhile, New Delhi had rebuffed Trump's earlier offers of mediation.
India told Trump it doesn't need help. He didn't listen
When Trump first made stunning remarks that PM Modi had sought his help for mediation, India staunchly denied it. India's External Affairs Minister S Jaishankar underlined that all issues with Pakistan would be solved bilaterally. However, earlier this month, Trump again said he is ready to mediate if the two warring neighbors ask him to. But New Delhi didn't change its stance.
Not long ago, Trump spoke to his "good friends"
Interestingly, days after Trump's second mediation offer, India revoked Article 370 and divided Jammu and Kashmir into two UTs. This development made Pakistan furious (?) and the Islamic nation has been trying to get global attention ever since. On Monday, Trump spoke to his "good friends" Khan and PM Modi, discussed the crisis, and then concluded the "situation was tough".
PM Modi talked about rhetoric, Khan about "humanitarian crisis"
In the 30-minute long conversation, PM Modi told Trump that extreme rhetoric of regional leaders will not help in achieving peace. He also spoke about the importance of creating a terror-free atmosphere, to highlight India's position that dialog can't begin with Pakistan till it curtails terrorism. Notably, Khan is learned to have apprised Trump about the "humanitarian crisis" in Kashmir.