An ice-free Greenland could be our *scary* future, says study
An ice-free Greenland could be our *scary* future, says study
Written by
Siddhant Pandey
Jun 26, 2019, 12:07 am
3 min read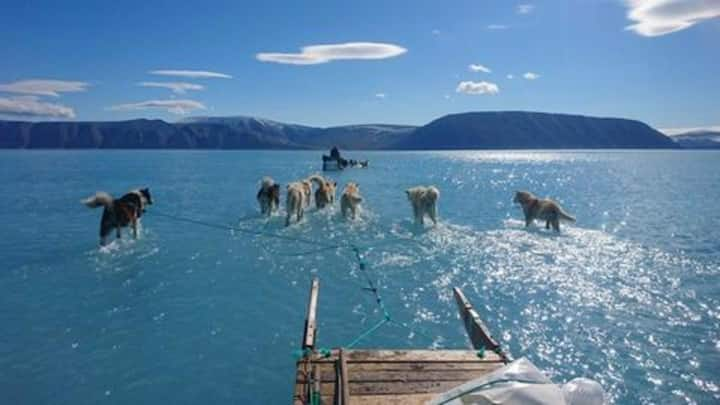 If you are someone who wonders why Greenland, a landmass that's mostly ice, was named that, you probably won't have to spare more thought for it. A new study has found that Greenland may become completely ice-free by the end of the millennium. Additionally, all that melted ice would lead to a global sea level rise of 24 feet! Freaked out? You should be.
Study predicts 4.5% Greenland ice loss by end of century
According to a study, conducted by scientists from the University of Alaska Fairbanks Geophysical Institute, by the year 3000, Greenland may lose all ice cover, raising sea levels by a whopping 24 feet and consuming low-lying landmasses. The study added that by the end of this century, the island may lose 4.5% of its ice, adding 13 inches to sea levels.
Why is Greenland's ice sheet relevant?
Greenland's ice sheet spans 6,60,000 square miles, covering 81% of its surface. It contains 8% of Earth's fresh water. Between 1991 and 2015, melting of Greenland's ice has resulted in 0.02 inches sea level rise annually, which could change by a lot and really fast.
How was the research conducted
The research model used varying projections of greenhouse gas concentrations and atmospheric conditions to predict ice loss and sea level rise in the future. And currently, it seems we are approaching high estimates of greenhouse gas concentrations. TL;DR if we keep pumping greenhouse gases into the air, that 24ft sea level rise we mentioned above will be a reality.
Scientists created three climate scenarios; ran 500 computer simulations
The study used new data conducted on the landscape under the ice. Three climate scenarios were created, depending on national and political responses to climate emergencies, glacier flow rate, summer-winter ice melt ratio, and ocean heating. Researchers ran 500 computer simulations for each scenario.
Even by reducing greenhouse emissions sharply, the future is bleak-ish
The outcome is reportedly consistent with many other findings; that if global warming continues due to the increasing ratio of greenhouse gases in the atmosphere, Greenland may lose all ice-cover by 3000. However, if emissions are *sharply* reduced, we may get to keep a quarter of the ice cover by 3000 and the sea level would rise 1.88 meters.
Future of Greenland's landscape is up to us
University of Alaska Research Associate Professor Andy Aschwanden said, "How Greenland will look in the future- in a couple of hundred years or in 1,000 years- whether there will be Greenland, or at least a Greenland similar to today, it's up to us."