Amid coronavirus crisis, hundreds flee from four Brazilian prisons
Amid coronavirus crisis, hundreds flee from four Brazilian prisons
Mar 17, 2020, 05:58 pm
2 min read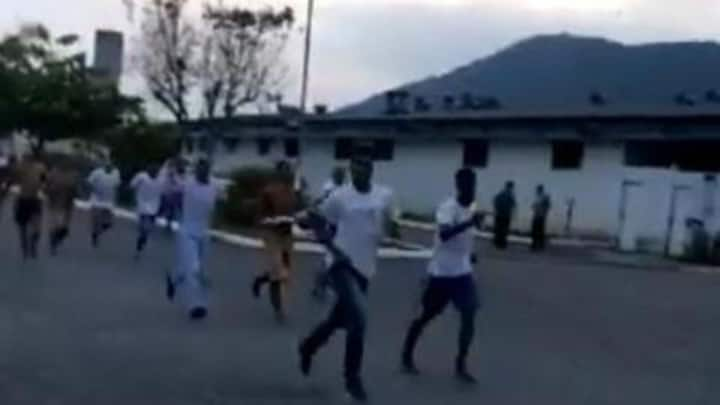 If dealing with the deadly coronavirus wasn't enough, authorities in Brazil have now a new problem at hand — they have to hunt hundreds of prisoners who escaped from four prison facilities on Monday. Sao Paulo state prison authorities said the prisoners escaped from Mongaguá, Tremembé, Porto Feliz and Mirandópolis, a day before their day-release privileges were set to be canceled.
When rules were changed, prisoners reacted violently
In the aforementioned semi-open prisons, inmates are given some hours of reprieve and have to log back in. However, considering that they might come back with infection, the rules were tweaked sparking a revolt. While the prison authority didn't give a number, local media reported over 1,000 fled from prisons. A video on social media showed a long queue of prisoners running away.
Watch: Prisoners escape from captivity
Rebelião na penitenciária de Mongaguá, litoral de SP. Até o momento, 8 agentes estão sendo feitos de refém. Presos fugiram pela orla da praia sentido Praia Grande. PM em atuação no local. pic.twitter.com/26JVlAg2IJ

— Leonardo Martins (@___leomartins) March 16, 2020
Inmates would have been at greater risk, explained prison authorities
Defending its decision, the prison administration said, "The measure was necessary because the benefit would include more than 34,000 convicts of the semi-open regime who, returning to prison, would have high potential to install and spread the coronavirus in a vulnerable population." The administration added that riot police took over all the facilities, and officers taken hostage by the revolting inmates were also released.
Prison riots are extremely common in Brazil
To note, riots inside prisons are quite common in Sao Paulo. The infamous gang, First Capital Command (PCC), operates from the state and regularly smuggles guns, drugs and other contraband inside prisons. Last year, a major riot broke out at a jail in Altamira, leaving 57 people dead. Altamira is one of the most violent provinces in Brazil.
Brazilian President tested negative for coronavirus
In Brazil, the coronavirus, which originated in China last year, has infected 234 people. Last week, President Jair Bolsonaro got himself tested for the virus and the results came out to be negative. Meanwhile, his communications secretary Fabio Wajngarten tested positive for COVID-19 and was quarantined at home. Brazilian Foreign Trade Secretary Marcos Troyjo has also contracted the infection, reports said on Monday.