Imran Khan to hold mega rally in Pakistan-occupied Kashmir today
Imran Khan to hold mega rally in Pakistan-occupied Kashmir today
Sep 13, 2019, 10:15 am
3 min read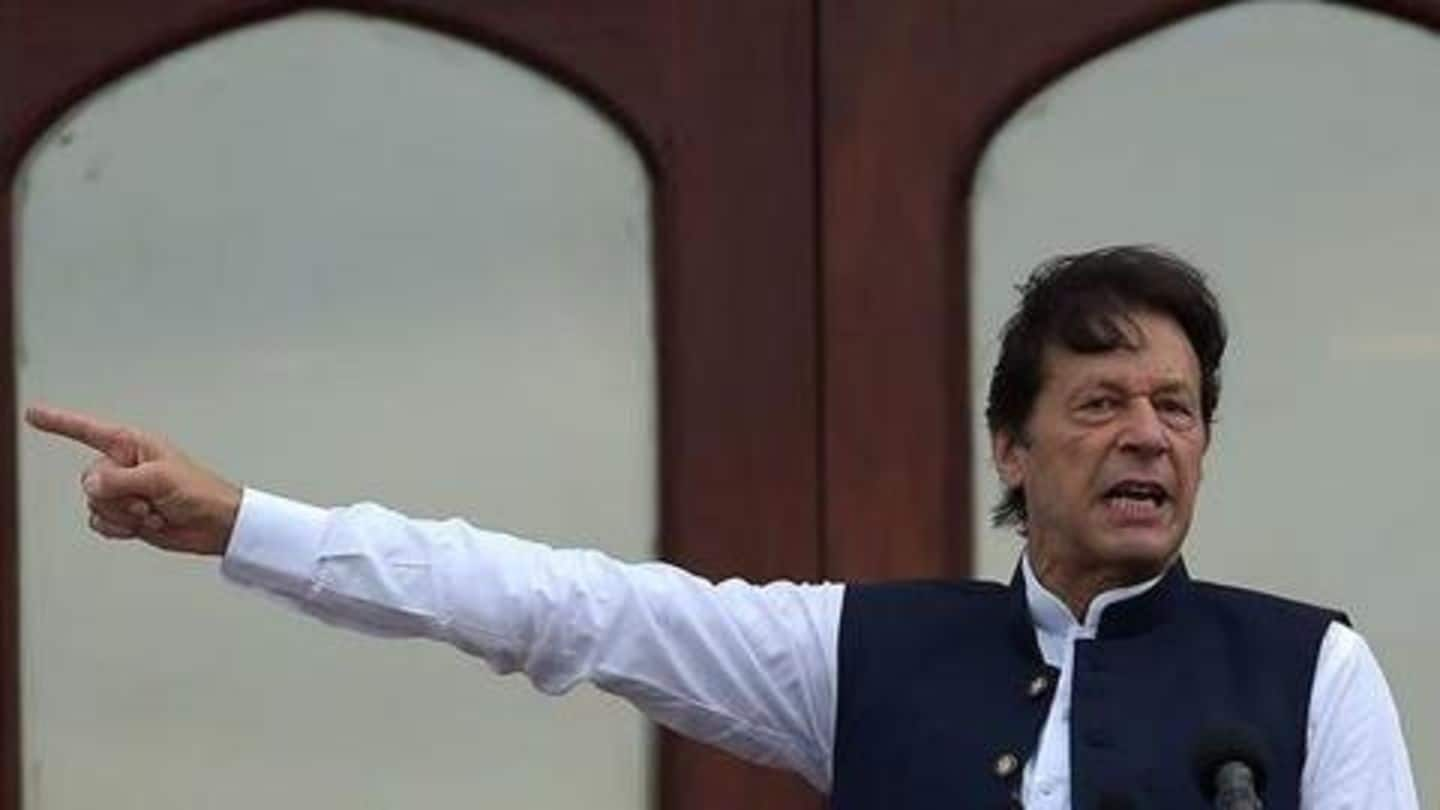 Amid brewing tensions between India and Pakistan, the latter nation's Prime Minister Imran Khan is all set to hold a "big jalsa" or public gathering to "express solidarity" towards residents of Kashmir. This mega rally will take place in Muzaffarabad in Pakistan-occupied Kashmir (PoK). Khan will make a "policy statement" on Kashmir, the spokesperson of Pakistan's Foreign Ministry, Mohammad Faisal, said on Thursday.
Backstory: Pakistan claims human rights are being violated in Kashmir
This rally is part of Pakistan's government campaign to hold an event every week to "support" Kashmiris. Islamabad has been claiming human rights are being violated in the valley since the Indian government revoked Article 370, and put J&K under an unprecedented security cover. In fact, Pakistan has also been trying to get support from other countries but hasn't been able to make much progress.
We are ready for mediation, India isn't: Faisal
During his weekly press briefing, Faisal said, "Mediation offers (on Kashmir) are there but India is not ready. We are ready for it. Our considered view is that all problems can be solved through talks." Further, the country's foreign office said that "Kashmir struggle" is a process and not an event. "We have taken some actions and more actions can follow," the statement added.
Interestingly, Khan claimed 58 countries are standing with Pakistan
On Thursday, Khan once again raked the Kashmir issue and thanked "58 countries" for supporting its stand. He claimed these countries lent support at the session of the United Nations Human Rights Council (UNHRC) and "agreed" that India should "stop using force", "lift siege" and "respect the rights of Kashmiris" However, Khan failed to name even one country in his tweets.
Further, Khan said Kashmir issue can be solved via dialog
I welcome the EU's call in the Human Rights Council for a peaceful solution of the Kashmir dispute in line with UNSC resolutions, int law and bilateral agreements.

— Imran Khan (@ImranKhanPTI) September 12, 2019
Notably, India doesn't want the involvement of any third party
The opinion of both the warring South Asian neighbors on Kashmir is extremely opposite. While Pakistan wants a third party to resolve the dispute, India has maintained that all issues will be solved bilaterally. New Delhi has reiterated that dialog with Islamabad will begin once it stops breeding terrorism. At the UNHRC session too, India hammered Pakistan's "false narrative" with facts.
How can Pakistan talk about minorities, asked India
On Tuesday, at the session in Switzerland's Geneva, Kashmiri diplomat Vimarsh Aryan highlighted the worrisome state of minorities in Pakistan. "Pakistan's rhetoric will not distract international attention from Pakistan's persecution and elimination of religious and ethnic minorities—be it Christians, Sikhs, Shias, Ahmadiyas, and Hindus. This is the reason that Pakistan no longer publishes official statistics about its minorities as India does," he said.
While Pakistan ranted about Kashmir, it forgot about Balochistan
Now, Pakistan had high hopes from the UNHRC session, and it is trying hard to get an "urgent debate" on the matter. But the nation was left red-faced when posters condemning Pakistan's atrocities in Balochistan and Khyber Pakhtunkhwa dotted Geneva. To make matter worse, Brigadier Ijaz Ahmed Shah, the country's interior minister, said that Pakistan has spent millions on terror outfit Jamat-ud-Dawa (JuD).