India's success in 2030-SDGs can change face of world: UNGA
India's success in 2030-SDGs can change face of world: UNGA
Written by
Aakanksha Raghuvanshi
Oct 08, 2018, 03:03 pm
4 min read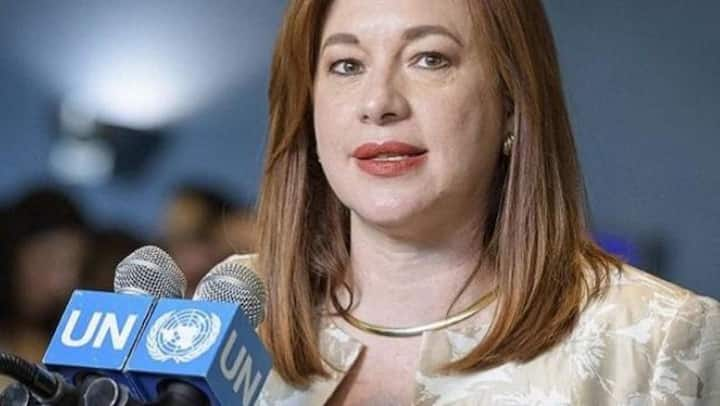 India's success in achieving the 2030 Sustainable Development Goals can change the face of the world, UN General Assembly President Maria Fernanda Espinosa said, describing the country as a "very important player" of the multilateral system. Espinosa, an Ecuadorian politician and diplomat, said she's very much looking forward to engaging and working together with India under her presidency of the 193-member UN General Assembly.
'India is a very important player of the multilateral system'
"India is indeed a very important player of the multilateral system. It is a friendly country to the UN. If India succeeds in the achievement of the 2030 Agenda, we are talking about 1.3 billion people, this really can change the face of the world," she said. Espinosa, Ecuador's former Minister of Foreign Affairs, is the fourth female President of UN.
Trivia: India's Vijaya Lakshmi Pandit first woman President of UNGA
Before Espinosa was elected as the UNGA President in June, Sheikha Haya Rashed Al Khalifa of Bahrain held the post in 2006. Before Khalifa, it was Angie Elisabeth Brooks of Liberia who was elected President in 1969. The first woman President of the General Assembly was elected in 1953 and it was none other than veteran Indian diplomat Vijaya Lakshmi Pandit.
Touched to see how SDGs were implemented in India: Espinosa
Before assuming office as UNGA President, Espinosa had held meetings with PM Narendra Modi in India. Recalling that visit, she said she was touched to see how the Sustainable Developments Goals (SDGs) were being implemented on the ground in India. During the visit, she had also visited NGOs and said it's heartening to see them organizing their communities using the SDGs as a framework.
India, a strong contributor of troops for peacekeeping operations
Lauding India's efforts in various aspects of the UN system, she said India is a very strong contributor of troops for UN peacekeeping operations. "It is very important also to set the standards on issues of involvement of women in peacekeeping, zero tolerance to any abuse or violence against women peacekeepers and against women and girls in general in conflict situations," she said.
Espinosa also congratulated Modi for winning UN's highest environmental honor
Espinosa also congratulated PM Modi for being conferred with the United Nations' highest environmental honor, the "UNEP Champions of the Earth" award, recognizing his leadership of the International Solar Alliance as well as his pledge to eliminate all single-use plastic in India by 2022.
Challenge becomes opportunity, if you've the political will: Espinosa
When asked about what challenges she sees for India, Espinosa said that despite opportunities, the country also faces several challenges in areas of sanitation and urbanization. Given that India is a highly populated country, the issue of balance between rural-urban areas, access to services are major challenges, she said adding, "If you have the political will, the challenge becomes an opportunity."
'India have the conditions you need to make a difference'
Continuing on India, Espinosa said, "I see that things are happening in a very positive way. Active civil society engagement, vibrant democracy, strong participation of people, engaged citizens are the conditions you need to make a difference and the conditions are there in India."
Espinosa on the legacy of the Mahatma Gandhi
Espinosa has listed revitalization of the UN, gender equality, youth, peace and security, migration and refugees, environmental action, decent and meaningful employment and commitment towards persons with disabilities as her key priorities in the UNGA session. Commemorating the International Day of Non-violence on Mahatma Gandhi's birth anniversary, Espinosa had said that the legacy of the Mahatma has proven the most durable and enduring.
Humility and generosity important to address challenges we face: Espinosa
"The only way to be a peaceful world is using the philosophy of non-violence from Mahatma Gandhi and translate it into a political action and commitment," said Espinosa. She further added, "Humility and generosity are universal values but at the same time they are so important to address challenges that we all face, to address the refugee situation, specific conflicts around the world."