India to send expedition to measure Everest
India to send expedition to measure Everest
Written by
NewsBytes Desk
Jan 26, 2017, 08:10 am
2 min read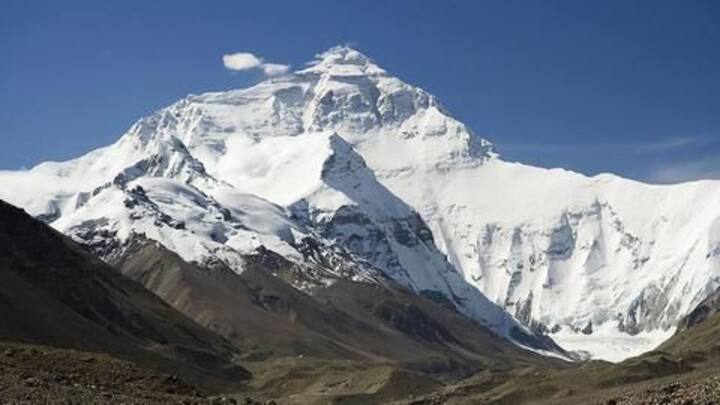 The Surveyor-General of India, Swarna Subba Rao stated that a 30 member team would be dispatched to Mount Everest to assess any changes in height that may have happened after the 2015 earthquake. Scientists believe the height of the mountain has been reduced by one metre. Rao said India would "work with the government of Nepal, which has agreed in principle to collaborate."
Scientists say it takes a combination of satellite mapping, GPS tracking, aerial surveys and ground expeditions to accurately measure Mount Everest. The most accurate measurement of the peak was made in 1955 by the Survey of India, which places Mt Everest at 8,848m or 29,028ft.
The 2015 Nepal earthquake
In April 2015, a 7.8 magnitude earthquake struck Nepal, killing almost 9000 people and injuring over 22,000 others. It triggered an avalanche on Mount Everest which killed 22 trekkers and sherpas. The quake was triggered at a depth of 8 km, when the Indian Plate, carrying India, was slowly diving underneath the Eurasian Plate. It was the worst natural disaster in the 21st century.
Scientists say Everest has dipped
Scientists have stated that Mount Everest may have become shorter after the earthquake. Satellite images have shown that the height of the general region where Mount Everest lies in the Himalayas has dipped by an average of 1.5 metres. They added that the region around Kathmandu has been lifted by the same height. However, scientists have not been able to assess Everest's height change.
Nepal refutes claim of cooperation
Despite Surveyor-General Swarna Subba Rao's statements that Nepal has agreed to cooperate, Ganesh Bhatta, Deputy Chief of Nepal's Survey Department refuted the claims. He added instead that Nepal was planning to undertake its own survey of the mountain soon. India needs permission from the government of Nepal to conduct any operations on Mount Everest, which is in Nepal's sovereign territory.
How does India plan to carry out measurement?
India plans to send a 30-member expedition to Everest to record topographical data. They will use a combination of aerial surveys, ground mapping and GPS triangulation to get an accurate assessment. Technology has significantly improved since 1955, hence the chances of recording a change in height are high. It will take 30 days to take readings and 15 to compute them and deliver results.