First time in history! Transgender to participate in Miss Universe-2018
First time in history! Transgender to participate in Miss Universe-2018
Written by
Pallabi C Samal
Nov 29, 2018, 08:53 pm
4 min read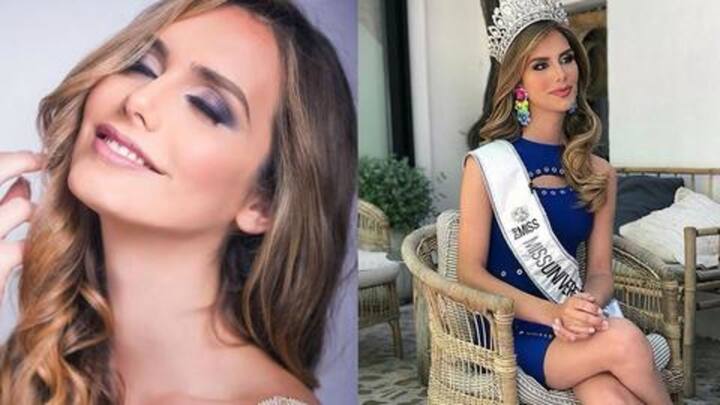 This year's Miss Universe pageant will be ground-breaking. Not only will it see a record participation of 94 countries and territories, it'll also feature a transgender woman, the first ever to represent her country in this international competition. Meet 27-year-old Angela Ponce, a 6ft beauty from Spain, who is en route to Thailand (the venue of this year's Miss Universe competition), to create history.
Ponce's participation contradicts Trump's diktat on trans-contestants
In July, Ponce defeated 22 other contestants to be crowned the Miss Spain 2018. And now, five months later, she is busy packing her luggage to achieve what she always "wanted to do since I was a little girl." Ponce's participation in the internationally-recognized event is significant, as it comes six years after the then-owner Donald Trump's scrapping of the ban on trans-contestants.
If she wins, 'it'd be a win for human rights'
When asked if her participation is a rebuke to Trump, Ponce said, "More than a message to him, it would be a win for human rights. If they give me the crown, it would show trans women are just as much women as cis women."
Journey till now hasn't been easy for her
The model, whose Instagram caption is 'Be unique, be yourself,' further said she doesn't hold it against those who discriminate, because "no one taught them about diversity." "What you don't talk about doesn't exist- even though trans people have been here since there were people on earth," she said. Ponce said in school or in her journey till now, it wasn't easy for her.
Miss World didn't allow transgender woman to win until recently
For instance, in 2015, when she had competed in Miss World, she found out a terrible prejudiced rule. "I found out on the day of the competition that their rules didn't allow a transgender woman to win. It crushed me," she recalled. She still went ahead and performed but felt horrible all the way. Things changed when she got to the Miss Universe pageant.
How did Jenna Talackova pave way for Ponce's landmark participation
"After I got to the final, Miss World changed their rules too. I changed the rules," she proudly claims. The rule-changing also happened when Jenna Talackova, a 29-year-old transgender Canadian model, won a legal battle and was allowed to compete for the title of Miss Universe Canada, back when Trump owned the pageant in 2012. Unfortunately, Talackova failed to make it to top 5.
'Put up a signboard at your storefronts against trans women'
Back to Ponce, who's aware that companies are also wary of them. In November, Victoria's Secret CMO spoke against transgender models' participation at the lingerie brand's flagship show, though he later apologized. "They should put a sign on all their storefronts saying: No trans women. If they don't want us to model for them, they shouldn't want us to buy their products," Ponce notes.
Meanwhile, Ponce is super excited for the evening gown round
Given everything, the Pilas born light blue-eyed model is super-excited and is really looking forward to the evening gown portion. "We want it to be a magical moment. The only part I'm dreading is lugging five suitcases to Thailand alone," she laughingly says.
Not here to preach the society, says Ponce
Spain, she claims, is "one of the best countries in the world in terms of female representation at the top of politics, but there's still a way to go." "Transgender people still don't have a legal right to their identity until they're 18," she informs. Her participation is sure to break many a taboo, but Ponce says she isn't here to preach the society.
'I'm showing trans-women can be whatever they want to be'
"I'm not trying to impose anything on anyone. By competing I'll make trans people more visible for everyone. I'm showing that trans women can be whatever they want to be: a teacher, a mother, a doctor, a politician and even Miss Universe," she wraps up.