World's biggest trade pact on track, despite India's concerns
World's biggest trade pact on track, despite India's concerns
Nov 04, 2019, 11:39 am
3 min read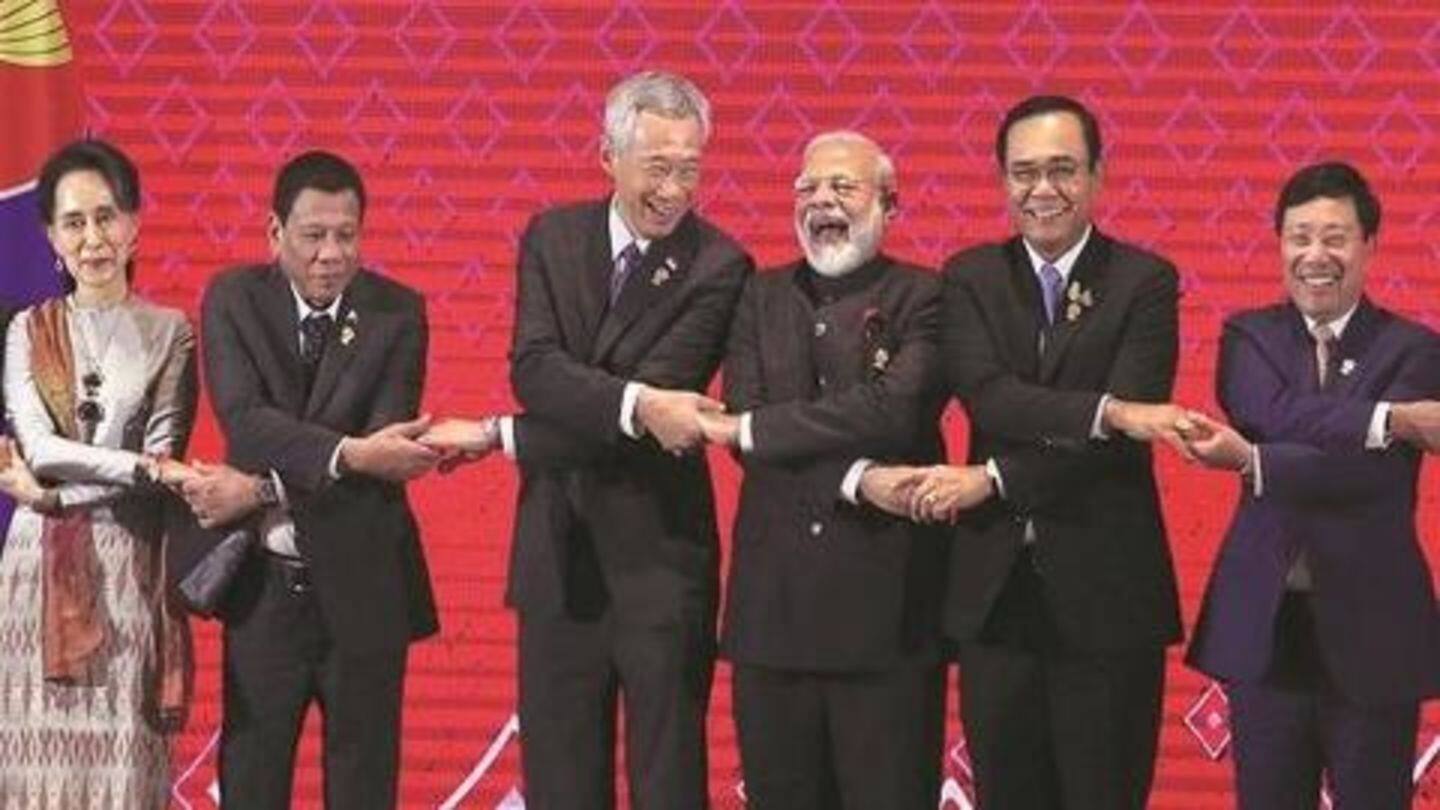 The talks to set up the world's largest trade bloc is on track, Thailand said on Monday. This development came despite concerns raised by India about Chinese products hurting its economy. Notably, Southeast Asian countries are pushing their weight behind RCEP in wake of US-China trade war, which has dipped economic growth in the region. Here's everything you need to know about it.
First things first, what is RCEP?
The Asia-wide Regional Comprehensive Economic Partnership (abbreviated to RCEP) concerns 16 countries, spanning India to New Zealand. Once it gets functioning, it'll cover half the world's population and 39% of world's GDP. RCEP has China's backing. The participating countries hoped to reach a consensus in Thailand, where the Association of Southeast Asian Nations (ASEAN) summit was held. But Bangkok said it has been postponed.
So, what is India demanding?
An Indian delegation led by Commerce Minister Piyush Goyal indulged in last-minute conversations this weekend. India is concerned about cheap Chinese products flooding its market, effectively hurting small businesses. India's views about RCEP were well reflected when Prime Minister Narendra Modi gave an interview to Bangkok Post. He said India is committed to a "balanced" outcome from the negotiations.
India wants "balance" across different verticals, said PM Modi
"India remains committed to a comprehensive and balanced outcome from the ongoing RCEP negotiations. Their successful conclusion is in the interest of everyone involved. Hence, India seeks balance across goods, services, and investments, and also within each pillar," he reportedly said.
If India joins RCEP, it might adversely affect economy
In case India comes on board, it will be compelled to do away with tariffs for about 90% of items from the ASEAN, Japan and South Korea, and more than 74% products from China, Australia, and New Zealand. The idea wasn't welcomed cordially back home, with India Inc., farmer groups, and opposition leaders asserting that China will use RCEP as a tool to dump its goods.
PM Modi's conduct shows India has apprehensions about RCEP
The way India is going about with this deal shows the current regime, run by BJP, isn't too excited about it either. Recently, PM Modi met Southeast Asian leaders and didn't even mention RCEP. Instead, he chose to talk about reviewing the existing trade agreement between ASEAN and New Delhi. When asked about RCEP, a foreign ministry official didn't take questions.
Some countries want India out, Thailand confirms this isn't true
As India remained stern, some countries reportedly Japan, South Korea, Australia, and New Zealand suggested the idea of forming the bloc without New Delhi. But Jurin Laksanawisit, Thailand's Commerce Minister, clarified on Sunday that India has not pulled out. Another reason why Southeast Asian countries want India on board is that it would translate into less domination by China.
Meanwhile, Laksanawisit said signing will happen next year
"The negotiation last night was conclusive. There will be an announcement together on the success of the RCEP agreement by the leaders later today. India is part of this as well and will jointly make the announcement. The signing will be next year," Laksanawisit said.