Russian couple performs dangerous stunts with their baby, arrested
Russian couple performs dangerous stunts with their baby, arrested
Feb 05, 2019, 03:25 pm
3 min read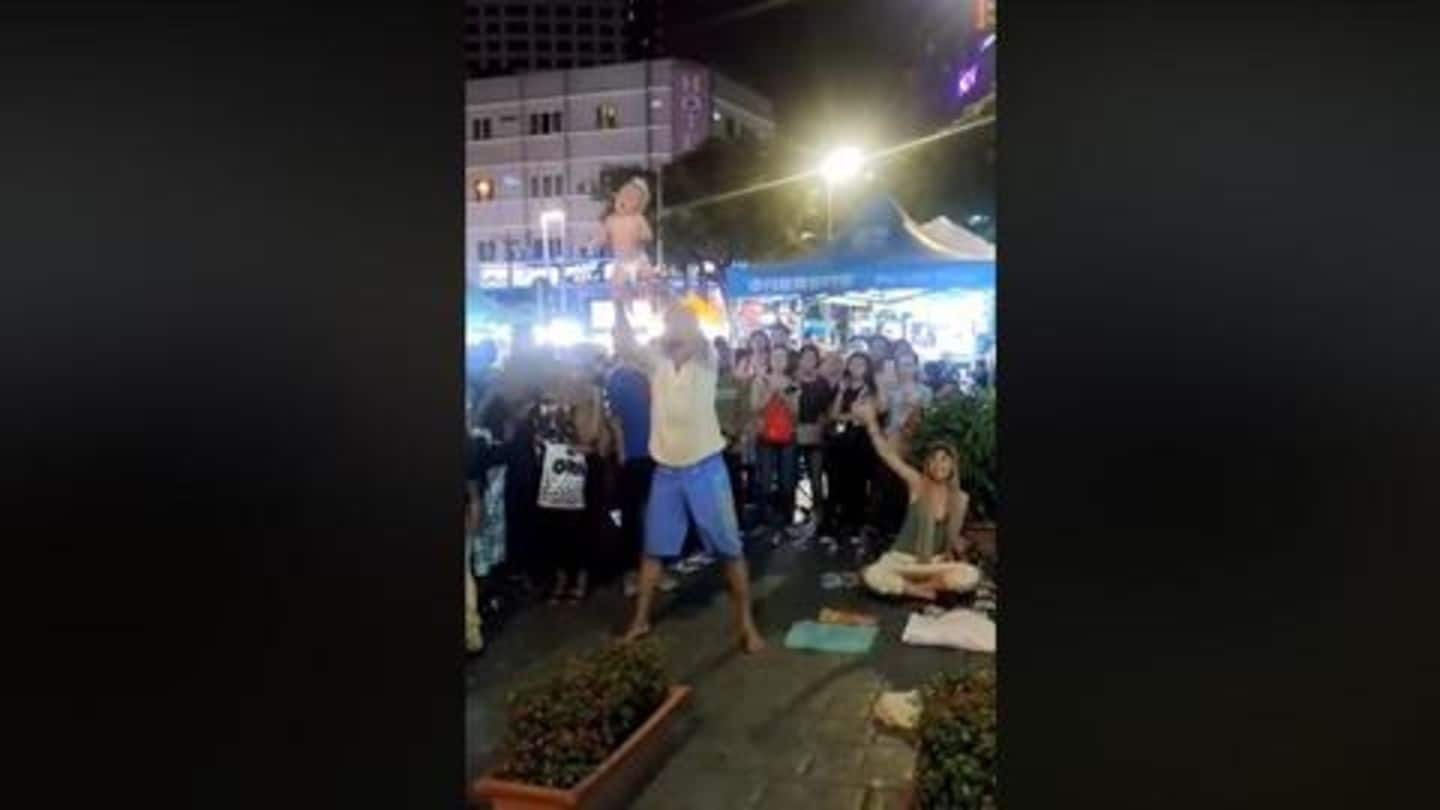 A Russian couple was detained in Malaysia on Monday after a video surfaced on social media showing them perform dangerous stunts with their infant. The husband and wife, aged 28 and 27 respectively, were performing at a street festival in Bukit Bintang in the Malaysian capital Kuala Lumpur. A few onlookers shot a video, which immediately went viral, prompting police to take action.
Man puts daughter's life at risk
The 90-second video, which was uploaded on Facebook, purportedly showed the man swinging his four-month-old daughter in the air. He swung her between his legs, rose her above his head and threw her into the air several times. The baby dressed only in diapers didn't cry during the act. While the man performed the dangerous act, two members of his group played tribal music.
Couple wanted to raise funds for world tour
The group performed before a sign which read: We are traveling around the world. Music, art, donation. And this piece of information further distressed the onlookers. They were shocked that the couple put the infant's life at risk to solicit funds for a world tour. The foreign couple was booked only after Facebook user Zayl Chia Abdulla uploaded the video.
A Facebook video forced police to take action
Along with the video, Abdulla wrote she was passing the Bukit Bintang area when she witnessed the irresponsible act which could potentially harm the child. "Why (are authorities) allowing such act to be showcase to (the) public. These street performers need to be arrested! Please do something, (sic)" she added. Taking cognizance of the video, Malaysian police arrested the couple.
Here's what police said about the incident
The couple was picked up from Jalan Raja Abdullah on Monday. Kuala Lumpur police chief Datuk Seri Mazlan Lazim said the couple was booked under Section 31 (1) (a), Child Act 2001. Lazim added no one lodged a formal complaint and police acted only on the basis of the viral video. Reportedly, the video was viewed close to 28,000 times on Facebook.
The video is still available on Facebook but with warning
Lazim revealed the tourist couple came through the Malaysia-Thailand border on Friday. He added they had performed the same act in Thailand. The Russian Embassy in the country has been informed. Notably, Facebook didn't take down the disturbing video despite the outcry. The tech giant claimed the video could help rescue the child in question. The video is still available, but with a warning.