Jihadist group Thowheed Jamath is responsible for Sri Lanka attacks
Jihadist group Thowheed Jamath is responsible for Sri Lanka attacks
Apr 22, 2019, 03:42 pm
2 min read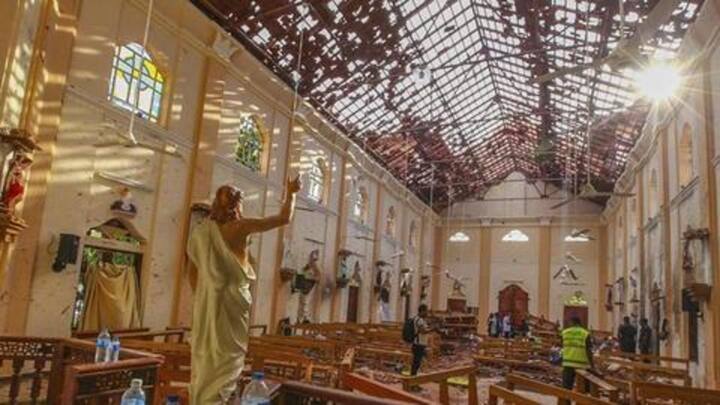 Reportedly, the Sri Lankan government has held jihadist group Thowheed Jamath responsible for Sunday's attack in the country that killed 290 and injured close to 500 people. Health Minister Rajitha Senaratne made the announcement during a press conference in capital Colombo. Meanwhile, authorities ordered curfew from 8 PM on Monday to 4 AM on Tuesday. Here's what went down in the island country.
A bit about Thowheed Jamath
Thowheed Jamath has found prominence in Sri Lanka's eastern province and has a presence in Tamil Nadu as well. The group has been pushing for Sharia law in the region, wants women to dress in burqas and has built mosques to deliver radical messages. Its activities, which involve defacing Buddhist statues, has led to tensions between Buddhists (who dominate Sri Lanka), and Muslims.
On Easter, churches and hotels were attacked in Sri Lanka
To recall, on Easter Sunday, three churches and three hotels in Sri Lanka were attacked almost simultaneously. Hours later, two other bombs ticked off. Earlier today, police said 24 suspects have been arrested. The scale of the well-coordinated attacks hinted it wasn't a handiwork of local radical elements but involved foreign entities too. Meanwhile, Thowheed Jamath has denied responsibility for the serial blasts.
Don't believe locals carried out the attack: Cabinet spokesperson
"We do not believe these attacks were carried out by a group of people who were confined to this country. There was an international network without which these attacks could not have succeeded," said Cabinet spokesman Rajitha Senaratne.
Sri Lanka was warned about attack, intel was conveyed too
The dastardly attacks in the island country qualify as a gross intelligence failure. Apparently, New Delhi told Colombo about a probable attack on or before April 22. It was conveyed that terrorists could target churches and hotels frequented by Indians. On April 11, police chief Pujuth Jayasundara sent an input, naming Thowheed Jamath, to all top officials. But adequate measures weren't taken.
Terror returned to Sri Lanka after ten years
Sri Lankan minister Premadasa called Sunday's attack "brand-new type of terrorism". He noted separatist actions have been missing from the country for the last ten years, so this came as a shock. "During the 30-year terrorist war there were indiscriminate attacks on all institutions, Tamil Tigers didn't spare any in their path towards a separatist state, but we were victorious in defeating terrorism," he added.