Sri Lankan President Sirisena sacks PM Wickremesinghe; Rajapaksa sworn in
Sri Lankan President Sirisena sacks PM Wickremesinghe; Rajapaksa sworn in
Oct 27, 2018, 12:40 pm
3 min read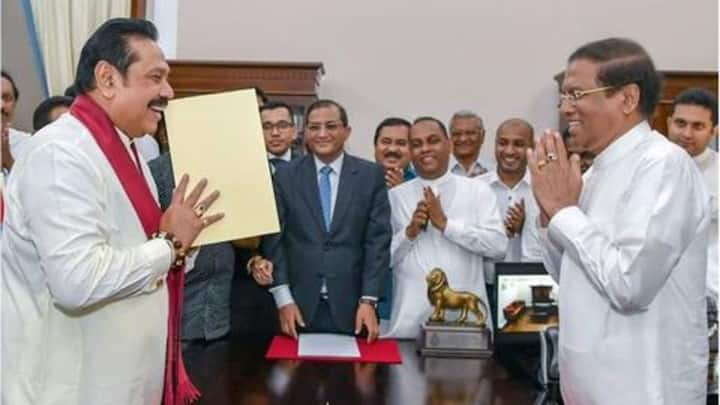 Sri Lanka's President Maithripala Sirisena today issued two extraordinary gazette notices making controversial strongman Mahinda Rajapaksa the new Prime Minister and formally recognizing Ranil Wickremesinghe's dramatic dismissal, leading to a constitutional crisis. The sudden development came amid growing tensions between Sirisena and Wickremesinghe on several policy matters and the President has been critical of the PM and his policies, especially on economy and security.
Wickremesinghe angry, says he'll be PM till he enjoys majority
Wickremesinghe, however, has asserted that the swearing in of Rajapaksa in his place is "illegal and unconstitutional". The UNP leader yesterday said that he'll continue to be the PM until he enjoys the majority in Parliament. "Only I have the majority. It can only be changed through a no-confidence motion or if I resign," Wickremesinghe said referring to the 19th amendment to the Constitution.
Parliament Speaker to decide over the recognition of Rajapaksa
Parliamentary Speaker Karu Jayasuriya has said he will decide today whether to recognize Rajapaksa or not, after seeking legal advice. In April, Wickremesinghe successfully defeated a no-trust motion in Parliament engineered by Sirisena with backing from Rajapaksa. The UNP, however, suffered one defection after Rajapaksa, also Lanka's former President, was sworn in with Ananda Aluthgamage meeting Rajapaksa and extending him support.
Sirisena's UPFA had quit alliance with Wickremesinghe's UNP
The political developments unfolded after Sirisena's broader political front United People's Freedom Alliance (UPFA) announced that it has decided to quit the current unity government with Wickremesinghe's UNP. The unity government was formed in 2015 when Sirisena was elected President with Wickremesinghe's support.
Rajapaksa's return ends three-year-old coalition govt by Sirisena and Wickremesinghe
Rajapaksa's return to power ends a more than three-year-old coalition government formed by Sirisena and Wickremesinghe on a promise to combat corruption and financial irregularities. Sirisena, who earlier was Rajapaksa's Minister of Health, broke away from him to contest the presidential elections. However, the 19th amendment to the Constitution would not allow the sacking of Wickremesinghe as the premier without a majority.
Rajapaksa and Sirisena combined have less seats than Wickremesinghe's UNP
The Rajapaksa and Sirisena combine has only 95 seats and is short of a simple majority. Wickremesinghe's UNP has 106 seats on its own with just seven short of the majority. The unity government was thrown into a crisis after Rajapaksa's new party pulled off a stunning victory in local elections in February seen as a referendum on the ruling alliance.
Other rifts between Sirisena and Wickremesinghe
Last week, it was reported that Sirisena accused his senior coalition partner, the UNP (Wickremesinghe), of not taking seriously an alleged conspiracy to assassinate him and Gotabhaya Rajapaksa, the former top Defense Ministry bureaucrat and brother of Mahinda Rajapaksa.
Rajapaksa's family facing several corruption and financial irregularities
Sri Lanka nearly faced economic sanctions from the West over Rajapaksa's brutal military crackdown on the banned Liberation Tigers of Tamil Eelam (LTTE). The LTTE sought a separate Tamil homeland in the northern and eastern provinces of the island nation for nearly 30 years before its collapse in 2009. Rajapaksa and his family were facing several cases of corruption and financial irregularities.