What is the reason behind Sikh-Muslim tensions in Pakistan?
What is the reason behind Sikh-Muslim tensions in Pakistan?
Written by
Siddhant Pandey
Jan 06, 2020, 04:17 pm
5 min read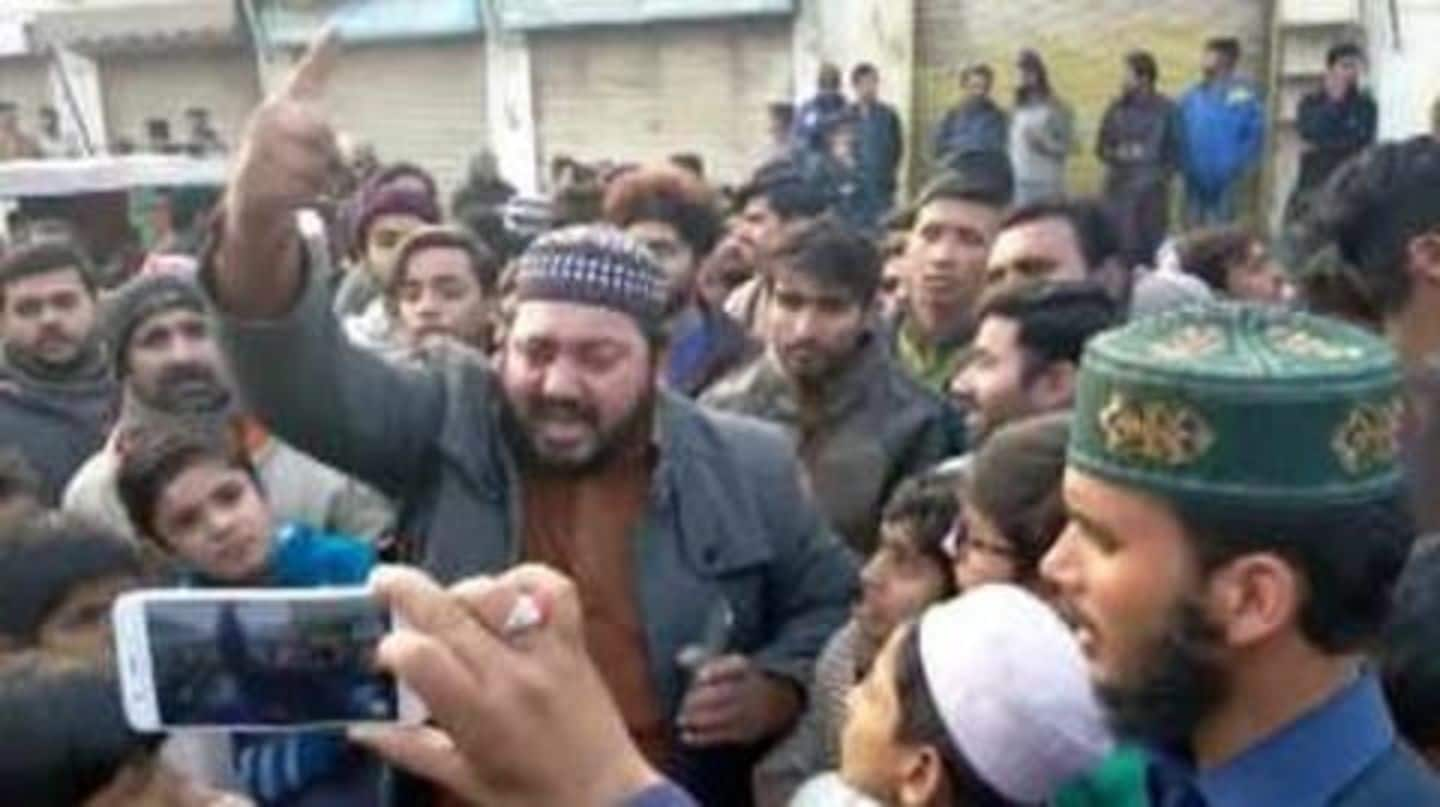 On Friday, a mob gheraoed a gurudwara in Pakistan's Nankana Sahib city and hurled stones at the holy shrine. The mob leader has since been arrested for raising communal slogans and threatening to convert Gurudwara Nankana Sahib, the birthplace of Sikhism founder Guru Nanak Dev, into a mosque. The incident sent shockwaves across India, especially given the history of Sikh persecution in Pakistan.
What led to Friday's protest at Gurudwara Nankana Sahib?
Communal tensions run deep in Pakistan, but we'll talk about that later. Friday's incident can immediately be traced back to the marriage of a Muslim man, Mohammad Hassan, and a Sikh woman, Jagjit Kaur, in Pakistan. The duo made headlines in August 2019 after Kaur's family alleged that she was abducted from their home, forcibly converted to Islam, and married off to Hassan.
Kaur, however, claimed she married Hassan willingly
A video later emerged in which Kaur—identifying herself as Ayesha Bibi—said she married Hassan willingly, also claiming that her own family had sent her death threats. Both sides filed cases against each other and the next hearing is scheduled for January 9.
Hassan's family led Friday's protest; demanded release of arrested kin
On Friday, Hassan's brother, Imran Chishti, led the protest outside Gurudwara Nankana Sahib, where Kaur's father is the granthi. Protest videos show Imran threatening Sikhs with eviction. He demanded the release of his relatives, arrested in the forced conversion case. Imran is also seen threatening to convert the Sikh shrine into a mosque. He was arrested on Sunday and booked under Pakistan's anti-terrorism laws.
Forced religious conversions commonplace in Pakistan
It remains to be seen whether the courts favor Hassan's family or Kaur's. If it's the latter, it wouldn't be the first case of forced conversion. Last year, another Sikh teen, Renuka Kumari, was forcibly converted to Islam. Forced religious conversions are commonplace, so much so, that in 2017, a government official in Hangu was found forcing Sikhs to convert to Islam.
Targeted killings of prominent Sikh leaders by extremists
Unfortunately, forced religious conversion isn't the worst fear for Pakistani Sikhs. As recently evidenced in Peshawar, many Sikhs become victims of targeted killings in Pakistan. Prominent Sikh leader Charanjeet Singh was shot dead in Peshawar. Reportedly, this was the tenth targeted killing of a prominent Sikh by extremists since 2014. In 2016, a provincial minister for minority affairs, Soran Singh, was also shot dead.
Many killings blamed on Taliban
Taliban took responsibility for Soran's killing and is often also linked to other deaths of minorities. However, Pakistan has failed to curb these targeted attacks or the Taliban's hefty jizya tax on Sikhs—refusal to pay has historically been met with cruel retribution or death.
Sikhs face violent attacks, fake blasphemy cases, etc.
Sikhs, among other minorities in Pakistan, also face violence and false accusations of blasphemy, as confirmed by the 'State of Human Rights in 2018' report published by the Human Rights Commission of Pakistan. The report noted Pakistan's "abysmal performance" in tackling increased persecution of religious minorities. For Sikhs, these come in forms of kidnappings, extortion, and expropriation of their properties.
Protected religious lands, including gurudwaras, sold off
While this would be enough to spawn bitterness among minorities, for some, the nightmare of the 1947 Partition isn't over. As per a Partition-era agreement between India and Pakistan, religious lands cannot be sold. However, the Evacuee Trust Property Board—a government body that manages properties abandoned by those who migrated to India during partition—sold off gurudwara lands and crematoriums to land developers.
Sikhs forced to bury their dead
The lack of crematoriums or a place to pray presents another difficulty. Culturally, Sikhs cremate their dead, while Muslims bury them. Without enough accessibility to crematoriums, some Sikhs are left with no option but to opt for burials.
Sikhs forced to leave homes during Indo-Pak wars
In fact, the Sikh and Hindu families that survived the Partition in Pakistan were forced to flee to tribal areas from cities in the Northwest during the 1965 and 1971 Indo-Pak wars, as they risked facing violence by jingoistic mobs, owing to their perceived association with India. More fled to tribal areas in the aftermath of the 1992 Babri Masjid demolition in India.
Families later forced to move from tribal areas too
However, when the Taliban settled in these tribal areas during the 2000s, the families were forced to move again, this time, fleeing to Peshawar, Hassanabdal and Nankana Sahib, the only cities with a considerable Sikh population.
Minority voices drown as majority echoes
In their own homeland, Pakistani Sikhs have been extorted, abused, killed, forced out of their homes, and left fighting for religious freedom and basic equality. With Sikh marriages in Pakistan attaining legal sanctity only in 2018, it's obvious that the state is doing too little, too late, which underscores the tragic outcome of discarding pluralism to make room for a one-religion identity.