OnePlus 11 5G review: Almost a Pro without the suffix
OnePlus 11 5G review: Almost a Pro without the suffix
Mar 21, 2023, 10:48 am
8 min read
It wouldn't be wrong to say that OnePlus had an underwhelming 2022. For some reason (or the lack of it) there was no OnePlus 10 at all. Eventually, the company launched the 10T which was nothing special-a stripped-down version of the 10 Pro with the same SoC, at best. If you think about it, there hasn't been a proper non-Pro/non-R phone from the brand since the OnePlus 9. Just when it seemed like the company was disinterested in that series, out comes the fully loaded OnePlus 11 5G. Not only does it seem significantly better than the previous non-Pro OnePlus phones, but on paper, it seems even better than the OnePlus 10 Pro, courtesy of a faster processor and an even better display. Specifications are one thing but actual performance is something else. Time to figure out if its glorious spec-sheet also translates into great performance.
Sleek design, smudge-resistant glass back, and excellent LTPO3 display
The OnePlus 11 5G design is similar to the OnePlus 10 Pro in many ways, except for the camera module, which is now circular instead of squarish. The camera module is very distinct and feels like an extension of the aluminum frame. It hosts three cameras and flashes. The glass back has a smooth matte finish and is pretty much smudge-free, especially for the black variant that we received. The glass back and the curved display blend seamlessly into the frame, similar to the 10 Pro. The volume rockers are present along the left edge while the power button and alert slider can be found on the right. And yes, the alert slider is back after taking a break on the OnePlus 10T. The placement is just right, and that applies to the in-display fingerprint scanner too, which is located an inch above the bottom edge, and hence easier to access. Just like the 10 Pro, the display has a layer of Corning Gorilla Glass Victus, while the back has Gorilla Glass 5 to protect against scratches and cracks. The display size is similar too, however, you get a 6.7-inch LTPO3 Fluid AMOLED display here instead of LTPO2 with an adaptive refresh rate between 1 to 120Hz. It automatically adjusts the refresh rate depending on the app and content on screen. The 10-bit display has a resolution of 3216x1440 pixels, is HDR10+ compliant and can get up to 1,300-nits bright. Did I mention this display is Dolby Vision compliant too? The overall display quality is top-notch with accurate colors and sharp visuals. Despite the fairly large display, the phone feels surprisingly compact in hand due to its curved edges and smart design elements. The phone weighs a little over 200 grams but the weight distribution is quite good, and doesn't feel too heavy.
The most powerful processing hardware around results in top-notch performance
The OnePlus 11 5G is powered by Qualcomm's latest Snapdragon 8 Gen 2 chip. You get two variants of the phone, one with 8GB RAM and 128GB UFS 3.1 storage and the other with 16GB RAM and 256GB UFS 4.0 storage (we got the latter for review). No surprises here, the performance is top of the charts with the phone returning some of the highest scores in popular synthetic benchmarks. In day-to-day tasks, things were smooth as expected. There were no heating issues in daily operations or even when recording videos. It does get warm after 30 minutes of gaming, but not so much that one should be worried about. Watching content on that high-res screen is a great experience. The speakers on the phone complement the visual experience quite well. There are two speakers on the OnePlus 11, one behind the earpiece and the other along the bottom edge. They sound quite well for phone speakers with a loud and clear sound with more than decent stereo separation. The phone is compliant with Bluetooth 5.3 to connect wireless earphones or speakers; a 3.5mm headphone jack remains a thing of the past. There is some form of splash resistance but no IP rating to make things official, so best to keep it away from dust and liquids. The call quality and reception were perfectly fine, and the phone is 5G compliant with support for most 5G bands available in India.
Good battery backup, faster charging, ColorOS 13 (sorry, OxygenOS 13)
The OnePlus 11 boots the latest Android 13 with OxygenOS 13 layered on top. If version 12 was 'heavily influenced', OxygenOS 13 is a hostile takeover, and pretty much identical to ColorOS 13. If you have used older OnePlus phones that ran Android versions prior to 12, there's hardly any similarity between OxygenOS then and now. Putting the past aside, it is very much usable, and most importantly, it is still free of ads and unwanted notifications. The UI is smooth and lag-free. We can live with that for now and hope that someday the past glory will be restored. One can expect three more major Android updates on this phone in addition to regular security updates over the next three years or so. The OnePlus 11 5G has a 5,000mAh battery that easily lasts a day and a half of standard use. If you indulge in some serious gaming for hours, that number may be a lot smaller. But the good part is it doesn't take long to charge this phone fully with the bundled 100W charger. The charger is quite bulky as compared to its predecessors, but takes the battery from 1% to 100% in the advertised 25 minutes, give or take a minute or two. Unlike the Pro variants, the OnePlus 11 does not support wireless charging.
Good mix of rear cameras and impressive picture quality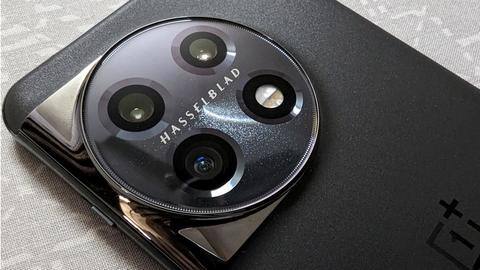 The rear camera combination is quite good on the OnePlus 11. There are three cameras, each serving a distinct purpose. First up, there's a 50MP primary camera with Sony's new IMX890 sensor, optical image stabilization (OIS) and Hasselblad color tuning. Next, we have a 32MP telephoto camera that provides up to 2X optical zoom, and also acts as a portrait camera. And lastly, we have a 48MP ultra-wide camera with 115-degrees FOV. It also has auto-focus and can double up as a more-than-decent macro camera. Moving on to picture quality, the primary camera clicks some excellent shots in various conditions and modes. The photos have good detail and impressive dynamic range. The colors are close to natural but wouldn't call them perfectly natural. They are slightly boosted than actual, but many prefer it that way for social media. The ultra-wide camera here does a good job in terms of colors and dynamic range in good lighting, but not so much when the light drops. The main camera can handle low-light photography quite well with excellent detail and minimal noise. When things get too dark, the Night mode makes things a tad brighter without overdoing it, which is good. Coming back to the ultra-wide camera, it can click some very good macro shots from up close. However, it is a good idea to click a couple of extra shots for safety as its focus tends to waver a bit. The telephoto camera is good at zoomed shots as well as portraits, where one can use the 2X optical zoom to good effect. OnePlus 11 makes use of Hasselblad's expertise in portrait photography quite well with good results. The 16MP selfie camera gets the job done; nothing special to report. This phone can record 8K videos at 24fps, 4K videos at 30/60fps and 1080p videos up to 240fps. 4K videos look sharp and stabilized and best of the lot.
Slightly expensive, but a powerful and feature-packed phone overall
The OnePlus 11 is priced at Rs. 56,999 for the 8GB RAM and 128GB storage variant and Rs. 61,999 for the one with 16GB RAM and 256GB storage. You get a one-year warranty with both. While the pricing isn't outrageous, it could have been more competitive in our opinion. This is more like the pricing of their Pro models. To be fair, it does offer a handful of features that you generally associate with a OnePlus Pro like a QHD+ display and top-of-the-line processor, which is even more powerful than the one in the OnePlus 10 Pro. But it also misses out on a few 'Pro' features like an IP68 rating for ingress protection and wireless charging. For that price, you do get the most powerful phone around at the moment in terms of procession power, improved and competent cameras, excellent display, good battery backup and fast charging. The company also promises several OS and security updates for this device, which is a big plus. All in all, the OnePlus 11 is a solid phone that earns our recommendation. Of course, there's a lot of competition in this budget. Here are a few alternatives to consider. For an even better main camera and much better user interface on Android 13, Google Pixel 7 is a great choice. Its 8GB RAM and 128GB storage variant is currently selling for the same price as the OnePlus 11 with similar RAM and storage. Motorola Edge 30 Ultra is another solid option that boasts a 200MP primary camera and wireless charging. And lastly, if you are willing to jump ship from Android to iOS, the Apple iPhone 13 can also be yours in this budget. Take your pick.
OnePlus 11 5G review: At a glance
Review
The OnePlus 11 5G is arguably the most powerful phone around in terms of processing power, and also boasts impressive cameras, display and battery backup.
Good Stuff
Sleek design, sturdy build
Feels more compact than it is
Excellent curved display with variable refresh rate
Top-of-the-line processing hardware
Good battery backup with fast charging
Bad Stuff
OxygenOS 13 is nothing like OxygenOS
Bulky charger, no wireless charging support