Pagani's Huayra Roadster BC is a Rs. 25 crore beauty
Pagani's Huayra Roadster BC is a Rs. 25 crore beauty
Oct 18, 2019, 11:14 am
2 min read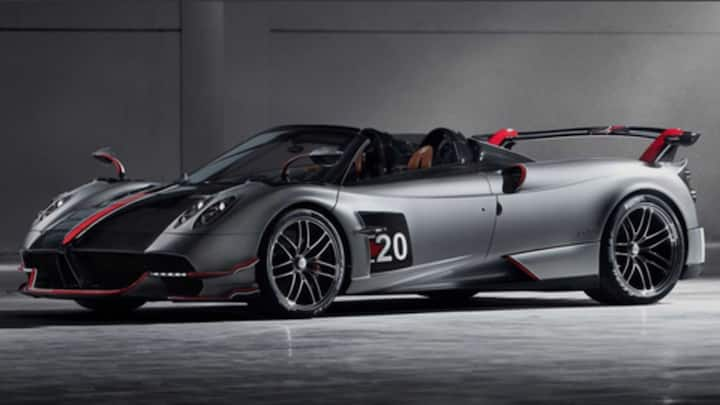 Pagani is known for producing ultra luxurious hypercars and its latest offering, the Huayra Roadster BC, is yet another testament to the Italian automaker's ambition. This new model, priced at nearly Rs. 25 crore, redefines the hyper-roadster segment with its fighter jet-like looks, an 800hp powerful engine, and impressive stats. And to top it all, only 40 of the very rich can own this.
Pagani Huayra Roadster BC: At a glance
The Pagani Huayra Roadster BC retains the iconic design of the Huayra including the twin LED lights on each side and a 4-2 exhaust setup at the rear. As for the body, Pagani has used an improved version of 'Carbotanium' (carbon and titanium weaved together), bringing the overall weight to 1,250kg. Further, the 2-seater hi-tech cabin is laced with expensive wood and supple leather.
The roadster manages an impressive 500kg of downforce at 280kmph
The Huayra Roadster BC's improved aerodynamics and some new canards allow the hypercar to generate 500kg of downforce at 280kmph. At the corners, the car generates up to 1.9Gs of maximum lateral force which is even greater than the Bugatti Chiron's 1.5Gs.
The Roadster BC is powered by a custom AMG-made 6.0-liter twin-turbo V12 engine that generates 800hp of peak power and 1080Nm of maximum power for the bespoke Pirelli P Zero Trofeo R tires to deal with. This monstrous power is transferred to the rear wheels via a 7-speed Xtrac automatic gearbox which comes equipped with an electro-mechanical differential.
Pagani will make only 40 units of the BC Roadster and each will carry a whopping $3.5 million price tag (nearly Rs. 25 crore). It's costlier than some of the more ruthless hypercars out there, but Pagani says it has no shortage of customers.