Bengaluru's new heli-taxi saves time, provides breathtaking views
Bengaluru's new heli-taxi saves time, provides breathtaking views
Mar 06, 2018, 02:40 pm
2 min read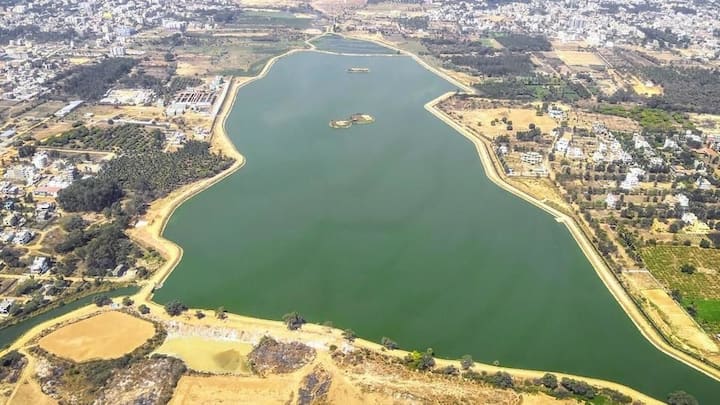 "I have been staying in Bengaluru for 17 years. I never imagined it has so many lakes and was so green," said Abdul Hadi, one of the first passengers of Bengaluru's heli-taxi that was launched on Monday. Apart from the reducing commute time between the airport and Electronic City, it also offered commuters breathtaking aerial views. Here's all about the new service.
The service made nine trips on Day One
The heli-taxi made nine trips on Day 1, with two for passengers. The first started at 6:30 AM. Suresh Babu, a passenger, said he felt like a humanoid on a drone. Though he thought the tickets are pricey, but nonetheless the trip was worth it. Accompanying him was Goa-based businessman Agostino Fernandez and his wife, who said, "It was a good bargain."
Tickets at Rs 4K, will ply in two shifts
Operated by Thumby Aviation, the heli-taxi service will be using a Bell 407 helicopter that will accommodate six passengers. Each ticket would cost around Rs. 4,000. In the next two weeks, it will also start services from Kempegowda to HAL Airport. For now, it will run in two shifts between Electronic City and Kempegowda: during 6:30 AM-9:30 AM and 3:30 PM-6:30 PM.
How to book a heli-taxi ticket?
For booking a ticket, one can either use the HeliTaxii app or approach their counter at the airport. The app available for Android and iOS allows you to book a month in advance. However, you might not be able to get a confirmed seat. The app has already been downloaded 2,000 times, says K Govind Nair, director-BD, Thumby Aviation.