Protests against dubbed movies spread in Karnataka
Protests against dubbed movies spread in Karnataka
Mar 03, 2017, 05:50 pm
3 min read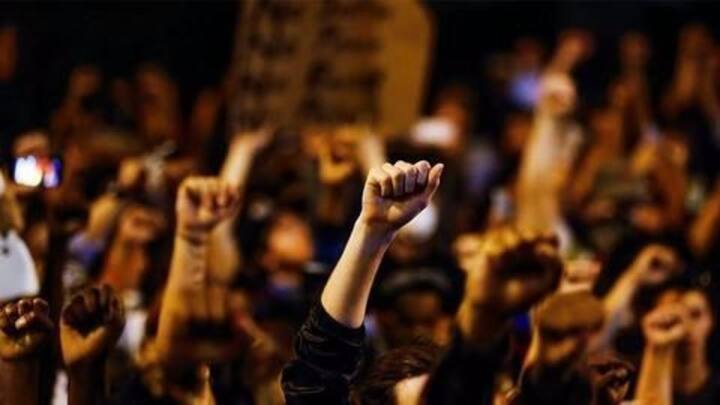 On Friday, Karnataka witnessed protests against the screening of 'Sathyadev IPS', the Kannada dubbed version of Ajith's Tamil movie 'Yennai Arindhaal.' The Karnataka film industry, in its formative years, had banned the dubbing of movies in other languages to Kannada. Actor Jaggesh had also threatened to burn down a cinema hall on Thursday for the same. Tap in to know more from Bengaluru!
PM Modi's caricature draws criticism
BJP's IT Cell in Karnataka on Thursday lodged a complaint with the Malleswaram police seeking action against Mitesh Patel for tweeting a caricature of the Prime Minister and titling it 'Nationalism'. According to his Twitter handle, Mitesh Patel is a resident of Ahmedabad, Gujarat. The caricature alluded to the controversy surrounding Gurmehar Kaur and received 397 retweets and 408 likes by 10 pm, Thursday.
Warrant on Vijay Mallya will take months: Karnataka Police
The Karnataka police informed the HC that serving a bailable warrant to Vijay Mallya could take months, as he is abroad. The government advocate was asked about the steps taken after 27th January 2017, when the HC directed the police to serve the warrant on Mallya. The banks' lawyer said they would file an affidavit containing information on how to proceed with the warrant.
Unhappy pourakarmikas plan strike on 8th March
Contract pourakarmikas (local garbage collectors) have planned to not work on 8th March, International Women's Day. In August 2016, they were promised a hike in their salary from Rs. 7,000 to Rs. 14,439 by the State Government. They were also promised drinking water, toilets, changing-rooms, brooms, masks and other cleaning equipment. However, these promises remain on paper but none of them have been fulfilled.
12 deer found dead near Nagarhole Tiger Reserve
Days after the Bandipore forest range wildfire, 12 dead deer were found near the Mettikupe range of the Nagarhole Tiger Reserve. The 7 barking deer and 5 chital deer had allegedly consumed water laden with urea from the Hebbala pond. A sample of water has been sent to a forensic laboratory to get to the bottom of this unfortunate incident.
Taxi strike enters 8th day, city faces dearth
Thursday was the 8th consecutive day in Bengaluru for cab drivers associated with aggregators Ola, Uber and TaxiForSure who decided to continue their strike. Very few cabs were available on Thursday. After the huge protest on Wednesday, 1,500 cab drivers were seen protesting again on Thursday at Freedom Park. The drivers reportedly need to earn atleast Rs. 5,000 to meet personal and financial expenses.
Rickshaw driver arrested for helping woman kill HIV+ husband
Four days after a 35-year-old woman was arrested for the death of her HIV+ husband, police arrested a 20-year-old man believed to be her lover. Following her husband's death, her in-laws complained against her claim of "self-defence" and alleged that it was a conspiracy between her and her lover to get rid of Arun. The police however have no evidence against the rickshaw driver.
Continuous pitch-talk aggravates coach Kumble
At a press conference in Bengaluru on Thursday, Anil Kumble seemed to be fed up of the continuous pitch-talks. He asked reporters to move on from the topic, stating that the 22-yard pitch won't make any difference. With regards to the Indian team's loss in Pune, he said the team lost because they didn't adapt well. He further called it a "team failure."