Airtel to bring high-speed in-flight data connectivity
Airtel to bring high-speed in-flight data connectivity
Feb 26, 2018, 11:18 am
1 min read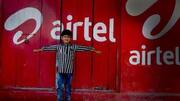 India's largest telecom operator Bharti Airtel on Monday said it has joined a new global collaboration to bring high-speed and uninterrupted in-flight data connectivity to mobile customers. The global partnership Seamless Alliance, whose other founding members include OneWeb, Airbus, Delta and Sprint, will work towards leveraging satellite technology to offer high-speed data connectivity to mobile users, even when they are up in the air.
All the details about the alliance
An Airtel statement said, "Airtel has joined the Seamless Alliance which will usher in a new open innovation for mobile operators and airlines by empowering mobile operators to extend their services into airline cabins." The global initiative, announced today in Barcelona, will also look at bringing into its fold other industry operators beyond the five founding members.
Over 370 million customers will be able to access
"We are delighted to be a founding member of this innovative technology platform to bring seamless connectivity to customers in the true sense," Gopal Vittal, CEO (India & South Asia), Bharti Airtel, said. Over 370 million mobile customers across Airtel's global network will be able to enjoy uninterrupted access to high-speed data services even while they are in-flight, he added.