Jeff Bezos investing $1 billion to digitize India's small businesses
Jeff Bezos investing $1 billion to digitize India's small businesses
Written by
Shubham Sharma
Jan 15, 2020, 03:34 pm
3 min read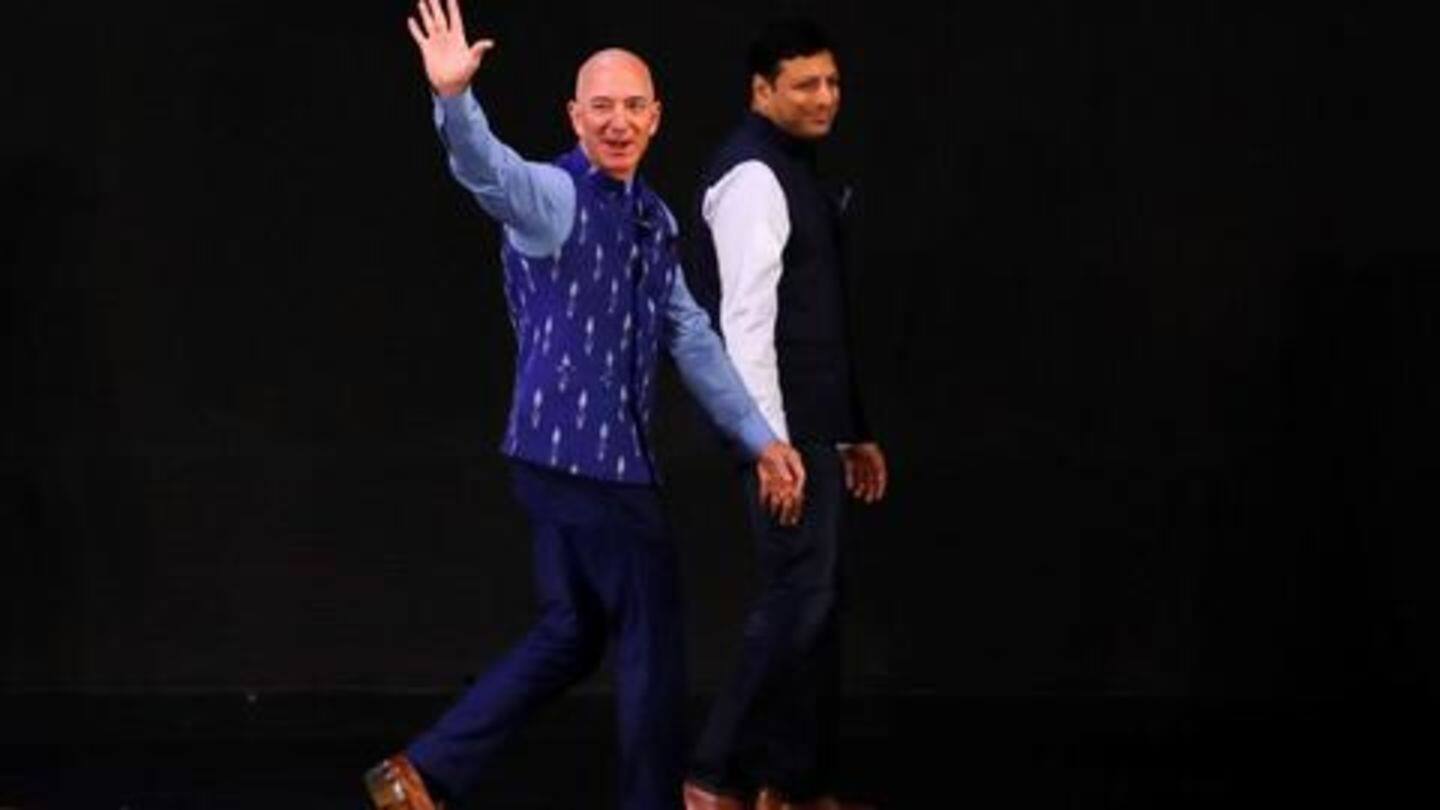 Jeff Bezos, the richest man in the world, has said that his company, Amazon, will invest as much as $1 billion (approximately Rs. 7,100 crore) to digitize small businesses in India. Bezos, who is in India to attend Amazon's Smbhav Summit, made the announcement just as the e-commerce giant continues to face flak from local businesses over anti-competitive behavior. Here are more details.
Bezos promised $1 billion for making businesses digitally capable
At the mega event, hosted to connect with small business owners in India, Bezos claimed that Amazon plans to invest $1 billion in the country over the next five years. The billionaire said that the funds will be utilized to digitally enable micro, small, and medium enterprises (MSMEs), helping them sell online around the world and reach more customers than ever before.
Amazon hopes to bring 10 million MSMEs online
Bezos added that Amazon hopes to bring as many as 10 million small and medium businesses online - and help them integrate with the digital economy in the process - through this investment. He further added that the company will accomplish this mission by setting up '100 Digital Haats' across several cities, villages, and communities in India.
Digital Haats to provide services needed by sellers
Once established, Amazon's 'Digital Haats' will provide a range of services that sellers need to take their products to customers located at different locations. This includes e-commerce onboarding, imaging and cataloging, warehousing, logistics, digital marketing (for product promotion), and compliance.
'Make in India' product exports to be boosted
Along with the $1 billion investment, Bezos also announced that Amazon will use its global footprint to help boost Indian exports. As part of this, he said, Amazon will export $10 billion worth of 'Make in India' products by 2025. "Our hope is that this investment will..expose the world to the 'Make in India' products that represent India's rich, diverse culture," Bezos added.
Amazon's promises come as its continues to face flak
The promises from Bezos and Amazon comes just as the company continues to face flak from small businesses and traders over engaging in anti-competitive behavior through malpractices like having preferred sellers, exclusive product sales. In fact, just a few hours before Bezos's arrival, the Competition Commission of India (CCI) ordered an investigation to check if the claims made against the company are true.
Meanwhile, Mukesh Ambani's JioMart is growing as Amazon's competition
Separately, Amazon also needs to gear up for another major competitor in India - Reliance's JioMart. The company, which has launched a pilot in Mumbai, delivers FMCG products without any delivery charges or minimum order value requirements. It hopes to reach 95% of India's population by empowering over 3 crore small retailers and goes directly against Amazon Pantry.