#NewsBytesExplainer: Why is RBI giving Rs. 1.76L crore to government
#NewsBytesExplainer: Why is RBI giving Rs. 1.76L crore to government
Aug 27, 2019, 03:59 pm
4 min read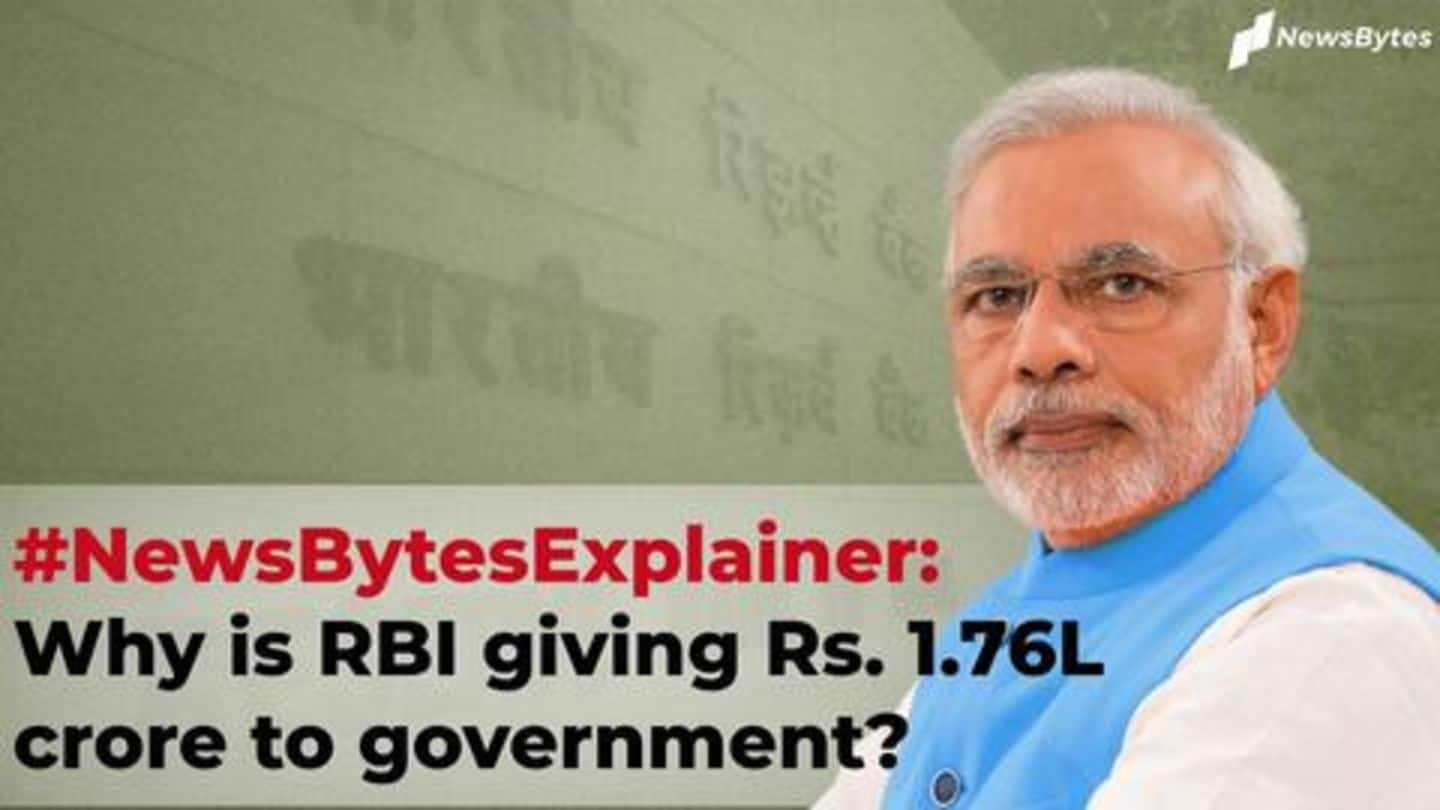 Amid an economic slowdown in the country, Reserve Bank of India (RBI) stepped in to bail out Prime Minister Narendra Modi's government. The top bank on Monday announced that it is giving Rs. 1.76 lakh crore to the Centre, a move which is being seen as a last-ditch effort to save the sinking economy. Here's answering all your questions about this massive decision.
Shaktikanta Das green-lit the bonanza for government
RBI took the decision at its board meeting held in Mumbai and headed by Governor Shaktikanta Das. The RBI bonanza for government includes Rs. 1.23 lakh crore of surplus for 2018-19 and Rs. 52,637 crore of excess provisions. This move could help Centre give a much-needed push to economy and achieve its ambitious target of containing fiscal deficit at 3.3% of GDP.
Did RBI suddenly decide to bail out the government?
No. The decision, however knee-jerk as it seems, wasn't taken overnight. The board of the central bank accepted recommendations of a panel headed by former Governor Bimal Jalan. The committee was given the responsibility to review the Economic Capital Framework of the RBI.
So, where is all this money coming from?
RBI is diving into its surplus to help the government. Interestingly, RBI doesn't have to pay income tax to the government but every year it does transfer the surplus. RBI's income comes mostly from interest on securities it holds. The reason behind this year's record surplus is the fact that RBI intervened in both forex and money markets.
RBI has decided to keep equity level at 5.5%
Apart from the surplus, the government is also getting Rs. 52,637 crore of excess provisions. Now RBI's realized equity currently stands at 6.8%, and the Jalan Committee recommended that it can be somewhere between 5.5% and 6.5% of the balance sheet. Keeping this in mind, the RBI board decided to keep equity level at 5.5% and transfer the aforementioned amount to the government.
What is the government planning to do with this money?
The government could use this humongous amount of money to provide fiscal stimulus or reduce off-balance-sheet borrowings. It could also be used to meet the expected shortfall in revenue collections. "The budget expected an Rs. 90,000 crore surplus transfer and this extra Rs. 80,000 crore will act as a cushion against the possible shortfall in revenue collection in FY20," an economist told Mint.
Government has a big investment plan: Finance Ministry official
Meanwhile, an anonymous Finance Ministry official told IE that the government has a big expenditure plan lined for the next few months. "The money received from RBI will be used to fund that and in turn provide a fillip to the economy," the person added. It is expected that the increased spending by the government will boost economic activity at a time when investment, consumption, and growth have slowed.
Earlier, Sitharaman announced state-run banks will get immediate funds
This comes days after Finance Minister Nirmala Sitharaman announced an immediate injunction of Rs. 70,000 crore into state-run banks, rather than spreading it till March 2020, as declared in her maiden budget. Interestingly, the Centre has been eyeing RBI's funds for quite some time now. Arguing that RBI holds more capital than it needs, the Finance Ministry had sought payouts in the past too.
Urjit Patel's successor, Das, came to government's rescue
Notably, the sour relationship between RBI and Centre over what needs to be done with funds was one of the main reasons why Urjit Patel quit as RBI Governor in December last year. His successor, Das, took a different stand than him and accepted all recommendations of the Committee, thereby, helping the government. It's left to be seen how this saves the economy.