Saavn rebrands as JioSaavn, offers free 90-days Pro access
Saavn rebrands as JioSaavn, offers free 90-days Pro access
Dec 03, 2018, 04:16 pm
2 min read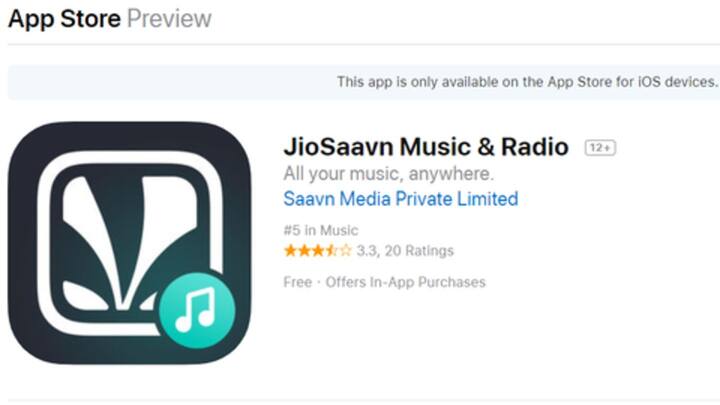 Amid reports of Spotify making its debut in India, JioMusic and Saavn have started gearing up, completing the merger they had announced in March. As part of this move, Saavn's iOS app has been rebranded to JioSaavn and the app's music collection has improved. Additionally, it is also offering 90 days of free JioSaavn Pro access to all Jio users. Here's more.
The plan to rebrand Saavn was confirmed soon after Jio had announced the merger. Now, with that move being executed, Saavn is getting a new icon and name, but its interface remains unchanged. Users, whether on Jio or not, can still download the app for free and stream its collection, which now features over 45 million tracks - with many being exclusive.
JioMusic is still available as standalone app
Though Saavn is taking shape as JioSaavn, the original JioMusic app still remains existent on Apple's App Store. Also, all these changes have been witnessed only on iOS app. The Android apps still remain as they were (old logo and everything).
So, what's the benefit of switching to JioSaavn?
As the changelog for JioSaavn states, the biggest benefit of the app is its massive collection of music - curated from both Saavn and JioMusic. Plus, all Jio users signing up for the service would get free access to all premium features provided under JioSaavn Pro (formerly Saavn Pro) for 90 days. This includes free unlimited downloads and ad-free streaming of high-quality music.
And, JioSaavn will have all your existing playlists and downloads
In the same changelog, JioSaavn stated that the existing JioMusic users don't have to worry about their playlists and downloads. All that data, as the company said, will be accessible on the new rebranded app. "The all-new JioSaavn is the best of Jio and the best of Saavn," the changelog read, noting that the app is on track to get many more features.
JioSaavn values at over $1 billion
In March, Reliance Industries Limited, Jio's parent company, took a majority stake in Saavn for the formation of the new joint entity. Notably, JioSaavn has a valuation of $1 billion, of which approximately $670 million is said to be the implied value of JioMusic alone. However, the deal hasn't changed the top leadership at Saavn and all three co-founders of the company remain on-board.