Economic Survey 2019 proposes increasing investments, retirement age: Details here
Economic Survey 2019 proposes increasing investments, retirement age: Details here
Written by
Siddhant Pandey
Jul 05, 2019, 12:47 am
3 min read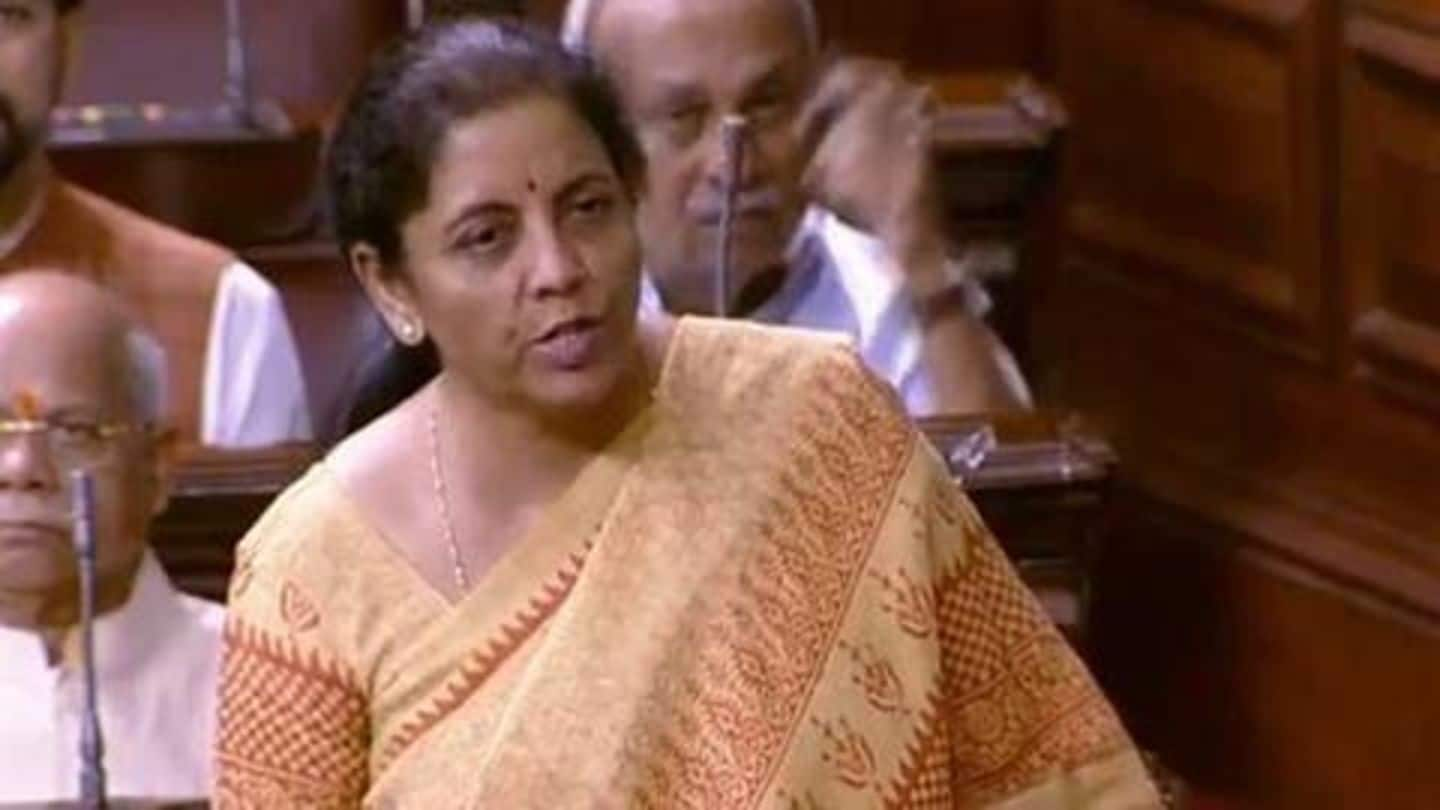 On Thursday, Finance Minister Nirmala Sitharaman tabled her first Economic Survey, which shapes a roadmap for how the government could bring the economy back on track. Prepared by Chief Economic Adviser KV Subramanian, the survey estimates a 7% GDP growth for the fiscal year 2019-2020, up from 6.8% in 2018-19; the slowest growth in five years. Here are the key takeaways from the survey.
Investments to be 'key drivers' of economic growth
The Economic Survey 2018-19 asserts on the need to "shift gears" to sustain an 8% GDP growth rate to achieve the $5 trillion economy target by 2025. Following an economic slowdown, Subramanian recognizes investments, especially private investments, as the "key driver" for simultaneous growth in demand, jobs, exports, and productivity, underlining that maintaining "equilibrium" alone wouldn't do the trick.
'Aggressive export strategy must be part of investment-driven growth model'
The survey added, "An aggressive export strategy must be a part of any investment-driven growth model." It highlighted the potential of firms which can produce at the lowest costs to gain market share in the extremely competitive global market, where India's share is pretty low.
Proposed changes to 'Beti Bachao Beti Padhao,' 'Swachh Bharat'
Further, the survey has proposed to change the Beti Bachao Beti Padhao (BBBP) scheme to Beti Aapki Dhan Lakshmi Aur Vijay Lakshmi (BADLAV), recommending the use of "positive mythological insights about gender equality." Additionally, it takes insights from government schemes relying on behavioral change and recommends changing 'Give it up' for LPG subsidy to 'Think about the Subsidy' and 'Swachh Bharat' to 'Sundar Bharat.'
Improve 'tax compliance' opposed to curbing 'tax evasion'
The survey suggested the government to offer "diplomatic" privileges to top-10 taxpayers in each district, such as fast-lane privileges on roads and at airports, naming of roads/buildings/schools etc. The notion should change from "evading taxes is acceptable" to "paying taxes honestly is honorable."
Minimum wage policy should be '"simple, coherent and enforceable'
The survey also advised the government to look at a "simple, coherent and enforceable" minimum wage policy, without affecting employment significantly. It stated the Minimum Wages Act, 1948 doesn't cover one in every three workers. "Minimum wages should cover all workers, irrespective of any wage ceiling... it should be fixed for four categories: unskilled, semi-skilled, skilled and highly-skilled," the survey said.
Government should focus on employment-centric sectors: Survey
According to Subramanian, the government should focus on employment-centric sectors, such as tourism and construction, and start "grandfathering" infant firms in these sectors. He also suggested "doubling-down" on incentivizing infant firms. "Deregulating labor law restrictions can create significantly more jobs, as seen by the recent changes in Rajasthan when compared to the rest of the states," the survey said.
Growing Micro, Small and Medium Enterprises=More profits, more jobs
On Micro, Small and Medium Enterprises, the survey stated, "MSMEs that grow not only create greater profits for their promoters but also contribute to job creation and productivity in the economy. Our policies must, therefore, focus on enabling MSMEs to grow by unshackling them."
Additionally, here are some other highlights from the survey:
The proposed increase of retirement age in phases amid rising life expectancy. Neither the government nor private entities own user data. Data is "of the people, by the people, for the people." Political stability to boost the economy. It was said economic growth reached a five-year low, 5.8%, in the January-March quarter due to elections. Oil prices to drop in the 2019-20 fiscal year.