Paytm launches first-ever credit card: Here's how you can apply
Paytm launches first-ever credit card: Here's how you can apply
Written by
Shubham Sharma
May 14, 2019, 06:30 pm
2 min read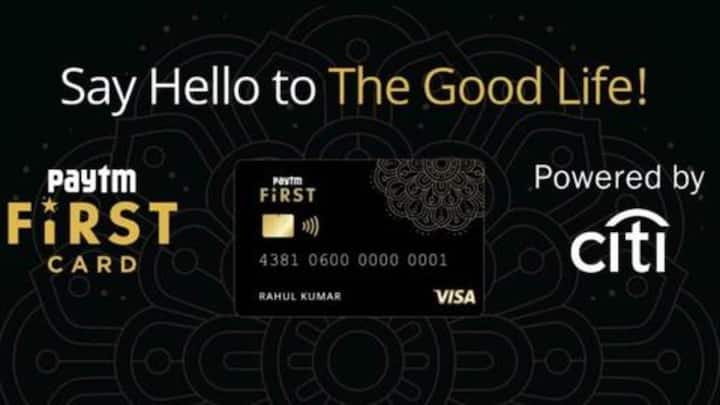 Online payments giant Paytm has forayed into the credit category with the launch of its first-ever credit card in India. The card, dubbed 'Paytm First', has been launched in partnership with Citibank and is touted to offer 1% "universal unlimited cashback" on anything you purchase, without any limits. Here's everything you need to know about the card.
Paytm First card with several benefits
The contactless-enabled Paytm card will be available for online/offline purchases at a fee of Rs. 500 per annum. It will be similar to other co-branded cards (launched by retailers and airlines). But in this case, Paytm says, users will be able to win promo codes worth upto Rs. 10,000 - if they spend Rs. 10,000 within the first four months of card's issuance.
Fee will be waived if you spend over Rs. 50,000/year
More interestingly, if your spending for the year goes beyond Rs. 50,000 for the year, Paytm says it will waive off the annual charge of Rs. 500 for the user in question.
And, you'll get unlimited cashback, exclusive offers
The Paytm First card will come with exclusive offers on shopping, dining, and travel, and will even work outside India, thanks to Citi and Visa support. Additionally, every transaction made through the card will be rewarded with 1% cashback, just like Apple Card. This amount will be auto-credited in your 'Paytm First Card passbook' every month and adjusted against the due balance.
Paytm First Card passbook will also highlight offers
The Paytm First Card will show all the transactions you have made using the credit card, but in addition to this, it will also show the offers running on your card - from both Paytm and Citi. These will be updated in real time.
Anyone can apply for the card
Paytm notes that any user of its service can apply for the credit card through its mobile app. However, the issuance of the card would depend on the digital behavior of the user. The company has built a unique selection tool with Citi to assess the creditworthiness of people to issue cards; it would work even the user doesn't have a credit history.
Here's what Paytm's Vijay Shekhar Sharma said at card's launch
"Our new offering is designed to bring utmost flexibility to our customers in their digital payment options and will help spur large-ticket cashless payments. We are confident of getting a very good response from our customers."