Petrol, diesel hiked 80p/liter; LPG cylinders now Rs. 50 costlier
Petrol, diesel hiked 80p/liter; LPG cylinders now Rs. 50 costlier
Mar 22, 2022, 12:01 pm
3 min read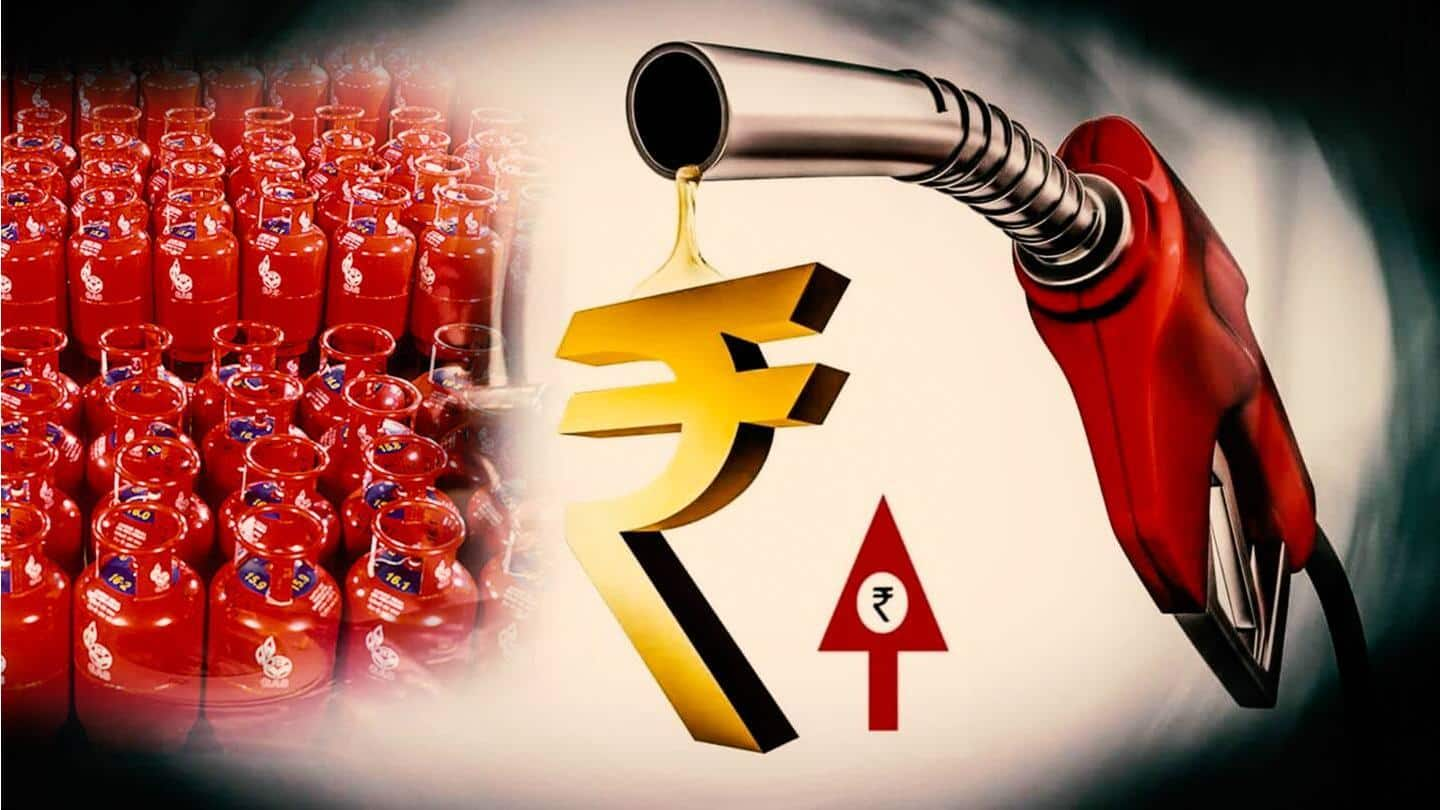 Petrol and diesel prices were raised by 80 paise/liter on Tuesday, bringing a four-and-a-half month pause in rate revisions to an end, while domestic cooking gas prices were raised by Rs. 50 per cylinder. Petrol will now cost Rs. 96.21/liter in Delhi, while diesel will cost Rs. 87.47. Meanwhile, a non-subsidized 14.2kg LPG cylinder in the national capital will now cost Rs. 949.50.
Why does this story matter?
LPG cylinder rates were last updated on October 6, 2021, while petrol and diesel prices had remained frozen since November 4 last year supposedly due to Assembly elections in five states.
Since then, both LPG and fuel rates have remained unchanged despite the all-time high crude oil prices, first as a result of the pandemic-induced slowdown and then owing to the Russia-Ukraine conflict.
Revised rates of domestic LPG cylinders
In Mumbai, the domestic LPG cylinder price has gone up to Rs. 949 from Rs. 899. In Kolkata, it's been hiked to Rs. 976 from Rs. 926. People in Chennai now have to pay Rs. 965.5 instead of Rs. 915.50. Lucknow residents must shell out Rs. 987.5 compared to Rs. 938 earlier. In Patna, it will now cost Rs. 1,039.5 instead of Rs. 998.
Price of 10kg LPG cylinder
According to a PTI report, a 10kg LPG cylinder will now cost Rs. 669 in the national capital, while the 19kg commercial cylinder will be priced at Rs. 2,003.50. Notably, LPG cylinder prices in India are typically revised monthly.
What are non-subsidized cylinders?
A non-subsidized cooking gas cylinder is what consumers buy after they have used up their quota of 12 cylinders (per year) at subsidized rates. Domestic households buy 14.2kg cylinders at the prices prevalent in the open market. However, the Centre provides subsidies for 12 such cylinders every year. The subsidy amount is transferred to the consumers' bank accounts through a direct benefit transfer scheme.
Why are international oil prices rising?
Ever since Russia stationed troops on Ukraine's border, international oil prices have skyrocketed. They soared further after Russia invaded Ukraine, fuelling fears Russian oil and gas supplies would be disrupted, either by the war in Ukraine or punitive Western sanctions. To make matters worse, the Indian rupee earlier touched a record low of Rs. 77 against the US dollar, making India's oil imports costlier.
Petrol, diesel prices need to be hiked by Rs. 25/liter
Industry sources earlier said that fuel prices need to be raised by up to Rs. 25/liter to compensate fuel retailers for losses incurred when they kept rates unchanged despite rising raw material costs. Diesel sold to bulk and industrial consumers has already been become costlier by Rs. 25/liter, indicating the actual gap between retail pump prices and their market economic value.