RBI set to issue new 'greenish yellow' Rs. 20 notes
RBI set to issue new 'greenish yellow' Rs. 20 notes
Apr 27, 2019, 12:29 pm
2 min read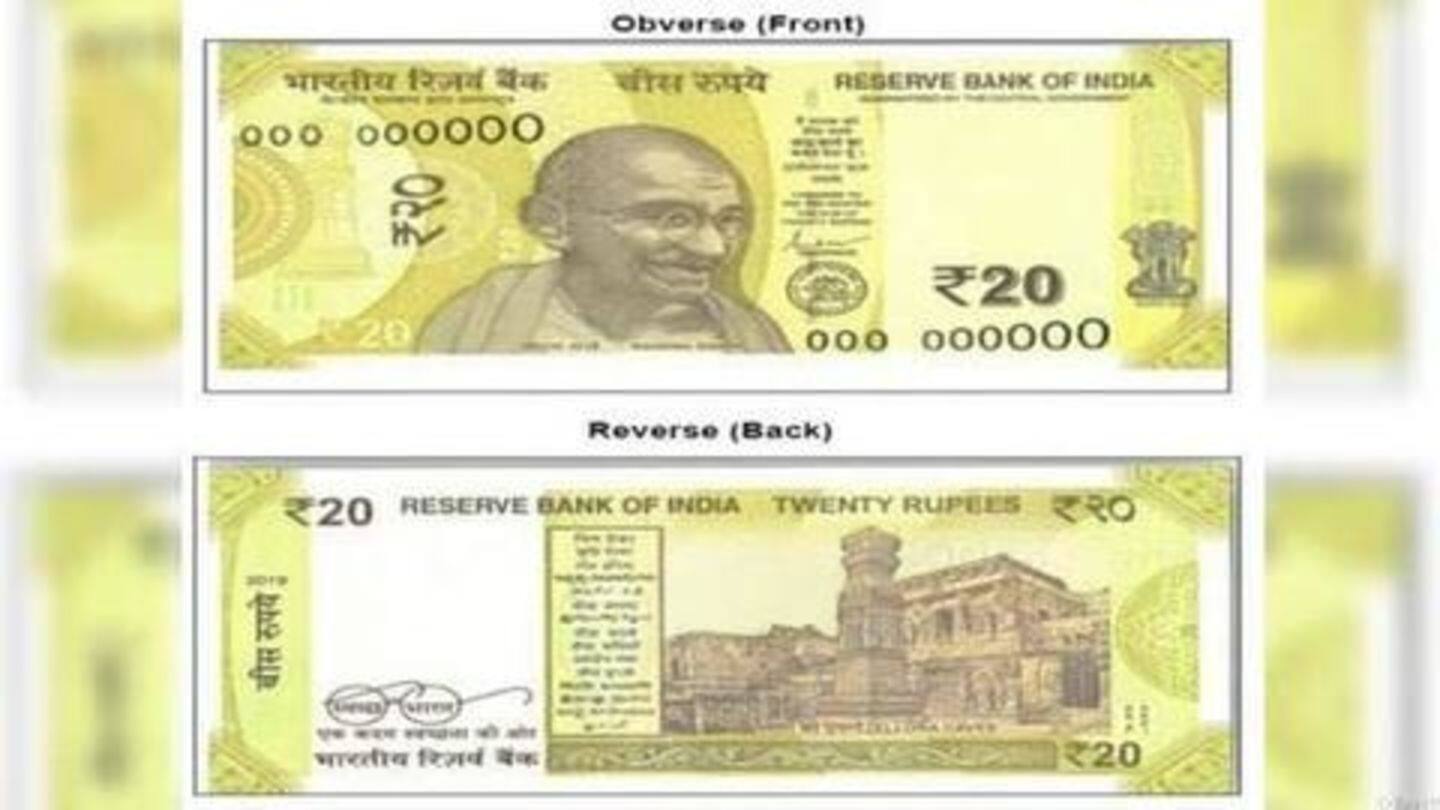 The Reserve Bank of India has announced that it would issue new Rs. 20 notes shortly. The notes in the Mahatma Gandhi (New) series will be greenish yellow in color and will bear the signature of Governor Shaktikanta Das. The central bank released a statement on Friday about the same. It clarified that old Rs. 20 notes will remain legal. Here are the details.
New notes will have motif of Ellora Caves
The back side of the new notes will have the motif of Ellora Caves to depict India's cultural heritage, RBI said. Apart from Ellora caves, the notes will carry the usual symbols, like a portrait of Mahatma Gandhi, and logos of Swachh Bharat as well as Ashoka Pillar. The dimension of the new notes will be 63 mm x 129 mm.
Numeral 20 will be printed in Devanagari script too
The front side of the note will bear see-through register with denominational numeral 20. The numeral will also be printed in Devanagari script. The notes will have windowed demetalized security thread carrying inscriptions of words 'Bharat' and 'RBI'. A number-panel with numerals ranging from small to big on the top left side and the bottom right side have also been included.
Since demonetization, RBI has introduced several new notes
The back side of the note will have the year of printing on the left, language panel and denominational numeral 20 written in Devanagari. After 2016's demonetization move, RBI has introduced several new notes, including previously non-existent Rs. 200 and Rs. 2,000 notes. Notably, colors and sizes of Rs. 10, Rs. 50, Rs. 100, Rs. 500 denominations have also been changed.
Last month, government announced first-of-its-kind Rs. 20 coin
In March, the government unveiled the first-ever Rs. 20 coin, which will be shaped like a dodecagon, a 12-sided polygon. Unlike Rs. 10 coins, which have a hundred serrations, the new Rs. 20 coins will not have any marks on edges. The face of the 27mm-diameter coins will bear Lion Symbol of Ashoka Pillar and the rear side will feature the symbol of "Rupee".