Murdoch to leave the Fox Arena in July
Murdoch to leave the Fox Arena in July
Written by
Sripriya Yegneswaran
Jun 17, 2015, 04:25 pm
3 min read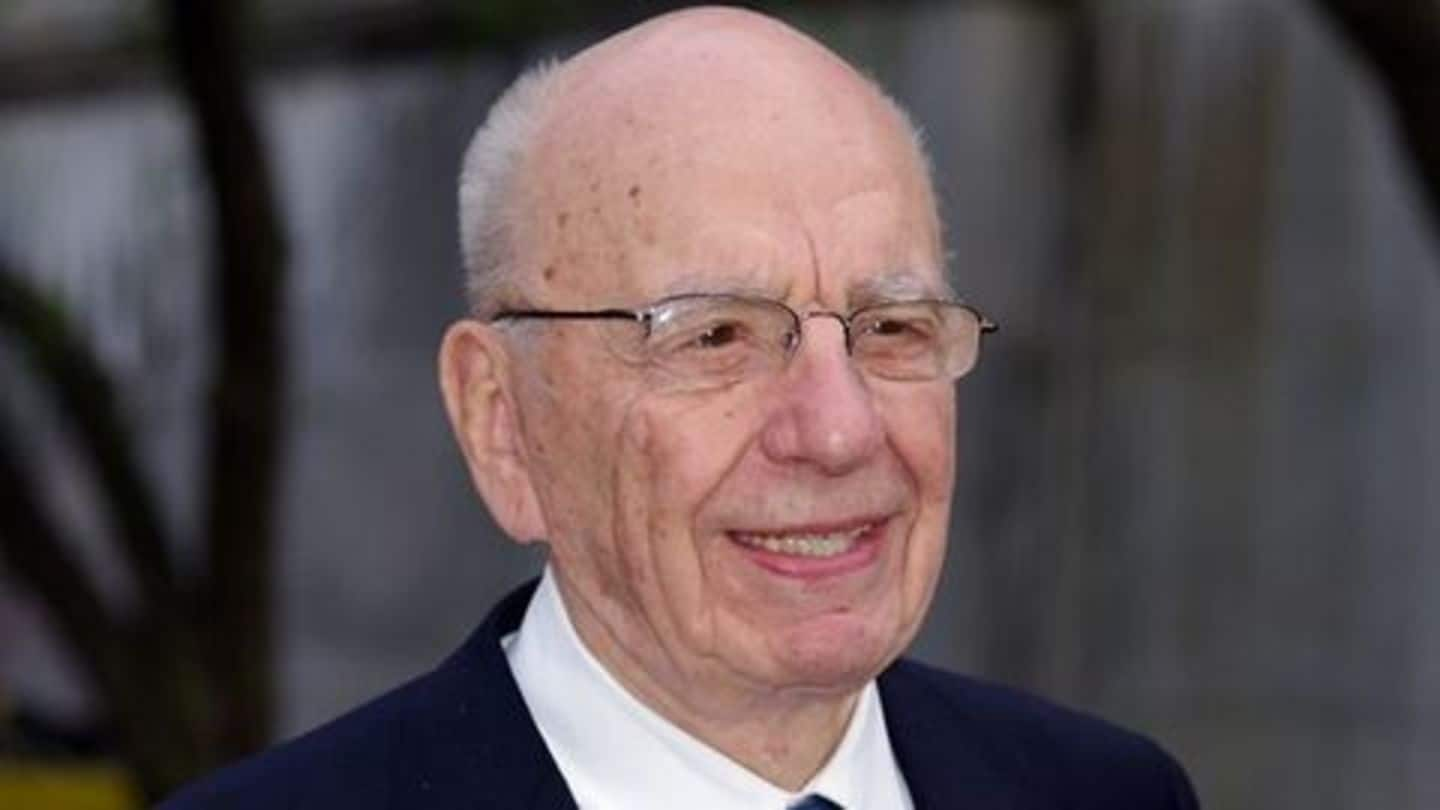 American business magnate Rupert Murdoch will relinquish the title of CEO at Fox from 1 July 2015. His younger son, James Murdoch, will be filling in his shoes as the CEO. His other son, Lachlan Murdoch, will be elevated to Executive Chairman. Chase Carey, the current Chief Operating Officer will become Executive Vice Chairman and will serve till his contract finishes in June 2016.
Murdoch starts his upward climb
Rupert Murdoch started his journey in July 1959, buying his first television station-Channel 9 in Adelaide and calling it Southern TV. In 1960, he bought the Daily Mirror (Sydney) and its accompanying Sunday edition for $4 million. To break away from the frivolous image of Daily Mirror, he started The Australian, a serious publication featuring in-depth discussions on social issues and government policies.
Humble beginning, mighty rise
Rupert Murdoch inherited one newspaper from his father at 23 and today owns about 70% of newspapers in Australia with an estimated networth of a whopping $14.1 billion.
Murdoch eyes England after Australian success
In 1969, he bought 40% shares of London's Sunday publication News of the World. He later increased his stake to 49% becoming the newspaper's CEO. In October 1969, he purchased the Sun (London), which had a circulation of 600,000 but was losing $5 million per year. He changed the Sun ​from a broadsheet to a tabloid, following which its circulation rose to 4 million.
Murdoch sensationalizes American shores
Murdoch's expansion in America began when he bought two small, struggling newspapers - the San Antonio Express and the San Antonio News for $18 million in 1973. He then established a national American newspaper, the National Star. In 1979, News Corp was created as a holding company for News Limited. In November 1983, he bought the Chicago Sun-Times for $90 million.
In early 1985, Murdoch bought half of Fox for $250 million. On 6 May 1985, Twentieth Century Fox bought Metromedia's seven television stations for $2 billion. Following this development, Murdoch launched the Fox television network on 1 March 1987. Murdoch also bought his father's old newspaper - The Melbourne Herald in 1987.
Rupert Murdoch at the zenith of his empire
In 2000, News Corporation was worth $38 billion, with annual sales of $14 billion. It bought Chris-Craft's 10 television stations for $5.3 billion in stock. By 2002, Murdoch owned more than 750 businesses in more than 50 countries. For 2003, News Corporation netted $1.1 billion and grossed $17.5 billion.
Murdoch's a family man; a quiet one
Murdoch has kept his family out of public glare after Alick McKay, the wife of an editor under Murdoch, was kidnapped and murdered by men mistaking her for his wife - Anna Murdoch.
News Corp splits into two
In 2013, News Corp split into New News Corp and 21st Century Fox with Rupert Murdoch remaining Chairman of both companies. New News Corp consisted of all the publishing operations of News Corp while the remaining media properties came under 21st Century Fox. This was done to protect the more profitable studio business from the wrath of the 2011 hacking scandal tainting News corp.