14-year-old boy builds online toy empire, earns Rs. 14L/year
14-year-old boy builds online toy empire, earns Rs. 14L/year
Feb 05, 2019, 01:18 pm
4 min read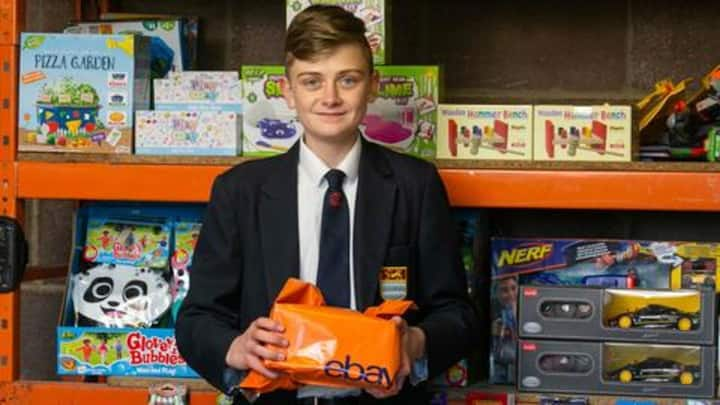 E-commerce websites have given rise to many success stories of entrepreneurs, irrespective of their age and gender. One such story is of UK-based Tommy Howard, 14, who runs his own online toy shop on eBay with a stock of over 1,000 products and earns £15,000 or Rs. 14 lakh a year. His toys are sold all over the world. Here's his story.
Tommy bought first batch of products by selling eggs
When Devon-based Tommy's brother put a £35 (Rs. 3,300) Nerf gun on his birthday list two years ago, Tommy realized he could buy a whole bundle of second-hand guns for much less. Thereafter, Tommy sold eggs from the family farm to buy a batch of Nerf guns for £19 (Rs. 1,800). He then cleaned them and listed them on eBay for £20-30 (Rs. 1,900-2,800).
Tommy bought more products with the profit he earned
Within a week, Tommy's products were sold out. He then used the £10 (Rs. 935) profit to buy ten more toys from Gumtree, an online classified advertisement website. "I bought another bundle with my profit and my pocket-money and they sold out within days too. I loved the whole process of deciding which products to go for, seeing how customers react," he told media.
Registered shop on eBay last March, named it after pet
After selling over 1,000 of the foam guns, the young entrepreneur officially launched his shop, 'Dog In A Box', on eBay in March 2018. He named the shop after his pet pooch Oreo, and branched out by ordering 200 different kinds of products from wholesalers. Tommy's engineer father, Charlie, 43, put up shelves in one of their converted milking parlors to store his products.
Tommy does all work, including calling manufacturers, meeting local postman
With a stock of over 1,000 products, Tommy now sells an average 10-a-day and ships to over 70 countries. Tommy gets home from school at 4 pm daily and has only 35 minutes to pack and label his products before meeting local postman Leo at the village postbox, 0.8kms away. He does all the work himself, be it calling manufacturers, or liaising with wholesalers.
'When people question my age, I say 'Why not'?'
Tommy never takes a day off, even during the school holidays, to fulfill around 70 orders a week. Last year, he made an impressive £6,000 ($7,800) profit, by selling paddling pools in the summer during a festive surge. Tommy said, "People may question my age but to that, I'd say 'Why not?' I'm passionate and capable and that's what you need in business."
Tommy's sales manager helps him find products with good profit-margin
Tommy has his own sales manager, Jimmy Singh, in Cambridgeshire who he said "was the nicest sales manager ever". "He took me under his wing and would help me find things that had good margins and were selling. Unfortunately, Nerf Guns just didn't have margins that could make me any money," he said, adding that therefore he decided to "sell toys as a whole."
Jimmy helped Tommy with his first wholesale order of toys
Tommy mentioned how Jimmy helped him sell toys with a TV campaign. "He gave me a heads up on this new product Glove-A-Bubbles. They were just releasing TV campaigns going out with it which was going to boost the sales," he said. That's when Tommy placed his first wholesale order of 72 units of Glove-A-Bubbles along with some arts and crafts toys.
There's no guarantee in business, Tommy points out
Tommy's sales went up instantly after the TV campaign of the toys. However, after three months, his orders started to plummet to zero when the manufacturer Zing stopped advertising. "I've still got 60 units of them as I've only managed to sell 20 in the past year. But it taught me a hard lesson about dead stock. There's no guarantee in business," he said.